In January 1952, Masaoka again approached Yates for a private bill. Unlike the other cases, here Masaoka pleaded Yates to help a war husband. The case involved Yoshiko Joy Okamoto, a translator working for the U.S. Air Force in Japan. Okamoto, born in New York City, had been stranded in Japan during World War II, during which time she met Toshio Tsuzuki. Although Okamoto was initially stripped of her U.S citizenship because she had lived in Japan during the war, following a lengthy investigation the United States reinstated her citizenship in 1946.
After the war, Okamoto graduated from Tokyo's Women College in 1949 and began work as a translator for the Air Force's Far East Headquarters. Meanwhile, Tsuzuki left Japan and enrolled as a PhD student in Physical Chemistry at the University of Illinois. On September 9, 1951, the U.S. Immigration and Naturalization Services rejected Tsuzuki's request to extend his student visa and ordered for his deportation. Okamoto and Tsuzuki then married in the hope that Okamoto's status as a U.S. citizen would override the deportation order. Unfortunately, the young couple learned that the marriage did not affect Tsuzuki's deportation order, as INS officials argued that Tsuzuki violated the conditions of his student visa.
Panicked, the couple reached out to the Dean of University of Illinois. The Dean spoke on behalf of the Tsuzukis, and successfully requested a hearing to delay deportation. When the hearing failed to stop the order, the couple reached out to Reverend Morikawa, who in turn approached Yates. Masaoka, for his part, urged Yates to author a private bill, stating that Toshio Tsuzuki "is the kind of person who would be an asset to this country."
Yates inquired with several employers regarding Tsuzuki's background. Several members of the Armed Forces, including Joy's superior in the Air Force, vouched for Tsuzuki's intelligence and good character. Perhaps the most supportive feedback came from U.S. Air Force Lt. Col. Frank Grady. Grady movingly testified that he befriended Tsuzuki while he was a prisoner of war in Japan during World War II, stating that his family and Toshio "were largely responsible for my present-day good health and personal well-being." Grady also confirmed for Yates that Tsuzuki was only a student during the war and was never employed by the Japanese Armed Forces, and that the Tsuzuki family remained friends with Grady after the war. Grady concluded that, given his character and his skills as a chemist, Tsuzuki would make an excellent U.S. citizen.
Yates drafted a private bill on Tsuzuki's behalf for the House Immigration Committee on January 18, 1952. Unfortunately, because of an early adjournment of Congress, the bill sat in committee for months. In June 1952, the McCarran-Walter Act passed both houses of Congress over a presidential veto. Yates informed Tsuzuki that after December 22, 1952, he would be eligible for citizenship, and as such he decided to let the private bill sit in committee.
Tsuzuki's status remained precarious for another two years before he finally received permission to reside in the United States thanks to Yates's private bill.
As a testament to their respect for Yates, the Chicago JACL chapter regularly invited him to give talks about his work on Capitol Hill. At the JACL's National Biennium, hosted in Chicago from September 28-October 2, 1950, Yates gave a speech praising the JACL and their dedication towards eliminating racial restrictions in immigration laws.
In addition to his work on behalf of Japanese Americans, Yates distinguished himself by other stands on civil rights issues. Although President Truman desegregated the Armed Forces of the United States in 1948 by executive order, several Southern congressmen thereafter attempted to retain segregated Army units by means of legislation, and pointed to the 442nd RCT as evidence of the advantage of separate units. Yates argued vehemently against the clauses, stating that despite the triumphs of the 442nd, segregated units undercut American values and "freeze our social structure as it is" instead of "eliminating some of our current social issues."
Perhaps the greatest dilemma for Yates was his decision to vote against the McCarran-Walter Act of 1952. Even though the JACL strongly supported the bill for its provisions granting Japanese nationals the ability to naturalize as U.S. citizens, Yates and other progressive Democrats voted against the bill on the grounds that it undermined American civil liberties. Chicago JACL leader Shigeo Wakamatsu later recalled in an interview that JACL leaders knew Sidney Yates could not support the bill out of fear of losing the support of several constituent groups – Wakamatsu specifically named Jewish Americans - who objected to the bill on human rights grounds. In the end, the McCarran-Walter Act was enacted by Congress, overriding President Truman's veto. The JACL remained friendly with Yates despite his opposition to it.
In March 1953, Mike Masaoka approached Yates, then serving on the House Appropriations Committee, about expediting claims arising under the Japanese Evacuation Claims Act of 1948 whose resolution had been delayed by the Bureau of the Budget. Yates called upon the bureau's director to release $9 million in evacuation claims that the Justice Department had approved before the end of the 1953 fiscal year.

In response, The Pacific Citizen described Yates as "friendly to persons of Japanese ancestry since his election to Congress five years ago." However, the funds remained stuck. In May 1953, Yates protested when his colleagues approved only $225,000 in funds for evacuation claims, whereas in previous years sums of up to $745,000 had been appropriated. In June 1953, President Eisenhower urged Bureau of the Budget director Joseph M. Dodge to request an additional $8 million budget for evacuation claims. Dodge then assured Yates and the JACL that the budget would pass.
Beyond his legislative action, Yates reached out to Japanese communities by hiring several Nisei to work in his office. Yates hired Grace Toshiko Tazawa, the daughter of Dr. Yukihide Kohatsu and a law student at Northwestern University, as his secretary. Yates also hired Chicago resident Miyeko "Myke" Kosobayashi as his secretary in 1959. He meanwhile benefittd fom community support for his electoral campaigns. In October 1954, journalist Chizu Iiyama reported that forty Nisei worked on Yates's re-election that year, including Mari Sabusawa, a former JACL midwestern chair and the wife of famed author James A. Michener.
In 1962, Yates resigned his House seat to run for the Senate against incumbent Everett Dirksen. While he lost the election, two years later he ran again for his old seat and handily won against incumbent Edward Finnegan.
On New Year's Day 1965, the Chicago JACL invited Yates to be keynote speaker for their 20th anniversary celebration. Yates reminded his audience of the past struggles that the JACL had faced in getting the McCarran-Walter Act passed—though tactfully omitting mention of his own opposition—and exhorted listeners to continue their support of the ongoing fight for immigration reform. He was an outspoken supporter of the 1965 Immigration Act.
A rather different initiative that Yates and the JACL collaborated on was repeal of Title II of the McCarran Internal Security Act of 1950, with its provisions for Concentration camps. Yates worked alongside Ross Harano, the head of the Chicago JACL his own former staffer, to coordinate support for repeal among Japanese Americans in Chicago. Harano would later become the first Asian American in Illinois state history to run for statewide office in 1994.
Over a decade later, Yates would emerge as a primary supporter of the Japanese American community during the Redress movement. Yates joined Robert Matsui, Norman Mineta, and several House Democrats in calling for President Carter to authorize the creation of a historical commission to investigate the question of redress. When activist William Hohri lobbied Yates to begin drafting legislation for a redress bill. Yates responded that while he initially supported Congressman Mike Lowry's redress bill, he agreed with Representative Norman Mineta that a redress bill could not pass both houses without unanimous support from the Japanese American members of Congress. Yates also noted that California Republcan senator S.I. Hayakawa, though bitterly opposed to reparations, also favored the creation of a historical commission. Following passage of both the House and Senate in 1980, President Carter signed into the law the creation of the Commission for Wartime Relocation and Internment of Civilians (CWRIC).
Yates submitted testimony twice to the CWRIC hearings. First, he publicly testified at the Washington D.C. hearing on July 16, 1981. On September 23, at a set of hearings in Chicago, Yates's aide George van Dusen read a statement from the Congressman. Yates argued in his testimony that the incarceration of Japanese Americans had extended from decades of racially-biased immigration laws, and provided a stirring account of why Congress should support redress.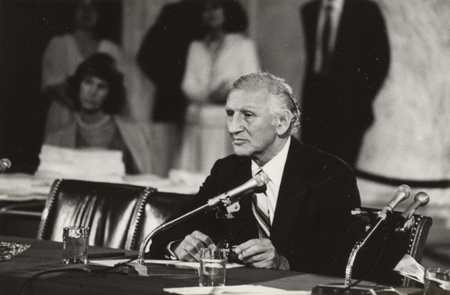 In 1998, Yates announced his decision to retire from Congress. In honor of Yates's service to the country and his work for the House Appropriations Committee, the Bureau of Engraving and Printing named their D.C. headquarters the Sidney R. Yates Federal Building in 1999. The National Japanese American Memorial Foundation named Yates as an honorary board member. Sidney R. Yates died a year later on October 5, 2000.
Sidney Yates's long career in Congress reflects both his broad commitment to human rights and the close relationship he forged with Japanese Americans both in Chicago and nationwide. His presence also exemplifies how resettlement altered the political map of the United States. Yates was one of the first members of Congress to seek and attract support from newly enfranchised Asian Americans, and in return proved himself a strong ally for Japanese Americans in their quest for citizenship and redress.
*Author's note: Special thanks to the staff at the Harry S. Truman Presidential Library for helping the author navigate Sidney Yates's papers. For more information, see the author's article in the Chicago Tribune.