Nothing like biting into the palpable words of poets to dig into the transformation that signifies this season. I had a great time reading the work of the writers we feature here this month on Nikkei Uncovered—Colorado-based Brandon Shimoda and Minneapolis-based Emily Mitamura. Lush and sinuous, resilient and expansive—from Emily's Grub Mother—"…a bit of / your heart / is the most delicious sweet / I've ever held / to my / swarming mouth…"—and from Brandon's The Desert—"…The world / above, the world we think we love is / scar tissue"—we invite you to dig in, latch on with your memory's teeth, take large bites. Enjoy...
—traci kato-kiriyama
* * * * *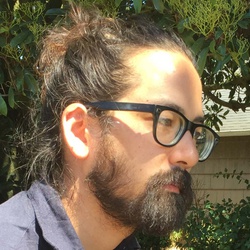 Brandon Shimoda is a yonsei poet/writer, and the author most recently of
The Grave on the Wall
(City Lights, 2019), which received the PEN Open Book Award. He has two books forthcoming:
Hydra Medusa
(poetry and prose, forthcoming from Nightboat Books) and a book on the afterlife of Japanese American incarceration, which received a Creative Nonfiction grant from the Whiting Foundation. He is also the curator of the Hiroshima Library, an itinerant reading room/collection of books on the atomic bombings of Hiroshima and Nagasaki, which was on display at the Japanese American National Museum from 2019-2021, and is currently on display at Counterpath, in Denver, CO.
Dementia
Is dementia like not being able to remember
a dream
you know you had
when you woke up
There was a peach-colored bar of light
beneath the door
The door floated above day
The desert was one room away


The Hour of the Rat
The bubble on the ceiling
became a jellyfish bruise
turned into cola
jellyfish
c.
rained down
jade
The jellyfish rained
The jellyfish threw themselves
towards the skin of space
with faces waiting
to see the face
through which the jellyfish expelled
the modest dynamite
When you are my age, I will be 80
or I will be dead,
hardened, without heavens,
I will not see your face age
denatured to the fallen sutra.

The Hour of the Rat
A soul returns
to the forehead of a mother
who let it be human, who mended it
as if it was human, who cared for it
when it realized being human
was destruction

The Desert
To sink through the ground of America
is to meet the legions
who have been buried fall through them
lapse underground,
commingle, in its original arrangement, The world
above, the world we think we love is
scar tissue
*These poems are copyrighted by Brandon Shimoda (2021)
* * * * *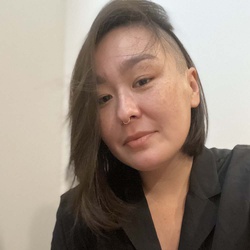 Emily Mitamura is a Yonsei poet and PhD student living in Minnesota. Her work considers the performative and narrative demands placed on those in the wake of ongoing colonial violence and continuous bodily/relational/ archival hauntings. Her poems have appeared in The Margins, Clarion Magazine, AADOREE, and Black Heart Magazine among other places.
GRUB MOTHER
toss me back to my body where I've grown a woman, a mother
how literal this statement is depends on the time of month
or perhaps on the cheek of a persimmon dried and sugared like
your love made every year at the heat strings of powdery heads
wafting in the yard
it might be like that too sweet sweet but home too to toothy grubs-
it can be like that
a question of swarm at the heart


you kept these persimmons in ziplocks cellotaped soft as a heart
or a hunger, and warm to the touch even after you
changed planes, mothered
an afternoon of your lack. please don't do it again. grub
a noontime so it can be like that, swarming with loved ones' mouths
open to the sweet fists full of fruits and twine by the yard
so we can grow another day together, persimmon-like:


acrid to the tongue a found sip of sun I learned from you to
more than like
the bitter portending sweet I know to take by the teeth and
fruit a heart
to hold how you've been gone much longer than you've had
pale feet
in the gravel outside my bedroom window, step sounding applause or
the sea, spring mother
to us all. it shouldn't be like that then, the figs full of sleeping moths -
our grief for ourselves is its own kind of womb its own kind of
nourishing grub

but sometimes it is like you find a persimmon, candied in its own age in
your grub-
mother's nest, the cellophane hoard shored up reserve alight alike
against the rot. loss is like that, a gathering to the bones - process
to keep months
passed as preserve: a sweet fruit, a down jacket in desert night, a heart
swift as it is closed like a fist to you. but wants set in motion other wants, mother
desire already growing fruiting decaying it shouldn't be like that maybe
but it is, you are
a garden


of want, a mother of fruits and grubs that hunger. please don't leave
us to the yard
wafting. a persimmon death is just a death that makes the concept
flower and grubs
weep. he knew this when he saved them and you for us, mothered
your living on. swarming, your chest full of grubby growths in wait for
your mind gnawed at and holy to me still. a bite of your heart
is the most delicious sweet I've ever held to my swarming mouth


but from you I never learned the process of preservation- what's
the time of the month
to give of yourself to transformation, what's the time. to grow
persimmons in the yard
is an act of gestation plots keep a family and you dried heart-
fruits in the sun, gave womb to our knowing, fed us grubs
like we were your own ghosts, your own pale lurking fruits, your
own swarm
your own - i'm not sure now if it's like that,
if i came of age eating persimmons or
the age of persimmons is over and you stay
grub-mother


to us all. maybe it's that you hit me with a persimmon the size of a fist or a grub
maybe it's that you're there every day
to toss a body like
a seed back
to its mother-plane to ground, to fruit
*This poem is copyrighted by Emily Mitamura (2021)