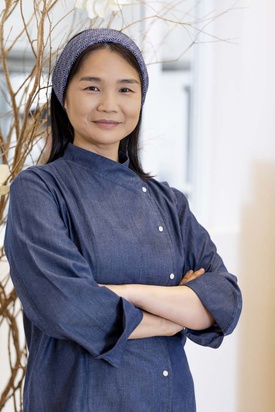 Born in the city of São Paulo and with roots in the Japanese prefectures of Wakayama (her paternal grandfather) and Iwate (her maternal grandfather), chef Telma Shiraishi, 52, attended preschool at a Japanese school and received her elementary education at a state school.
At age 10, she moved with her parents and two younger sisters to the countryside. After experiencing several robberies, her father, a branch manager of the old State Bank—his branch was located in Largo da Batata, in the Pinheiros district, near the Cotia Cooperative and the Pinheiros Market—became tired of the violence in the capital. As a consequence, he decided that the family would live in Paraibuna, located 123 km [approx. 76 miles] east of São Paulo, "a teeny weeny town, way up in the mountains, in the Paraíba [do Sul River] Valley," near São José dos Campos, where she attended high school.
In spite of her curiosity and interest in books and magazines, from the ages of 10 to 17 she had no contact with the Japanese community because there wasn't one in town. She resumed her relationship with other descendants when she returned to the state capital to attend medical school at USP (University of São Paulo). "It's amazing how people bond through their personal affinities," Telma says about her group of friends, who called themselves "japanela" [japonês + panela (clique)]. At that time, she started taking Japanese classes and as a result grew a little more interested in Japanese culture.


The hobby that became a career
"I never imagined that I would work in Japanese cuisine. After dropping out of medical school, I got involved in advertising, worked with fashion and events, but nothing related to Japanese cuisine," the chef recalls.
While amidst clothing creations, fashion shows, and press conferences, she realized that she enjoyed welcoming people and taking care of the food and drinks. "At home, we've always loved cooking, having guests over, savoring food. I often went with my father to the farmers market, to supermarkets, trying out new flavors."
Later on, when she was about 26 or 27 years old, "the opportunity arose to open a Japanese restaurant [Aizomê], so that what used to be a hobby—cooking at home and at events—became a career." As there were no Japanese culinary courses or schools, Telma had to do it all on her own—researching, cooking, learning, and growing along with the restaurant.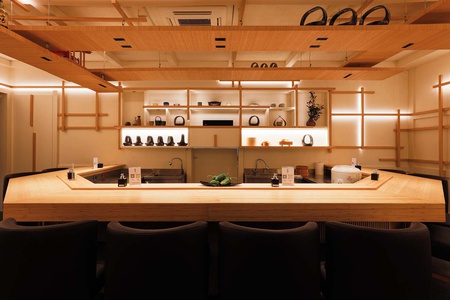 Studies and the search for an identity
"It was when I started the restaurant that I realized it wasn't about just following recipes or learning techniques to replicate various dishes." It was necessary to go deeper. "That's when I really immersed myself in Japanese culture, and I had to study history, geography, culture, tradition, philosophy, and even the spirituality side," she says. "It's all interconnected: Eating and cooking customs, how you view food, the issue of gratitude and respect." The Aizomê chef explains that she incorporated all of these facets into her cuisine—as special "cultural seasonings"—and, in this manner, her own style began taking shape.
In one of the more "purist" phases of this immersion—the search for her roots—Telma asked herself how she would ever manage to do something 100% Japanese at the restaurant. But then she finally grasped the Japanese penchant for valuing local and seasonal products.
"As much as I tried to be Japanese, I'm not; I'm Brazilian, the granddaughter of immigrants." The idea was to honor this legacy, as there's a lot of affective memory, in addition to a feeling of nostalgia for certain flavors, certain recipes and dishes. "I tried to tell my story, the story of immigrants, through the dishes, the recipes, the many adaptations that they had to make" due to the differences in seasons, climates, ingredients, etc. "It was this translation that resulted in my cuisine, which is, indeed, Japanese-Brazilian, but with respect for my ancestors, for my references, which are very strong, and for all that they brought and contributed to our culture, to Brazilian society, and to Brazil's development," the sansei explains.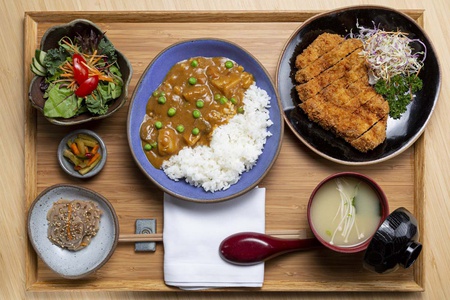 The influence of her grandmothers
Telma used to observe her maternal grandmother reading or writing, and maybe that's how she came up with a Japanese way of looking at things. "Her house was always full of books. She kept a journal, wrote haiku verses," she recalls.
As for her paternal grandmother, she used to spend all her time in the kitchen. She remembers a time when her grandmother had obtained nori (seaweed) leaf to prepare futomaki for a family party. "Back in those days, sometimes it wasn't easy to find the ingredients," she says. "If unavailable, she would use chard or mustard leaf for the wrapping," she adds.
At family gatherings, homemade recipes were the most common, including various types of sushi, futomaki, inarizushi, and nimono—the Japanese stews—which "have a Bachan flavor." "So much so that today I really enjoy making nimono; it's therapy to keep turning the vegetables."


Challenges
This journey of self-knowledge led to some internal conflicts. "Because your eyes and your features don't identify you as Brazilian. On the other hand, when I went to Japan, people knew I wasn't Japanese. There is, then, a sense of foreignness, no matter where you are," this granddaughter of immigrants points out.
Meanwhile, in her professional field, Telma reveals that she confronted difficulties and prejudice for not being able to speak Japanese fluently. "This sort of thing changed only very recently. The Japanese living in Brazil don't expect you to speak Japanese and they appreciate every effort you make for their culture; in my case, especially for their cuisine." In other words, the effort "to help promote everything that's good and to perform a different job at the restaurant, to be able to translate these basic concepts, their essence, into our context in Brazil."


The tradition and popularization of Japanese cuisine in Brazil
Brazilians are used to thinking about Japanese cuisine as consisting of raw fish, salmon with cream cheese, jalapeño, mayonnaise; in other words, ingredients that are neither Brazilian nor Japanese. That's a result of the popularization of the style of Japanese cuisine found in the United States.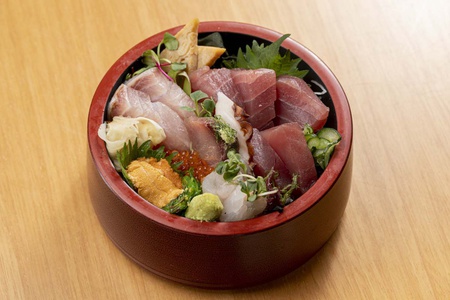 "Sure, this popularization was a positive thing, as it helped to overcome the initial barrier, the prejudice. People try it out and get used to eating raw fish, miso, soy sauce, wasabi, seaweed, and other different flavors," she remarks.
On the other hand, the cuisine that was brought over by the Japanese immigrants was forgotten. When the chef opened Aizomê, she wanted to do something different, to present Japanese food from the perspective of her own story, "that of a descendant of Japanese immigrants."
To this day her work revolves around covering all the rest of Japan's local cuisine and other ways of preparing dishes. "In fact, there's a lot to explore. I like to say that I haven't even begun to scratch the surface of all the possibilities that Japan offers in terms of flavors. Each region and each season have their particularities," she adds.


Clash of customs and habits
Here is where we mention the exaggerated use of shoyu. "Brazilians like everything either too salty or too sweet. But if you put too much soy sauce on everything, you can't even taste the food."
There is another difference between Brazil and Japan. "In Brazil, Japanese restaurants have very extensive menus; they serve everything: pasta, sushi, sashimi, hot dishes, fried food. But in Japan you have specialized establishments [on sushi, ramen, udon, soba, in addition to the izakaya—Japanese pubs]."
One of the biggest prejudices in Brazil has to do with bento. "People find it weird that it isn't hot, and so you get the derogatory label "boia-fria" ["(those who eat) cold chow"], the poor workers' lunchbox—he has to eat it cold, wherever he can." She adds, "It's all a matter of one's cultural viewpoint. [In Japan:] It's better to have a meal that you prepared yourself, to your liking, than to eat something that you don't know how it was made, possibly in a less healthy manner."


Growth and recognition
In Telma's view, the restaurant accompanied her search, having started out with strong Japanese roots. However, recognition of her work didn't come easily—because she's a woman and because she isn't Japanese. She had to prove that she had the understanding, the respect, the seriousness, the commitment, and that she had mastered the techniques, the recipes, the concepts, the principles. "About halfway through my journey, I began to feel more confident and to venture out, to attach my personality," she says.
In 2018, she received the Diploma of Merit for the Diffusion of Japanese Cuisine from the Consulate General of Japan in São Paulo. "The Japanese appreciate it when we reach the stage of putting our stamp on what we do." After she succeeded in overcoming these barriers, that's when various events began coming her way, both in Japan and in Brazil. "I paved the way for other women, not only in Japanese cuisine, but in the culinary field in general," the chef points out.
Undoubtedly, it's important to show that there is a significant community of Japanese descendants in Brazil, and to value and further disseminate their story, which is very beautiful. "Cooking is one of the most delicious—literally—and most democratic ways to engage people, tell stories, and find common ground between people, groups, tribes, and generations."
And it was through bento history and culture that Aizomê, by way of a pop-up store, began to operate at the cultural space Japan House São Paulo. "I immediately thought of the bento concept because, until then, the only bento places around were those in the Liberdade district, in the little shops; and in Japan, bento culture is very strong. It's so delicious, so well balanced, beautiful, healthy," she explains. One month stretched into almost six months and, shortly thereafter, she was invited to open a "permanent" restaurant; as a matter of fact, Aizomê has already completed three and a half years of operation.

Wishes and plans for the future
The restaurant has established itself as a point of reference when it comes to its diversity of recipes and, at the same time, its purpose is to "show that in Japan there's also great richness; possibilities that people still aren't aware of."
The renowned chef gives lectures and workshops, but her dream would be to open up a school. She hopes to keep doing her job, translating what Japanese cuisine is, since there are no Japanese culinary schools in Brazil. Besides, she wants to make it more accessible to everyone, as more and more people are becoming interested.
That's also a way for her to compensate for the difficulties she faced when she started out in the business. "We didn't have the internet, a school, or materials translated into Portuguese. For example, since I'm not fluent in the Japanese language, I had to do my research in English," Telma says. "There's much to be done to democratize this access to information and training in the fields of Japanese culinary arts and gastronomy. And that's why I hold a title from the Japanese government, as ambassador for the diffusion of Japanese cuisine [Goodwill Ambassador for the Diffusion of Japanese Cuisine]," she concludes.
The chef draws on various aspects of Japanese culture, such as history and philosophy, while also placing great value on local and seasonal products.
* * * * *
Combining Culinary Cultures: A Conversation with Nikkei Chefs from Los Angeles, São Paulo, and Lima
Saturday, December 3, 2022 • 3 p.m. (PST)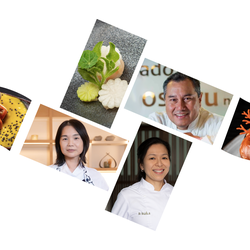 Join us for a conversation with noted Nikkei chefs—Niki Nakayama of n/naka (Los Angeles, CA, US), Telma Shiraishi of Restaurante Aizomê (São Paulo, Brazil), and Roger Arakaki of Sushi Ito (Lima, Peru).
REGISTER NOW!: 5dn.org/nikkei-chefs
(Space is limited!)