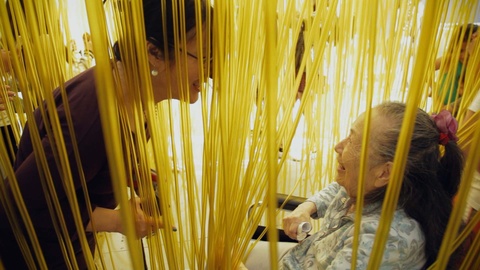 In Rea Tajiri's documentary Wisdom Gone Wild, an elderly Nisei woman is sitting outside in a wheelchair. An installation of golden yellow streamers is billowing around her, as she's joined by children running and playing through the space. The woman is laughing in delight, as the streamers and the children are constantly changing the way she's seeing the world—and how she's seen.
The elderly woman has dementia, and she is Tajiri's mother. The film reframes two intensely creative processes—filmmaking and caretaking—and asks viewers to consider how we can reframe time, wisdom, history, and care in order to see the world (and our loved ones) differently.
Rea Tajiri has been making documentaries that are also art pieces visually and aesthetically for years. She might be most known for the gorgeously meditative History and Memory (1991) and her Yuri Kochiyama documentary Passion for Justice (1998), and her work has broken ground in Asian American filmmaking and within the documentary genre itself.
I recently spoke with Tajiri about her career, her creative process, and Wisdom Gone Wild (2023) a beautiful, artistic, and intimate look spanning over 15 years of caretaking for her Nisei mother, Rose Noda Tajiri. The film will screen soon on PBS's series POV, but it's also winning awards and making appearances at film festivals around the United States.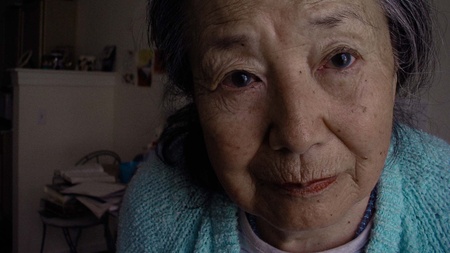 From the first award-winning appearance at the BlackStar Film Festival in Philadelphia, audience responses have been warm, positive, and affirming. Tajiri said that it's been "lovely" to have the film reach several wide circles, including Asian American audiences, BIPOC communities, caregivers across generations, and the medical community.
Our conversation has been heavily condensed for space constraints and edited for clarity.
* * * * *
TN (Tamiko Nimura): One of my very favorite moments [in Wisdom Gone Wild] is when your mom has the camera and is interviewing you, and she's asking such great questions. Do you remember what that was like, and were you surprised by her questions at all?
RT (Rea Tajiri): Yeah, so that happened in 1989. I was 31 or so, and I had this idea like ok, I'm going to interview my mom. I think it was during the period I was making History and Memory. And I knew I wanted to have this extensive interview, and one thing I could do is play with the power dynamics. I'll give her the camera, and then we'll see what happens.
And true to form, it was very unnerving to have the tables turn and then to have my mother interview me. I wasn't expecting her questions and I felt very vulnerable, and I think that comes across. And I felt very childlike, and very exposed, and I see this part of myself that I don't often show publicly. So it's very much about the parent-child relationship [and] it was very powerful.
I forgot that I had done that and when we were gong through all these old cassettes and I said let's just transfer a bunch of stuff, and I saw this, and I was like, oh my god, you remember but you don't remember. I do recall I did it but I had no idea what happened it and to see it…
So a lot of the film was about memory and rediscovering things that you had sort of…it was just a real "what we take with us, what we recall." And then to have it on film, of course jogged a lot of memories. But it's also really great because there's parts where I'm showing her how to use the camera and then she's going and filming her yard, she loved that garden. She worked in that garden all day long.
And so to see her "oooh, look at that," trying to show her how to focus and then at the very end, of course she gets me. She says, "well, what are you working on?" And I'm like kind of again, very vulnerable, I start talking about really what became History and Memory.
She says, just go for a walk.
And I'm like of course, such a simple thing, but of course, that is something you do. And during the editing process my editor and I would say "you know, Rea, you need to go for a walk." And that was a good reminder that yes, of course, you do have to do that. You do have to get our brain focused somewhere, become embodied again, be out in the world.
TN: That is exactly what we do. And it was such good advice.
RT: The simplest advice is often the most profound.
TN: I loved these glimpses of your mom as artist, which seemed to be something that you wanted to convey in the film, that she was this beautician. To create this different image, ...that in her hands the camera was not just this static thing. It was so lovely to see. And for you to reveal yourself as maybe this ten, eleven year old child again when she's asking you these questions. (Laughter). I just felt so tender at that moment. I was thinking, I have been in those moments, when you're well into adulthood and then you're back to being this kid again (laughter).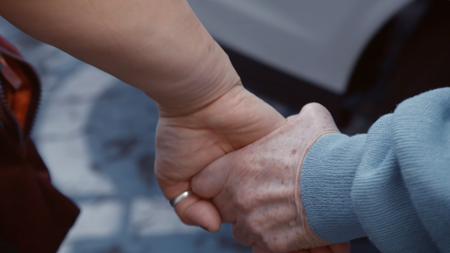 And only your parents can get you back there. Or for me sometimes it's my cousins. It felt like such a vulnerable moment and mode of documentary. And it really felt to me—as I'm steeped in this genre of memoir—it felt so memoir-y, I loved that moment so much.
RT: I also want to just say though that as much as sure, it's memoir in one sense, I also really did want to make the film about the act of caregiving and about people can find entry to their own experience. And you know, dementia is something that is still very difficult to represent and yet it's also the care that goes into dementia is often very invisible—what does that look like, what happens, it's so intimate—but I really wanted to kind of bring that to the foreground and reach caregivers and just reach a variety of people.
Right now there's a medical researcher who really loves this film and he's really excited about it and so even medical training, young doctors, how to care for their patients but also thinking across the board like families, younger people…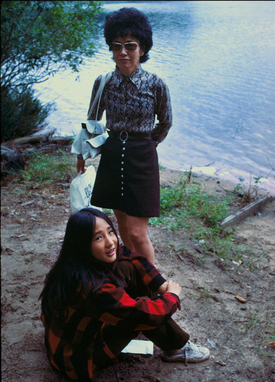 [Someone] came up to me this weekend [at a film festival] and she said—ah, this is such a gift, this was lovely—she said, "I'm going to take this scene with me and I'm going to tell people about this scene and it was such a great way to frame when your loved one forgets who you are." She said, "I really like how you said she's layering you with other people and how that was a way for you to get to know those people but was also a way that seeing how you were like this person. So the part where she's layering [my aunt] Betty with me, that turns out, it pieces together from my aunts that Betty was like me. That's really beautiful, and now I get to contemplate who was Betty and—wow, maybe I'm kind of a reincarnated version of Betty, how beautiful.
TN: It's this beautiful—I don't know if you're a gardener or not but it really reminded me, but it struck me as such a compost-y kind of movie, in the true sense of layering and then the turning is what makes things so beautiful and rich. I really appreciated that about it.
RT: Wow, what a great metaphor.
TN: Oh, thank you. And memoir, I think, gets a reputation for being so self-centered but I think the best of the genre really is that in the specificity we find that larger sense of humanity. So when I say memoir it's really a compliment.
RT: I also sometimes that the documentary world and in mainstream writing too people say, "well, the big issues, we have to be on these big issues." But it's also the personal stories, the big issues are also in…we're on this spectrum. It also comes down to the day-to-day as well. Yes, there's always things happening n the world but it also comes down to how we're living our lives day-to-day and what's impacting our lives.
TN: Exactly.
RT: We need to find in that space of personal reflection, how we discuss and show our lives and talk about it.