Building & Bridging (Part I): Bridging Japanese American and Japanese Corporations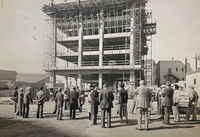 FREE
Japanese corporations and Japanese American communities have a long and complex history that weaves together stories of immigration, industrial expansion, and the building of neighborhoods, businesses, and banks. With a focus on Los Angeles, this two part program brings together speakers that represent a broad spectrum of Japanese corporations in the U.S. and Japanese American communities to discuss the past, present, and future relationships of these two groups.
This first part will focus on the history of Japanese corporations in the U.S. and their relationships to the Japanese American community leading to the present day.
Presentation:
Lon Kurashige, Professor, University of Southern California
Featured speakers:
Thomas Iino, Founding Chairman of USJC; Board member, JACCC, JANM, Keiro, First Choice Bank
Yuko Kaifu, President, Japan House (Los Angeles)
Chris Komai, Communications Writer, JANM
Moderator:
Frank Buckley, Anchor, KTLA 5 Morning News
This program will be in English with simultaneous translation into Japanese.
RSVP NOW

Building and Bridging is co-presented by The Consulate General of Japan in Los Angeles & Japan Business Association of Southern California
Image credit: Japanese American National Museum (Gift of Hiro Hishiki, 98.266)

JANM . 更新日 2021年1月15日
---