Get to Know Kanagawa: Hot Springs, Zen & the Great Wave
Japan Society
333 E 47th Street
New York, New York, 10017
United States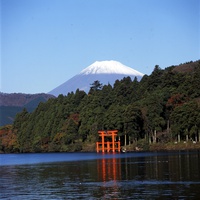 https://www.japansociety.org/event/get-to-know-kanagawa-hot-springs-zen-the-great-wave
TALK & TASTING
Thursday, January 23, 6:30 PM
Enriched in history, festivals and breathtaking sights, Kanagawa is an ideal destination for any traveler. With so much to see and do, Kanagawa is not just a side trip from Tokyo, but a unique region waiting to be explored. Home to history-rich Kamakura, which once served as the political center of medieval Japan, Kanagawa features the stunning Daibutsu, or Great Buddha, a towering bronzed icon that has stood since the 13th century. Travelers looking to de-stress can visit the resort town of Hakone, prized for its many hot springs and natural views. For this program, we are joined by Kanagawa experts Hitoshi Suzuki, Director, JETRO NY, Kanagawa Division, Nanako Sadasue, Director, Maker's Shirt Kamakura Co., Ltd. and Kenichi Noda, Odakyu Electric Railway Co., Ltd. Moderated by Susan Miyagi McCormac, founder, JapanCulture·NYC.
Followed by a tasting reception featuring maguro donburi from Misaki port and sake from Kanagawa.
All guests will receive a Bokksu set, an assortments of snacks from Kanagawa called "New Year in Kanagawa" and a sensu (folding fan) from Kamakura Shirts.
Tickets: $21/$17 members, seniors & students
Buy a ticket to Get to Know Kanagawa: Hot Springs, Zen, and the Great Wave or Kamakura Zen: A Samurai Legacy and get $5 off Japanese Self-Care: Me-byo!


japansociety . 更新日 2019年12月9日
---