WINNERS OF IMAGINE LITTLE TOKYO SHORT STORY CONTEST TO BE ANNOUNCED ON APRIL 21
Los Angeles, California
United States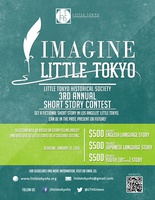 WINNERS OF IMAGINE LITTLE TOKYO SHORT STORY CONTEST TO BE ANNOUNCED ON APRIL 21
Bunkado Joins as Platinum Sponsor of Little Tokyo Historical Society's 3rd Annual Contest
The winners of the third annual Imagine Little Tokyo short story contest will be announced at a public reception on Thursday, April 21, from 6 to 8 p.m. at the Garden Room of the Japanese American Cultural and Community Center, 244 S. San Pedro St., Los Angeles. Organized by the Little Tokyo Historical Society (LTHS), the contest recently gained a platinum sponsorship from Bunkado, a Little Tokyo-based gift store, which is celebrating its 70th anniversary this year.
"We are so honored by Bunkado's generous support of the short story contest, which features Little Tokyo as a place and symbol of the Japanese American community," said Michael Okamura, president of LTHS. "It's all the more sweeter as this is our organization's 10-year anniversary, too."
Winners will be revealed in three categories: English language, Japanese language and youth (18 and younger).
The purpose of the contest is to raise awareness of Little Tokyo through a creative story that takes place in Little Tokyo. The story has to be fictional and set in a current, past or future Little Tokyo in the City of Los Angeles, California. In addition to having their winning story read by a professional actor or actress, each category winner will be awarded $500 in cash with their short story being published in The Rafu Shimpo and Discover Nikkei website.

The public is invited to this free reception. For more information, go to the Little Tokyo Historical Society website, http://www.littletokyohs.org. If you would like to financially contribute to the contest, e-mail littletokyohs@gmail.com.

lthistory . 更新日 2016年4月3日
---