Kith and Kin- New and Published Work by Minnie Phan
Oakland Asian Cultural Center
388 9th St, Ste 290, Oakland, California 94607
Oakland, California, 94607
United States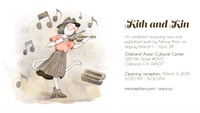 OACC is pleased to present 'Kith and Kin', a solo exhibition featuring new and published work by Minnie Phan.
Opening Reception:
Friday, March 4, 6-8pm
Exhibition runs March 1 - April 28, 2016
Minnie Phan is an Oakland-based illustrator and cartoonist with a BFA in Illustration from California College of the Arts. She specializes in editorial and children's book illustration, making work that is colorful, thoughtful, and charming. Clients include NPR, Live Nation, The Bold Italic, and The Asian American Literary Review.
'Kith and Kin' explores the unique stories that craft culture and heritage, while exposing the difficulties of existing in a multicultural society. The exhibit includes paintings from her book 'They Call Us Viet Kieu' as well as the debut of new body of work.
Please join us Friday, March 4th to celebrate its opening reception! Zines will be available for purchase, and light refreshments will be provided.
See you there!

Jeyeon . 更新日 2016年2月22日
---