Hapa Human Library
Nikkei National Museum
6688 Southoaks Crescent
Burnaby, British Columbia, V5E 4M7
Canada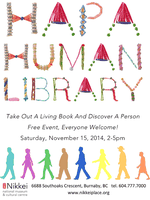 Are you curious about issues of identity? Do you like to hear new and intriguing stories? Come to the Nikkei National Museum and sit down with a Human Hapa Book for a one-on-one informal conversation to explore hapa identity. Hapa is a person with mixed race heritage with partial roots in Asian and/or Pacific Islander ancestry. You are guaranteed to be inspired and learn something new.

This human library is organized in conjunction with the Kip Fulbeck: part Asian, 100% hapa exhibition now showing at the Nikkei National Museum until January 4, 2015. We invite everyone to participate, but especially hap a of all mixes, parents raising hapa children, and youth exploring their own identity. We also encourage anyone not familiar with the term hapa to take out a Book to learn how mixed race people identify themselves. Confirmed book titles at the moment are
Japanese Canadian Young Leader: Discovering Heritage, Community and Identity
An Older Hapa, Editor and Taiko Player
Youth Engagement & Japanese Canadian Community Development
See website on how to take out a Book.

Concept of the Human Library
The Human Library promotes community engagement by bringing people with unique life experiences together to have open and honest conversations. "Human Books" represent a host of lifestyles and experiences. Books and Readers have the opportunity to speak personally and in private in a structured, protected space within a limited time.

NNMCC . 更新日 2014年11月7日
---