FILM SCREENING: Mountains That Take Wing – Angela Davis & Yuri Kochiyama Co-directed by C.A. Griffith & H.L.T. Quan
Japanese American National Museum
100 N Central Ave
Los Angeles, California, 90012
United States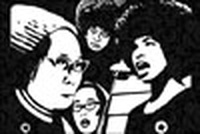 Mountains That Take Wing – Angela Davis & Yuri Kochiyama is an award-winning, inspiring, historically rich and unique documentary featuring conversations that span thirteen years between two formidable women who share a profound passion for justice. Through conversations that are intimate and profound, we learn about Davis, an internationally renowned scholar-activist and 88-year-old Kochiyama, a revered grassroots community organizer and 2005 Nobel Peace Prize nominee. Their shared experience as political prisoners and their dedication to Civil Rights embody personal and political experiences as well as the diverse lives of women doing liberatory cultural work.
Illustrated with rarely-seen photographs and footage of extraordinary speeches and events from the early 1900s to the '60s and through the present, the topics of this rich conversation range from the critical, but often forgotten role of women in 20th century social movements to the importance of cross-cultural/cross-racial alliances; from Japan's "Comfort Women" to America's WWII internment camps, from Malcolm X to the prison industrial complex; and from war to cultural arts. Davis and Kochiyama's comments offer critical lessons for understanding our nation's most important social movements while providing tremendous hope for its youth and the future.
Free with Museum admission. Reservations recommended to rsvp@janm.org or 213.625.0414 at least 48 hours prior.

JANM . 更新日 2012年1月28日
---