BUDO: United States Martial Arts Festival 2011
Redondo Beach Performing Arts Center
1935 Manhattan Beach Blvd
Redondo Beach, California, 90278
United States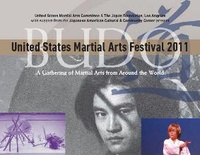 Doors Open 11:00am
Martial Arts Performance 12:00pm
Panel Discussion 2:00pm
Martial Arts Performance 3:30pm
The Japan Foundation, Los Angeles, and The United States Martial Arts Committee present the "United States Martial Arts Festival 2011" with the support of the Japanese American Culture and Community Center.
Martial Arts is an extensive system of codified practices and traditions of combat, practiced for a variety of reasons including self-defense, competition, physical health, and fitness, as well as mental and spiritual development.
Budo (Martial Arts) Performance
Admission Prices
VIP $30
Orchestra $15
Terrace $10
Budo performance admission include 16 martial arts performances, divided up into two sessions, organized by the Shin Koyamada Foundation and a panel discussion organized by The Japan Foundation, Los Angeles.
Japanese Art Form Demonstrations (11:00am - 4:00pm)
Admission free area showcasing:
SADO: Japanese Tea Ceremony
KADO: Japanese Flower Arrangement
SHODO: Japanese Calligraphy
Panel Discussion
"BUDO: Why Martial Arts is Needed Today"
Admission free
Experts lead this discussion with the goal of showing how the spirit of BUDO influences people for world peace and introduce the audience to the spiritual beauty of Japanese BUDO.
Moderator: Dr. David Matsumoto
Professor of Psychology and Director, Culture and Emotion Research Laboratory, San Francisco State University
Panelist: Robert J. Matsueda
Northern California Kendo Federation (NCKF), Vice
President- Education
Panelist: Dr. Denis Gainty
Assistant Professor, Department of History, Georgia State University
Call 1-888-507-3287 (Mon-Fri 9:00am - 6:00pm) or visit All American Tickets or US Martial Arts Festival website to purchase tickets.

vkm . 更新日 2011年11月1日
---