Artist Robert Dozono Book Signing and Conversation
Blackfish Gallery
420 NW 9th Avenue
Portland, Oregon
United States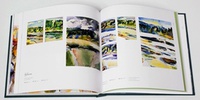 Oregon Nikkei Endowment in conjunction with Blackfish Gallery is proud to sponsor a conversation with Robert Dozono to honor his recent publication, Robert R. Dozono: Accumulation | Work 1963-2009 . A conversation between Robert Dozono and artist George Johanson will be followed by a book signing at Blackfish Gallery, located at 420 NW 9th Avenue and beginning at 1pm. This event is free and open to the public.
One of the essays included in Accumulation is by fellow artist and Portland Community College colleague Marie Watt who characterizes Mr. Dozono's work and life thusly: "...as he accumulates useful items on his desk and in his studio, as he accumulates everyday objects which are then converted into art, Bob Dozono accumulates people and assembles them into a coherent, supportive community dedicated to the sharing of ideas. And this may be his greatest work: both as an artist, and as a human being."
Dozono is a long-time member of Blackfish Gallery, which is fully owned and operated by working artists since it began in 1979. A portion of proceeds from book sales will benefit Oregon Nikkei Endowment and Blackfish Gallery.

Oregon_Nikkei . 更新日 2011年3月24日
---