San Jose Taiko in Concert - Morristown, NJ
Mayo Center for Performing Arts Community Theatre
100 South Street
Morristown, New Jersey
United States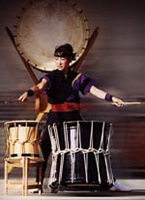 http://www.mayoarts.org/indiv/indiv_sanjosetaiko.htm
Experience the explosive sound and energy of these Japanese drum masters as they fuse Japanese, Latin, Brazilian and African rhythms with a breathtaking mix of innovative choreography, lighting and staging that will dazzle both children and adults.
Background:
Since 1973, San Jose Taiko (SJT) has been mesmerizing audiences with the powerful, spellbinding, and propulsive sounds of the taiko. Inspired by traditional Japanese drumming, SJT performers express the beauty and harmony of the human spirit through the voice of the taiko as they strive to create new dimensions in Asian American movement and music.
Under the artistic direction of Roy & PJ Hirabayashi, performance and expression are predicated upon a profound respect for each member of the group. The spirit and essence of both rehearsal and performance require physical endurance, with running and exercise required of all members during practice sessions. All compositions performed by SJT are written or arranged by members of the group. Composing, choreographing, designing and producing costumes, and handcrafting of the drums are part of the holistic process in which all members participate. Through this singleness of mind and spirit, harmony is achieved and the music rings with unity and clarity.
Saturday, May 1, 2010
at 8 pm
$27-42

More Information:
http://www.taiko.org


San_Jose_Taiko . 更新日 2010年7月9日
---