New Theater Workshop
Japanese American National Museum Democracy Forum
111. N. Central Avenue
Los Angeles , California
United States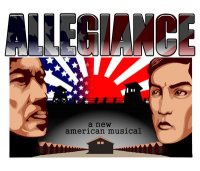 World-premiere reading presentation of selected scenes and songs from Allegiance, starring Lea Salonga (Miss Saigon, Les Miz, Flower Drum Song) & George Takei (Star Trek, Heroes).
Music & Lyrics by Jay Kuo
Book by Jay Kuo and Lorenzo Thione
Arrangements and Music & Vocal Direction by Frank Johnson
Allegiance is a new musical about love, loss and heroism during the Japanese American internment. This concert presentation of selected songs and scenes features actors "on-book" at music stands, without costumes, props or sets. This format permits attendees to listen to and appreciate the work's potential in its purest and rawest form.
Also Starring: Mike Hagiwara (Manzanar), Michael Lee (Miss Saigon, Pacific Overtures), Jose Llana (Spelling Bee, Rent, Flower Drum Song); Jennifer Paz (Miss Saigon, Flower Drum Song), Enrico Rodriguez (Mamma Mia, Rent), James Snyder (Cry-Baby, Bare Cast Recording) and Tamlyn Tomita (Karate Kid II, Joy Luck Club, Heroes).
PROGRAM
7:00 PM - Performance (Free Admission with RSVP)
8:30 PM - Wine Reception benefiting SFNTW ($50 tax-deductible donation)
Please RSVP to this event via Facebook (http://www.facebook.com/group.php?gid=51492905860#/event.php?eid=90284952317) and/or CONFIRM by sending email to ceci@sfntw.org
For more information on our plans for Broadway and how to get involved with this groundbreaking work, please contact us at info@sfntw.org.
More information contact (415)812-4667

kacieyoshida . 更新日 2010年7月9日
---