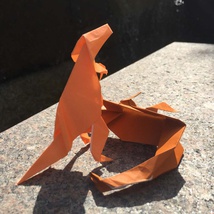 "So what we will be folding is…"
Sachi felt her heart pound hard. Was her lanyard ID badge over her chest moving up and down, too? What was Craig "T-Rex" Buck, the 21st century master of origami, going to have them fold?
The mood around the polished wood table was indeed emotional. They were supposed to be the elite folders at this Left Coast Origami Convention in Anaheim.
Holly West, known for her nimble hands, rubbed her fingertips together. Sachi figured Jag Griffin, part of Buck's entourage, would have received some insider information, but he was squeezing a napkin so …