As we continue to pay homage to the great Amy Uyematsu, we wanted to feature a special collective poem that was just presented last weekend at the Japanese American National Museum at Amy's Celebration of Life by five friends of Amy - her best friend Lynn Taise and four writers from Amy's class in Little Tokyo — the Women Word Warriors (Nina Chan, Kathy Masaoka, Keiko Miya, Janice Yen). We provided prompts and questions for the group to consider, including a few favorite lines from Amy's poems, and collectively crafted this piece for the gathering to honor and celebrate her. We're honored to share it here.
— traci kato-kiriyama
* * * * *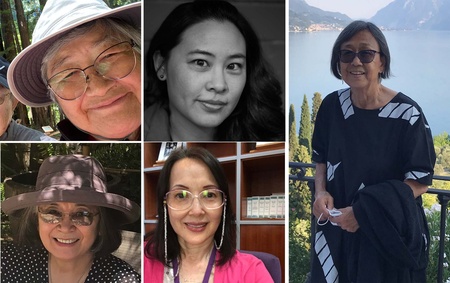 Women Word Warriors was a poetry class and group started in 2015 in Little Tokyo by Amy Uyematsu. They met regularly even through the pandemic via Zoom, and when Amy was sick, she encouraged the group to meet without her and they heeded her call.
Amy says: A poet is both mother and father
Nina: Writing with her always felt safe, no matter how unpolished a work might be,
She was so open
you would never be afraid to share it
Nina: She never pushed,
gave guidance in small suggestions
always told you what she liked
was generous with her compliments
Kathy: She would tell me gently "there is another poem in here - write some more"
Janice: She was always patient with us even as we, her students, veered astray from the writing assignment. (as we often did!)
Keiko: She remembered birthdays, sending a special card with
her own design, a hug and a big Kampai
Lynn: Amy's open heart and unwavering support were two qualities that made you know you were in the company of someone who cared deeply and unconditionally

Amy says: Poets are mad, I tell you, mad. My teacher tells us to fill the sky with so many poems, there won't be room for bombs
Lynn: Purple was her color - a hue that reflected her spirit and that she surrounded herself with - from irises and orchids to her socks and her bridesmaid dresses.
Janice: Amy had a keen sense of historical wrongs - She wrote "Slaughter and plunder/slavery and prison camps/ask any Native/or dark-skinned victims —the price of not being white"
Kathy:
Amy loved discussing
politics, had an insatiable
desire to know what was
going on in Little Tokyo and beyond
Nina:
She could make you feel gritty,
And motivated,
or content and peaceful

Amy says: I teach math for a living. I write poems to survive. Both train me to cultivate the empty field
Lynn: Amy found beauty in patterns and numbers - seeing how certain numbers would show up in her life. Like 47 and its reverse 74 - She was born in 1947 and her son in 1974. In the year she turned 74, her son turned 47.
Kathy:
She loved sudoku and so
do I. I was often tempted to
ask her for some of her
secrets to solving them but
I just never could.
Lynn: A blackjack player at heart, she found joy in the game where strategy, mathematics and luck intertwined
Keiko:
I admired her knowledge of math - she used it to make a living and it helped to shape her poetry.
Nina: Each week with Amy was a lovely collection of little vignettes to create from our minds, our senses, our feelings.
Kathy: She would tell us to walk outside
Keiko: Write things by hand
Janice: Write about what you know
Kathy: Observe what is around you
Lynn: Amy and I loved just hanging out and talking about the small things
Nina: A plain bowl of white rice and Japanese pickles
Keiko: TV shows like "a million little things" and "America's Got Talent"
Kathy: being called "Gum Gum" by grandsons who could not pronounce Grandma
Lynn: celebrating the big events in our lives. Amy had a traveler's soul that took her on many adventures in Portugal, Brazil and Spain
Nina: Glimpses of romance, dancing, and music
Lynn:
the Galapagos Islands, Machu Picchu,
Nina: Beautiful images of nature and the ocean
Lynn: China, Tibet and Japan
Janice: Her love of STONES— She said: "And I have long called myself a stone lover somehow knowing my unfinished story is also carried in the wordless stones that fill my path"
Nina: Amy could say so much with so little
Kathy: We thank you, Amy.
Keiko:
We shared a history - my father
worked for your grandfather in the 1930's
I will take with me:
your smile
your humility
your flexibility
your tenacity
your courage
Nina:
You always made me feel welcome
You told me how you appreciated my perspective.
It always felt special when my words captured an image you liked.
What I loved about you:
You were humble
You were so interesting, so cultured, not just in your own heritage but others too
Amy, you were kind and incredibly thoughtful
You had a hard time with origami - but tried anyway!
Thank you- you taught me to embrace my heritage!
Janice:
Amy, you told me to write about what we know…
To think about my family history and
my long journey of activism in Little Tokyo
I'll always think about:
Your quiet sense of humor
Your urging us to journal more - for reflections, observations and new poems…
And the camellias at Descanso Gardens and their Uyematsu legacy
You contributed so much- through writing, mentorship of students, and your willingness to speak truth to power
Kathy:
Thank you for being the "big sister" I
lost -
sharing advice and trusting each
other with our dilemmas
I will remember -
Your grounded presence and
steadiness, yet how surprisingly
nervous you were around technology!
your deep sensitivity to people's
feelings, often agonizing over how to
handle a situation.
always responding to a message no
matter how short or inconsequential
the message may have been.
Lynn:
Amy, you and I could talk for hours about our dreams, our plans, weighing life choices. Our friendship was based on honesty, sincerity, and trust . You had the ability to find humor and the silver lining in situations - sharing laughs together. The history we built is a testament not only to our friendship, but to the supportive, thoughtful, and powerful person you are. You are a forever friend.
* * * * *

Amy Uyematsu Celebration of Life at the Japanese American National Museum