Accolades from far and wide are celebrating Amy Uyematsu. Long overdue recognition is growing, and glowing with appreciation for her incredible collection of poetry.

I want to talk about her other superpower. Amy Uyematsu, poetry Sensei. My poetry mentor who restored my joy of writing with her wit, wisdom and works. She challenged us each week with a variety of themes and tied them to works from well-known and obscure poets to broaden our writing reach. Like the Uyematsu Camillias now housed at the Descanso Gardens, her deft care helped us grow and thrive. Dearest Amy – Friend, Sister, Sensei thank you. Please rest in comfort, harmony and peace.

— Miya Iwataki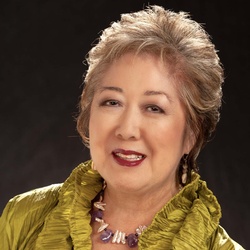 Miya Iwataki's life experience as an AAPI woman activist, Japanese American warrior for Justice and Reparations; KPFK-FM East Wind Radio host; architect of diversity and cultural competency programs for LA County Health; have Inspired a lifelong respect for cultures, community and commitment to justice and equity. Her poetry, writings and columns are shaped by an appreciation for the profound effect of words and language on our culture and our times. She is a member of Nikkei Progressives, NCRR and Nat'l Nikkei Reparations Coalition fighting to win Black Reparations today. As Vice President of Little Tokyo Historical Society, she's working to preserve the history, legacy and cultural soul of Little Tokyo in the face of gentrification.
SMOKEY
The Defining Moment of the Dance
Ooo oooh baby baby
Oooh Smokey
Silky soft and sensuous
A vibrato tasting of honey
Sliding down my throat
Sing, Smokey
Come and get these memories
Of chaperoned dances and
Dudes with slicked back pompadours
Wearing Sir Guy shirts and
Freshly ironed khakis
Hot cars the color of
My tube of Candy Apple red lipstick
Slipping and sliding between the
Chubby folds of naugahyde tucked and rolled
In the backseat of his chevy 409
Parked outside of the high school gym
Mistakes, I know I made a few
But I'm only human
You make mistakes too
Tight curls, tighter skirts and tear drop earrings
Waiting for that fine fine superfine dude to
Gangster pimp over
And cop a dance
When they play Smokey
Sweaty slow grinds
With the lights turned low
Soft French kisses
In the shadows of the high school gym
Sing, Smokey
I'm just about at – the end of my rope
But I can't stop trying, I can't give up hope

TSURU TSURU
In June 2019, Japanese Americans joined with Tsuru for Solidarity to go to Fort Sills, OK to block the detention of 1400 children seeking asylum – at the very same site where Issei and Nisei were imprisoned during WWII. People throughout the country folded 125,000 origami Tsuru which were hung as a symbol of hope and resistance. These mass protests forced the plans for opening Fort Sills to be revoked.
**Tsuru - the Japanese crane is a symbol of hope and longevity, some say it can live up to a thousand years. (The poem opens with several verses Haiku)

A young crane lost
Soaring, seeking, searching for
familial sounds
The tsuru tsuru
Of graceful wings fluttering
through summer skies
Her outstretched wings have
seen many days, many miles
Searching for family
The young crane cries
Mama papa where are you
Cry little crane cry
Wings beating tsuru tsuru
A hushed brushing sound
As she circles the camp
***
Barbed wire
Silent barracks
Dimly lit bulb
Casting shadows
on a
small wooden table
where
deft fingers
Gently fold
Tsuru.
Tsuru for peace, for hope
Across oceans -
Clouds mushroom
then dissipate
revealing
a young Sadako.
Gentle fingers
intently folding
a thousand cranes.
Tsuru soldiers
for peace,
for hope
until time runs out
***
Tsuru tsuru
Wings beating harder
Her journey bringing
Reluctant witness to
Imprisonment
Family separation
Nuclear devastation
Now - 70 years across time
Desert detention.
Grim guards
Demean, defile – deaf to
Silent screams
Whispered whimpers
Children – chattel
Innocence on ICE
***
Threading her way
thru space and time
from camp to camp -
Woven in history
the young crane
finds her Family
In the Spirit of
125,000 thousand Tsuru
A Convocation connecting
Crafted in unison
By hundreds of gentle fingers
By families borne of the camps
Rising in resistance across clouds of time
Tsuru tsuru
Tell your story
Tsuru for Justice
Tsuru for Solidarity
*These poems are copyrighted by Miya Iwataki (2023)


* * * * *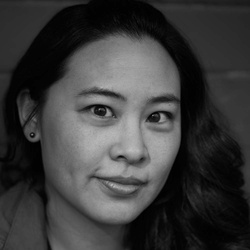 Nina Chan is a Chinese-American family doctor who enjoys writing. She lives in the San Fernando Valley with her husband, her dog, and her two children. She writes poetry in her spare time with inspiration from her writing group, the Women Word Warriors.
Glory to the First
Glory to the first
The first borns, the first line, the first place
The pioneers, the trailblazers, the entrepreneurs
Those bold and brazen, paving the way
To show us what we thought impossible
Glory to those with the strength of imagination, willpower, and ambition.
Glory to the first.
But where are leaders without followers?
Those who say, yes, I will support you
Bring those from an outlier, an extreme, an aberrant madness
To shape into a vision, a movement, a trend
What happens to those nameless next,
No longer celebrated for something new
Yet championing the same struggles with the same determination and grit
To emphasize a pattern, to reinforce a precedent?
It takes two points to make a line, a vector, a direction.
The second step can be as hard as the first.
The second half is as crucial as the first.
The first is the start, the initiate, the beginning
But the end, the result, everything that comes after
That's often what really matters
So glory to those who are there second,
To second sight, to second guesses, and second nature
To the believers, the successors, the up and coming
Glory to those that bring within reach the dreams set forth by others,
showing us that what applies to one can apply to all.
Glory to the second!


Heirloom Gardening
It takes an avocado anywhere from five to thirteen years to set fruit from seed.
Some may even grow, never to bear fruit.
Yet on my kitchen windowsill sits the avocado seed
It's oblong shape friendly and smooth, without corners
Suspended on sticks in a glass of clear water
Like a strange wooden egg
Or a brown, lopsided bubble
In the middle of a splintered raft
Or round toothpick bridge
Why bother? You may ask.
Gardening is an act of patience.
It is the practice of discipline, to keep constant vigilance and be present enough to inspire change.
It is a lesson in extreme empathy, to coax and nurture life from a hard, dead thing
until it brings forth the potential that lies within.
What you choose to cultivate is up to you.
The plants that bear your fruit and flower will be your legacy.

Comfort Food
Delicate blossoms in pinks and purples
In their feminine shape full of soft edges
Tender leaves and petals
Shed water like the finest velvet
Beads of dew rolling down the vine
I watch my son
His little fingers
Exhibiting the pincer grasp
Technique not fully refined
As befitting a toddler his age
Running through the garden full of
Bubbles and colorful chalk art
Laughing as he picks and eats the flowers
One by one
Surprised by their sweetness
And delighting in the idea
Of eating something so beautiful
And I wonder if in the future
Seeing a flower on a plate
Will become as banal to him
As any other thing
Or will he feel the wonder
Of a moment like today
And always be comforted
By beautiful flowers
*These poems are copyrighted by Nina Chan (2023).
* * * * *
*If you'd like to read more about Amy, please see this article written by Mike Sonksen on Alta: "Amy Uyematsu's Power Verses"