As I gazed upon my mom's old wooden hand mirror, I found that time has not been kind to my face. There were noticeable lines across my forehead, wrinkles around the corners of my mouth and dark spots of old age.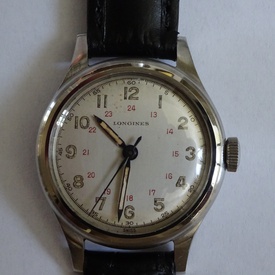 Whenever I held my dad's old broken wrist watch against the windowpane, I noticed that time had stopped at 10:30 a.m. The face on the watch was made of glass which was dome shaped and tinted yellow with age. The numerals on its face were from 1-12, 13-24 by the hour and 5-60 by the seconds. No wrist watch band was found whatsoever. I had always wondered if Dad's watch stopped at the precise moment of his death.
Mom gave me his watch for safe keeping. She wanted to wait until I was old enough to understand who Dad was to me and to tell me more about him. Unfortunately, she passed away on April 30, 2013.
I did learn that my dad, Yoneto Nakata, was born on November 25, 1918 in Sanger, California. His parents were Suetaro Nakata and Rie Dehari who traveled from Hiroshima, Japan to California for a better life. Then tragedy struck Dad. His mother became very sick and they had to return home to Hiroshima. He had lost his mother in 1930 and his father in 1939. He was an only child and had no one left of his family. He decided to return home to California with his cousins, Minoru and Masao, who were born in Los Angeles. They all wanted to start a new life together in America. Dad worked hard at Kinoto Flower Growers of Los Angeles and later was drafted into the United States Army.
When World War II began, he was placed as a hospital orderly. His cousins who were married were sent to Jerome Relocation camp in Arkansas. Dad wanted to prove his loyalty to America and volunteered for the Military Intelligence Service. He would translate military documents from Japanese into English. I learned that his wrist watch he wore was a Longines military watch and he would carry his black address book. He wrote names and addresses of his military friends and families in his book. He crossed out old addresses, wrote new addresses and added new names. His military watch and the black address book may had followed him throughout the war.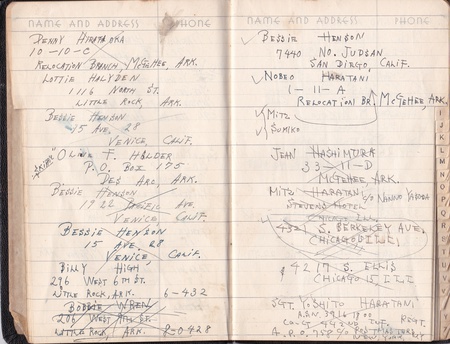 When the war ended, Dad returned to Japan and worked under General MacArthur at General Headquarters in Tokyo. His job was to repatriate the Japanese soldiers and citizens back to Japan. This was where he met mom, Yaeko Niikura, and married her at the American Consulate in Yokohama.
I became a part of the Nakata family on January 1, 1948 which was the most important day of the year in Japan. My parents left for California on March 14, 1948 in search of their dreams. Tragedy struck once more for Dad. He became ill and passed away on May 28, 1948 at 6:50 AM. I realized that the time of his death did not match the actual time on his wrist watch. Dad's military watch probably stopped when he could no longer wind it. Dad was only 29. Mom was 21. I was six months old living with my grandparents in Japan. I became an only child.
His Memorial Service was on June 3, 1948 at the Evergreen Memorial Park Cemetery in Los Angeles. In an old photo album, there was a picture of Mom, of Dad' casket and of the twelve Nisei soldiers. Mom wore a black dress while Dad's casket was covered with the American flag and twelve Nisei solders stood at attention with their military rifles. They all looked very solemn and serene.
Later, Dad's ashes were shipped in a bonze shoe size metal box to the Renkoji Temple in Hiroshima where his parents were buried. His military uniform, his medals and his tags were all shipped to Japan. Mom kept Dad's military documents, passports, an old photo album, a Japanese-English dictionary, his address book and his military watch. Mom returned to Japan to bring me back to live in California. I was two years old and had to leave behind all my memories of Japan, my grandparents, my cousins, and now my dad.
Dad's dreams of watching his family grow old together, obtaining his college degree, and starting a new business with his father-in-law in America were gone forever.
I wanted to accomplish most of his dreams by graduating from college, working hard as an elementary school teacher for 37 years, getting married to John Sunada and starting a family together with our two sons, James and David.
Though I was not able to say my good-bye and thank you to my dad or to find any Nisei soldiers who knew him or to locate any of his living relatives in America, I would honor Dad by writing stories about his daughter's love for her father who she never knew was an American hero.
As I researched my dad's military documents with the help of my husband, I began to learn so much more about myself. I see myself in Dad. Both Dad and I had suffered losses and made sacrifices in life. Yet, we were able to survive and to overcome obstacles. Many more World War II stories of sacrifices from the Japanese-American citizens who lived in the many relocation camps in America and heroism from the Nisei soldiers of the 100th Infantry Battalion, the 442nd Regional Combat Team, and the Military Intelligence Service appeared across the nation. My dad was one of those soldiers in the MIS who helped shorten the war by two years.
I finally realized that Dad's watch which I held many times against the window pane now brought new meaning and memories for me. In my dream, I would visualize Dad wearing his watch, winding it and thinking about his life no matter how short it was, as a soldier, a husband, and a father. Looking again at his old broken wrist watch, I decided to repair it and to bring it back to life. I would listen and hear it ticking as if my dad's heart was beating again. Now, I can wear his watch to remind me of how much of a hero he was and how much more he was as a Dad.