If you're a Japanese-American who lives on the East or West Coast, chances are, there are myriad ways to celebrate and nurture your Nikkei heritage with various festivals or celebrations, museum exhibits, trips to your local Japanese markets and restaurants, or through memberships in organizations such as the Japan Society or Japanese American Citizens League. But, what do you do if you grew up and live in the American South like my best friend Brenda and I? We are the daughters of Japanese mothers who married our Southern, U.S. soldier fathers in the aftermath of World War II. As Hapas, we have often said that we are half-Japanese and half-Southern.
There's only one Japanese festival in the Mid-South. Our moms made sure we attended the inaugural event which was sometime in the late 1970s, but neither of us has attended since, primarily because it's just too hot, even for summer kimonos or yukatas. We can go to a local restaurant, but, there are really only one or two offering the best J-food available, or one or two markets that carry a wide-range of Japanese items, and there are no local societies to join.
So, Brenda and I tend to celebrate and embrace our Japanese cultural roots in small ways, through how we choose to decorate our homes, our choices in the covers we choose for our electronic devices (thank you, Amazon), and our clothing when we are able to find fabrics that have a Japanese aesthetic.
Brenda learned to play the okoto when she lived in Hawaii as a child. Her okoto teacher was one of the more than 120,000 Japanese-Americans who were incarcerated in internment camps during World War II. Brenda's okoto hangs on a diagonal, covering one wall in her living room. My baby kimono hangs in my home office. There's a framed furoshiki cloth of a kabuki lion dancer in my living room, and a scary, framed, Japanese print in Brenda's bedroom that is supposed to ward off evil spirits. Her mom put it there.
And, then there are times when our Japanese and Southern cultures combine to create something unique and beautiful. Earlier this year, I purchased an antique sewing rocker at my church yard sale, which I imagine came from a genteel, Southern lady's home, and recovered the seat in a lovely red furoshiki cloth that belonged to my mom. I just love it.
Many times, it's easy for me to see similarities between Japanese and Southern culture, particularly when it comes to hospitality. For example, each year, the ladies of my church host a Christmas tea. A silver tea service is on display, and the tables are draped in linens and set with china and silver, as well as decorated with lovely centerpieces reflecting the season. The food is what you would expect at a Southern tea, delicate sandwiches, deviled eggs, cheese straws, scones with clotted cream, lemon squares and much more. To me, the setting always looks like something you'd find in the pages of "Southern Living" magazine.
A few years ago, I traveled to Washington D.C. to visit my cousin Eriko at the same time her mom, my auntie Teruko, would be there, as I had not seen my auntie is several years. For the welcoming lunch, Eriko prepared a wide array of dishes including quiche, salmon, steamed rice, miso soup, and tsukemono (Japanese pickles), along with a fruit salad for dessert. Like the Christmas tea, the table was beautifully dressed with Japanese-designed placemats and small Japanese dishes for each individual item. It was lovely.
Attention to detail, with an eye toward making everything perfect to ensure guests feel welcome and special are traits that traverse both cultures. Like Japan, there is a graciousness here in the South, where we are mindful of our manners, we still say "yes, ma'am" and "no, sir," and share a custom of kindnesses easily offered and returned.
Back in the spring, I went to lunch at a tearoom in an old Southern mansion with my book club. Steeped in tradition, the book club has been in existence in my small, Southern town for 90 years. I was tickled when I noticed some of the ladies turning the china over to see the maker on the bottom. At my table, while I can't remember the maker, the teacup read "occupied Japan," china that is quite collectable these days. I've watched my and Brenda's mom do the same thing at fancy restaurants many times, most recently at our annual "share a Japanese mom" Mother's Day outing with Brenda's mom at The Peabody Hotel in Memphis. The china was Wedgwood. Back in the early 1990s when I worked for a Japanese trade association in Washington D.C., as we sat down to lunch one day at the Hotel Washington, I watched the three Japanese men who worked in the office turn the china over to see the maker. It made me smile, and that china was Wedgwood, too.
In addition to aesthetic choices, for the past several years Brenda and I have enjoyed reading the English translations of mystery novels such as "The Devotion of Suspect X," and "Under the Midnight Sun" by popular Japanese author Keigo Higashino. In "Under the Midnight Sun" we were puzzled by the continued reference to a character's "Osaka accent." Brenda recently asked her mom who is from Osaka, what an Osaka accent sounds like, and her mom said, "Southern." And Brenda thought, "Of course it does!"
Thanks to technology, for the past year or so, I have enjoyed the NHK World app on my iPad and Amazon Fire TV, which offers Japanese television programs in English including news, sumo, and my favorites, shows highlighting Japanese food, culture and travel.
But for Brenda and I, perhaps the greatest celebration of our Nikkei roots will come next fall. Both Brenda and I have had the opportunity to travel to Japan with our moms as children in the 1970s, and as adults in the 1980s and '90s. My mom passed away 20 years ago, so I thought I might never have the opportunity to travel to Japan again with Japanese family. However, earlier this year, Brenda asked if I would like to go to Japan with her, her mom (who will be 86) and Brenda's son who has yet to travel there. And truly, I can think of nothing better than the opportunity to travel together with my best friend of more than 45 years, and her family to Japan. We already know it will be a trip of a lifetime for all of us!
Brenda and I are particularly eager to have her son (who will be 30) meet his Japanese family for the first time, and to see his reactions to all that makes Japan unique and special. We will be traveling to Osaka, which I have not been to since I was a child, and her son has said the two places he really wants to see are Mount Fuji and Hiroshima.
When I was a child visiting Japan, I could see Mount Fuji from my grandfather's house when the shoji screens were open to the veranda. But during both my visits to Japan, my mom didn't want to see Hiroshima, and when we went to Hawaii together she refused to visit the U.S.S. Arizona as well. She said the same thing about both places: "Too much death." On a later trip to Hawaii, I would visit the Arizona with Laura, my best friend from high school, whose father was a U.S. Navy captain. There are two people listed on the memorial wall there whose last name I share. It is a very solemn place. And my mom was right, of course.
As a Japanese-American whose birthday is August 6, I have carried Hiroshima with me since I learned about what happened there that day. I remember reading John Hersey's book "Hiroshima" in high school, as well as reading Masuji Ibuse's novel "Black Rain," about Hiroshima, and seeing the Japanese film adaptation of the book in my 30s when I lived in Washington D.C.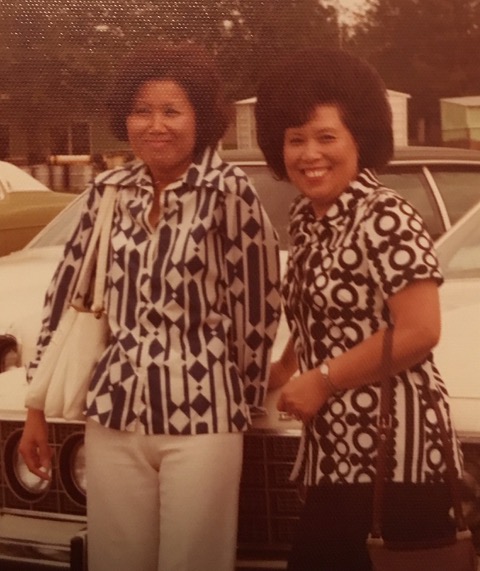 Even though my mom was nowhere near Hiroshima when the atomic bomb was dropped, ever since I was a little girl, she suffered from a recurring nightmare throughout her life of taking my hand when I was a small child, and both of us running to escape the mushroom cloud. Regardless, I too, like Brenda's son, want to see Hiroshima, and perhaps need to see it, for myself.
But most of all, I am so excited, and I know Brenda is too, about the adventures we will share together in Japan with her family – the food, shopping, technology, and hopefully a first-ever trip to a hot spring resort or onsen, and so much more. What a wonderful way to enjoy, discover and learn more about our Nikkei roots. We can't wait!