My best friend Brenda and I have often talked about how much change and history our parents witnessed over the course of their lifetimes. We are the only-children, daughters of U.S. military fathers who were born and raised in the American South and Japanese mothers.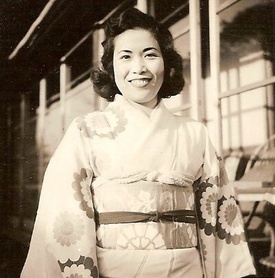 Our parents lived through much of the history of the 20th century, and we too, as their daughters also are living witnesses to that history.
Beginning in 1985, I had the great privilege of serving as a press aide to two of Tennessee's U.S. Senators in Washington, D.C. As a high school and college student, I remember reading books and watching movies such as Farewell to Manzanar about the internment of Japanese Americans during World War II. But, it was as a Capitol Hill staffer that I became familiar with the redress movement to correct that injustice. I even joined the Washington, D.C. chapter of the Japanese American Citizens League to advocate for redress. It was during this period in the mid-1980s that I met for the first time, someone whose grandfather had been an internee in one of the camps. While living in Hawaii, Brenda learned her okoto teacher and her teacher's mother had both been internees as well.
It took years, and testimony by internees before Congress, and still many believed redress would never happen. But in 1988, President Ronald Reagan signed the Civil Liberties Act granting $20,000 in compensation to those surviving Japanese Americans sent to internment camps during World War II. He also issued an apology, "righting a grave wrong."
In 1991, President George H.W. Bush also issued a formal letter of apology from the U.S. government to those Japanese Americans who were interned during World War II. In addition, I was privileged to be present in the White House rose garden to witness President Bush signing legislation creating "Asian American Heritage Month," introduced in the Senate by Hawaii's Sens. Daniel Inouye and Spark Matsunaga. Sen. Matsunaga had passed away by the time the legislation was signed, however, I was honored to be able to shake Sen. Inouye's hand at the event. Both senators were members of the 442nd Regimental Combat Team, 100th Infantry Battalion during World War II, the all Nisei, and most highly decorated unit in the history of the U.S. military. Sen. Inouye lost his right arm to a grenade in the war.
Presidents Reagan and George H.W. Bush may not have been Nikkei, but they are still Nikkei heroes in my book, for signing the redress legislation, for their apologies to the 120,000 internees and their families, and for recognizing the contributions of Asian Americans to our nation.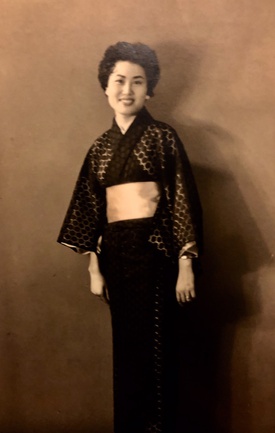 However, for Brenda and I, perhaps the greatest Nikkei heroes we know are our moms, who were among the largest emigration of 30,000 Japanese to the U.S. in the nation's history, as the wives of U.S. servicemen following World War II. Our moms embraced American culture and made America their home, becoming American citizens and raising their daughters as all-American girls, with a deep and abiding appreciation for our Japanese cultural heritage.
I suppose we should give a nod to our Southern dads, too, who also traveled to a country completely foreign to them, embracing its people and culture. My dad often said, "The Japanese people are the most honest and hard working people I have ever met." Brenda's dad spoke fluent Japanese, and both men loved being in the Japanese countryside, as country boys are wont to do. My dad was constantly taking pictures and passing the time of day with local farmers, while Brenda's dad often went fishing with his Japanese friends. Farming and fishing, not too dissimilar to what our dads grew up doing, in Tennessee and Mississippi. They may not have been Nikkei either, but they are heroes, too, at least to their daughters, for their willingness to build bridges between cultures, and in the process, creating their own versions of an American family.