"Well, if we get about ten or fifteen people," said my colleague Michael Sullivan, "that'll be a good group. And it's supposed to rain, so who knows who will show up?" For a few years, Michael and I had been working on telling bits and pieces of Japanese American history separately (including blog posts, personal essays, an encyclopedia article) and together, on a joint project about the history of the Lorenz Building near the center of downtown Tacoma.
But we'd been invited to conduct a walking tour together. Armed with an iPad presentation and historic pictures, I walked over to the big "W" sculpture at the top of the UW Tacoma steps. It hadn't rained, but it was cloudy and sprinkling. I saw a crowd of about twenty-five people, which was a pleasant surprise. Only a few of them were friends—most of them were people I'd never met. By the time we left the sculpture and started walking, around eighty people had joined us.
People wanted to see what was left of Tacoma's Japantown.
* * * * *
Before we started the tour, Tony Gomez of Tacoma's Broadway Center introduced Michael and I to the crowd—it was his idea to do the walking tour, in conjunction with the Center's production of Nihonjin Face, an original play by Densho's Janet Hayakawa and playwright Tere Martínez. A few years ago, he had seen that the 75th anniversary of Executive Order 9066 was coming up, and commissioned the play.
A week after the tour was over, I asked Tony about its genesis, and he responded generously in an e-mail:
When we commissioned [Nihonjin Face], there was a strong sense of wanting to anchor the story in the South Sound Japanese American community. The playwrights and I would email back and forth as we researched the area (including your HistoryLink article, the handwritten map, and Michael's blog), debating whether the Hashimotos would live on Fawcett or Broadway and referencing historic individuals…

I live on the edge of Tacoma's historic Nihonmachi, and as I crossed it on my way to downtown, I often wondered what stories lay dormant in the vacant, grassy lots. Today, between the empty slope and the massive convention center, who could know there was once a thriving Japan Town there? And why didn't the families return? As a former social studies teacher, I see neighborhoods and buildings as primary sources and believe that walking among relevant streets and buildings always leads to more powerful and empathic learning.
As of this writing, the play has been shown to over forty-thousand school children all over Washington State, as part of the Broadway Center's annual Civil Rights Tour. As a fitting conclusion, its last performance was at the University of Washington in Tacoma—just a few blocks from the heart of Tacoma's Japantown.
* * * * *
We began our tour at that large "W," then, and moved uphill towards the Whitney. The Whitney building is now the Arts Center for UWT, a converted church that was sold to the University in 1999. The former congregation of the Methodist church was largely Japanese American, and began worshiping well over a hundred years ago. They worshiped in private homes for a few years; in 1929, they built this church.
On the tour, I was able to talk to a few new people, including retired former State Representative Art Wang and local Puyallup blogger Karrie Zylstra. Karrie had known my writing about Tacoma's Japantown, she said, and she was excited to see some of the areas I'd been talking about in my work. We talked about Japanese journalist Kazuo Ito's book The Issei, which includes incredible hand-drawn maps of Nihonmachi, including Tacoma's. (You can read Karrie's impressions of the tour here on her blog.) I met Tacoma residents who live near Tacoma's former Japantown and wanted to know more about the history of their neighborhood. And I talked to a few friends, including my friend Megumi Azekawa. She was excited to hear that some of Tacoma's first Japanese immigrants came on a steamship from Yokohama—that's where she's from originally, in Japan. I had a similar sense of homecoming when I learned that the first immigrants also came from Hiroshima, where I still have relatives. Our people have been here longer than we'd thought.
Ito's map shows a set of blocks filled with Japanese-owned businesses, including Seattle's now-famous pan-Asian grocery store, Uwajimaya. Lately it's been bittersweet to tell Tacoma natives that Uwajimaya started here, and watch their surprised reactions. Usually—and with all due respect to the Asian groceries here now—we sigh for what could have been a major Asian grocery store in downtown Tacoma.
* * * * *
One of the hardest things about a tour of Tacoma's Japantown today, though, is that there isn't very much to see in the present. So much of this tour is a tangible measurement of unnecessary loss.
But, we had pictures. From our past historical work, Michael and I had surmised that there were several large centers of community in Tacoma's Nihonmachi: the Buddhist Temple, the Methodist Church, and the Japanese Language School, or Nihongogakko. The Language School, as I've written before, was demolished in 2004. So we walked along Fawcett Avenue, and stood near the steps of the Buddhist Temple. We pointed across the street, where there are now large vacant grassy lots. We told people to picture blocks with wood-frame houses, since Japantown was also a highly residential neighborhood. I reminded people to go and visit the memorial sculpture for the Japanese Language School, since we weren't going to have time to walk past it on the tour.
Then we turned downhill and stood across from another vacant lot, the site of the Lorenz Hotel. Michael and I have written about the history and a few of the former notable tenants of the building, including Issei journalist Shuichi Fukui, in other pieces. Using our tablet computers, we showed people the historic pictures of this beautiful building—once a 3-story hotel with several street-level storefronts, designed by a renowned architect. But it was still tricky to stand at 17th and Market Street, and ask people to find meaning in a muddy and hilly corner, surrounded by a chain link fence.
A few blocks later, though, we'd reached the corner of 15th and Broadway, which is now the main entrance to the Tacoma Convention Center. We told the participants that they'd reached the heart of Tacoma's Japantown. We all stood across the street and looked at the concrete parking lot, the Centennial Pavilion (more concrete, used as a meeting space), and the sleek tower of the Murano Hotel. Michael and I each had a picture of this corner on our computers. We asked people to look at what it once was and what it is now. I watched people file by the screen that I was holding up; their eyes flicked towards the screen, and back again. Astonishment, dismay, shaking of heads.
You could see their facial expressions change, every single one.
* * * * *
A few blocks later, just before the end of the tour, we reached Court C, a street which is now an alley tucked behind and between theaters. This area included the "shady" side of Japantown, including gambling parlors and brothels (businesses which did seem to continue after the Japanese left, if under different ownership). Michael talked about the Crystal Palace, which was home to many of the Japanese produce stalls. It was, in short, Tacoma's Pike Place Market—and indeed, it was designed by the same architect (Frank Goodwin) as Seattle's. As Tacoma residents, we shook our heads over what we'd lost to wartime prejudice, urban renewal, and the Tacoma Mall which drew away so much business from the downtown core.
"I've done a bunch of walking tours," Michael said to me later, "but I've never seen this kind of concentration, this kind of focus."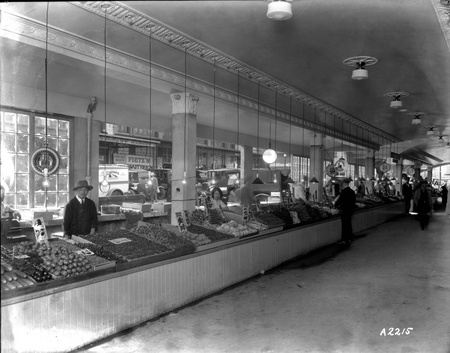 * * * * *
Maybe a tour of Tacoma's Japantown would probably garner interest no matter what. But, given the 75th anniversary of the signing of Executive Order 9066, this tour and the play (Nihonjin Face) seemed to gather special interest. All three shows of the play sold out that day. At the Broadway Center, Tony told us that he and his staff had been fielding calls about the tour. People have asked Michael and I to repeat it, and we hope to do so again.
For me, one of the most meaningful things for me was that this tour marked part of a full Day of Remembrance in the city of Tacoma itself. Local schools and universities have marked this anniversary, but to the best of my knowledge, the city itself has not had a Day of Remembrance for its Japanese Americans. We had a thriving Japantown before World War II; we still live less than fifteen miles from "Camp Harmony," the "assembly center" at the state fairgrounds. The Camp Harmony Committee is still planning its own anniversary commemoration this September. And, irony of ironies, Camp Harmony is also the site of the very first Day of Remembrance in 1978, when Japanese Americans and their allies drove a caravan from Seattle to Puyallup. Since then, Days of Remembrance have occurred in cities from San Francisco and Los Angeles to Denver and New York.
Days of Remembrance remind us that at its best, the work of history can be a collective, communal, and healing practice. Despite how painfully relevant the anniversaries of Japanese American incarceration have felt, I believe it's time for Tacoma to remember its own history again.