As we continue to pay homage to the great Amy Uyematsu — who, yes, I will continue to call the People's Poet Laureate of J-Town — I am so grateful and honored to present a poem in this series of homage, by another one of my favorite people and writers, the wonderful poet, educator, DJ, F. Douglas Brown. Doug and I have been working together with Visual Communications on a special arts, poetry & community project around Suehiro, First Street North, and the "Future Ghosts of Little Tokyo" and he was inspired by Amy — now one of our ancestors and inspirations for the extension of our project. Here, Douglas beautifully weaves in lines from Amy's own work to begin each stanza of this poem centering Charlie "Bird" Parker and Bronzeville. This is part 1 of his piece we are already swooning as we look forward to more...enjoy.
- traci kato-kiriyama
* * * * *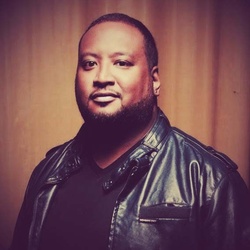 F. Douglas Brown is the author of two poetry collections. His first book, Zero to Three, was selected by Tracy K. Smith for the 2013 Cave Canem Poetry Prize. He is both a Cave Canem and Kundiman fellow, and his poems have appeared in numerous journals and magazines. Brown proudly sits on the advisory circle for the Lorca Latinx Poetry Prize and the boards for Beyond Baroque and Cultural Daily. Currently, he teaches at Loyola High School of Los Angeles, where he serves as the Director of the Office of Equity and Inclusion. When he is not teaching, writing or with his children (Isaiah, Olivia, and Simone), he is busy DJing with the Halo-Halo Boyz in the greater Los Angeles area.
Bird Entering Bronzeville
after Amy Uyematsu
It begins here—
As a song stuck in Bird's head, his come-down
Tune swaying a bit, humming, and then a full tap
To the bright of LA shine. It clears his aches:
"I'm awake goddamn it! I'm awake." And Bird don't care
About the young buck Miles. In this business,
young men vanish in the night.
Bird knows this truth and attempts to belt
His head out while rehearsing. Take after take—
Nothing until a knock and a back door devil
Deal. A spell slips midday away.
"The Finale gon' be magic
Tonight, baby." Yes, tonight Bird plays
The gravy off the plate. Tonight
poets go to jail
Without a way to describe translucence,
But it wears double-breasted pinstripes
And the boogie dines until breakfast.
Any causes and curses, Bird riding them off
To remind the listeners that others know survival, too.
*This poem is copyrighted by F. Douglas Brown (2023)