Introduction
LA Native Nick Lee has amassed quite the resume during his time in the music industry: record producer, songwriter, composer, trombonist, and, as of 2021, two-time Grammy nominee for his work on pop hit "INDUSTRY BABY" by Lil Nas X (ft. Jack Harlow) and accompanying album MONTERO. "It's still surreal to me," Lee said, "Makes me feel proud of myself. It's an incredible badge I have the honor to wear."
Attending Juilliard for a short time before leaving to pursue music production, Lee has since gone on to work with some of today's most popular stars, imparting his trombone and other musical talents to musicians from all around the world. While he's busy with his music company, Sumowhaleboy, and producing some of today's top hits, Lee has kindly taken the time to be interviewed by Discover Nikkei over email to discuss his experiences in the industry as a trombonist and, particularly, an Asian American musician.


Family & Background
Lee's story begins in Los Angeles, where he was raised by his Chinese mother and half-Chinese half-Japanese father. "I believe I am 3rd-5th generation, depending on which side," Lee said, "My mom's parents immigrated from Guangzhou, and her father was actually a paper son. My dad's side has been in the US for a long time, I think my great great grandparents were the first to come over."
Lee himself grew up in West Hollywood, a vibrant community known for its music, entertainment, and commonplace celebrity sightings. "I guess my childhood was definitely different from the average American I suppose, but to me, it was normal since it was all I knew," noted Lee.
"I grew up seeing celebrities every now and then, like for instance, the elementary school I attended had a lot of parents who were celebs, and I remember seeing people like Will Ferrell and Jack Black walking through the school. Being Hollywood adjacent was pretty cool at times. When I would go away to sleepaway camp in elementary school, the other kids (non-Californians) would always marvel that I grew up in Hollywood."


Trombone & Inspiration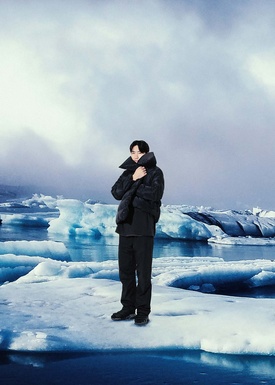 Yet, for Lee, school was much more than celebrity sightseeing—it was the place that ignited his love for the trombone and, eventually, his career in the music industry.
According to Lee, he chose to play trombone in his 7th grade beginning band class. "Up until that point, I had been taking classical piano lessons for about 6 years. Something drew me to the trombone, I think it was the slide and the fact that you're able to really phrase things like a human voice. I started taking it seriously in 7th grade, taking lessons and practicing a lot.
In 8th grade, I joined the jazz band, and that's when I really got into it. Jazz improvisation was really appealing to me. It spoke to me more than classical music. I remember in 8th grade I would always get to school early with my friends Theo and Jason to jam out. We practically taught each other how to improvise."
Lee also makes note of the person who started it all: "I have to mention my middle school band director, Starr Wayne. She was my biggest inspiration, and I owe my entire career to her. She was the one that got me passionate about the trombone and music, and she was incredibly supportive and would always make me want to learn more and more."

The Juilliard School
Lee's desire to "learn more and more" became an admittance letter from one of the most prestigious performing arts schools in the world, The Juilliard School. Yet, after two years at Juilliard, Lee couldn't help but feel that he was not quite where he was supposed to be. Lee later left Juilliard, his eyes set on a new path.
"It was a long buildup towards that decision, but the decision came easily once everything crystallized. It definitely wasn't "easy" all around–my parents were not too happy with me at the time haha. Getting a college degree is definitely valuable and important (especially in Asian families), but for me, it was something I felt wasn't completely necessary. And luckily for me, it all worked out in the end."


Experience in the Music Industry
Following his departure, Lee got to work building what he left Juilliard for: his career. With his close friends, peers, mentors, manager, and family behind him, Lee steadily built his discography up as a producer, with Megan Thee Stallion, JJ Lin, Mustard, Vince Staples, Dillon Francis, Stray Kids, and CL being among some of the noted. And, of course, for his role as co-producer on "INDUSTRY BABY" and MONTERO, it was only natural that Grammy nominations would accompany his dedication to the project.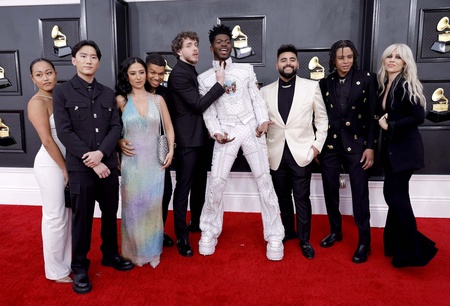 In addition to his career, Lee has been open about sharing his experiences being Asian American and, especially, Asian American in the music industry.
Although "Nikkei" isn't a term that he particularly identifies with, Lee has expressed his willingness to become more involved with the community. "My dad is involved with JANM, so I try to stay up to date with the museum and such. I also went to an event at the Japanese Consulate in LA once, that was really cool. I definitely would like to get more involved."
Lee has also tapped into the pride of being Asian American in the industry, noting that he views being Asian American as an advantage. "I feel like it sets me apart from other producers since there are very few Asian American producers. It also provided a natural segue to the Asian music markets, like K-pop, etc. I actually used to see it as a disadvantage, because I always felt like I was overlooked and had to work twice as hard as my non-Asian American peers (which is true). Now I embrace my identity to the fullest, but it definitely took a journey to get here."
Yet, while it's now a source of pride for Lee, being Asian American in an otherwise non-Asian American space can still be overwhelming and even discouraging. "It definitely means feeling overlooked and having to work twice as hard as non-Asian American producers. There are many times I've encountered microaggressions or straight-out racism. But that's par for the course," he said. Lee doesn't end on a sour note, however. Instead, he's wise to note the impact that he and others will have on the future of the industry.
"It is inspiring to know that my success will help pave the way for younger generations of Asian American producers and songwriters," wrote Lee, "There's also a strong sense of community among Asians in the entertainment biz. Almost like a shared mindset of wanting to help each other out and watch each other's backs."


Closing
Today, Lee continues his ever-evolving journey in the music industry. Still, he's adamant about emphasizing the pride that accompanies what he has accomplished so far.
"I'm really proud of what I did on "INDUSTRY BABY," and the fact that it's played by marching bands across the country," Lee said, "It's been really cool to witness. I once got a [direct message] from a young trombone player saying something like 'thanks for making the trombone cool again,' and that meant a lot to me."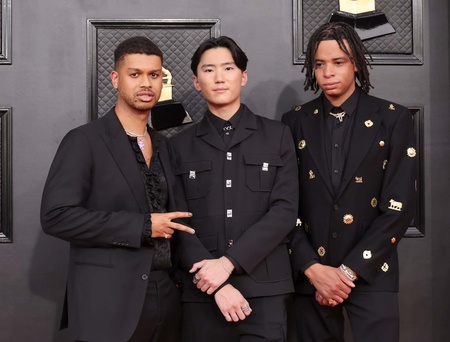 From middle school band player to record producer, songwriter, composer, trombonist, and Grammy nominee, the sound of Nick Lee continues to ring a little louder every day—for himself, for his supporters, and for all who are happy to listen.