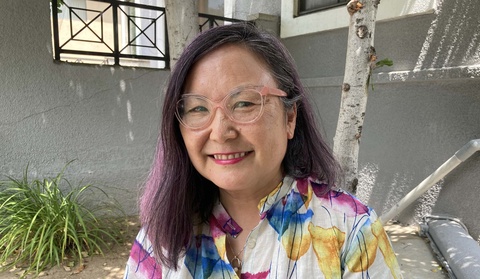 Naomi Hirahara is a Japanese American writer and journalist known for her award-winning mystery novels. Hirahara tends to utilize the mystery genre to explore pockets of Japanese American culture and identity through a variety of historical periods. Her newest book, Evergreen, continues this trend.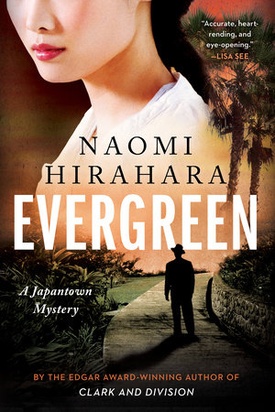 Evergreen is Book 2 of Hirahara's A Japantown Mystery series. In this book, Aki Ito, the protagonist of Clark and Division, returns to the Little Tokyo region of Los Angeles in 1946.
In an e-mail correspondence, Hirahara explains why she enjoys writing mysteries featuring Japanese American characters, like Aki in Evergreen or Mas Arai from the Mas Arai mystery series.
"The mystery genre is the perfect container for a story like Mas Arai's and Aki Ito's." she said. "They both have gone through traumatic experiences yet if they didn't encounter dead bodies (basically, life-threatening situations), they may soldier on and ignore the pain of the past. But that dead body prevents them from doing so."
Hirahara continued, "Also, the mystery genre demands agency. So I enjoy my protagonists having the power to change the destinies of people around them. And I love writing about Japanese Americans because there aren't enough stories about them, especially in commercial fiction."
Thus, Aki's return to Los Angeles carries a certain gravitas. She and her family are allowed to return home to Los Angeles two years after their release from Manzanar Concentration Camp and relocation to Chicago. For some Japanese American Angelenos, their memory of Little Tokyo is something that they held and hold dearly.
However, during their absence, Little Tokyo became Bronzeville. The industries and businesses that the Japanese American Issei once led had changed hands. While some members of the Japanese American community held onto the hope of returning to their previous way of life, Aki Ito was not one of them. Aki Ito is and was more focused on finding and rebuilding a new home for her family.
In a previous interview with Brian Niiya of Densho, Hirahara expressed that she's been trying to "crack the Nisei female voice for some time in fiction." She noticed that "there was this level of optimism, yet I know there was so much trauma that occurred."
She reiterated this sentiment in our correspondence. Hirahara recalls that her interest in Nisei women like Aki Ito came from her experience at The Rafu Shimpo, where she was a reporter and editor in the 1980s and 1990s.
"I encountered Nisei women [who were] very reticent about sharing their personal stories in camp," Hirahara explained. "I think that they were concerned how they would be perceived by their peer group. (Some women, of course, were very out-spoken, but most weren't.) I wanted to investigate their psyche beyond the demands put upon them as wives and mothers. It took me some time to take this on."
This, perhaps, is the emotive beat of her upcoming novel. If Aki Ito had her way, she would ignore her trauma and soldier on to build a life for her family. Aki is forced to confront buried traumas when she admits Haruki Watanabe, the father of her husband's best friend, into a Japanese hospital. She suspects that her patient is a victim of elder abuse and that her husband's friend is the perpetrator.
Her sinking feeling is compounded when the police come looking to ask her husband questions. Aki becomes concerned about her husband's relationship with the Watanabe family. As Hirahara described, this becomes the starting point in Aki's journey to confront the pain of her past while looking to best help her husband. Thus, this becomes the next step in Hirahara's own journey exploring the psyche of Nisei women.
In this novel, she captures a unique nuance in the zeitgeist of determination and struggle that many Japanese Americans felt as they navigated their new American reality after the Second World War. Evergreen is published by Penguin Random House and is now available for purchase at the JANM Store. A limited number of copies are signed.
* * * * *
JANM Book Club: Evergreen with Naomi Hirahara
Saturday, September 9, 2023 from 2- 3:30pm (PDT)
Japanese American National Museum (Hybrid: In person / Virtual)
Join Edgar Award–winning author, Naomi Hirahara, for a dive into the history of Little Tokyo through her newest book, Evergreen. Evergreen, the follow-up to the Mary Higgins Clark Award–winning Clark and Division, is the story of a Japanese American nurse's aide who navigates the dangers of post-World War II and post-Manzanar life as she attempts to find justice for a broken family. Hirahara's presentation will include photographs from 1946 Little Tokyo, Boyle Heights, and Burbank trailer parks. This event will include an optional self-guided tour of Little Tokyo landmarks featured in the book.
The JANM Book Club is a series of Public Programs that highlight new publications by Japanese Americans or related to Japanese American history and culture.
FOR MORE INFORMATION & RSVP >>