In the period after 1932, Yoshie Fujiwara made Japan his primary residence. In these years, he founded the Fujiwara Opera company, which thereafter remained central to his artistic and business activity. He later asserted that in its first years, the new company suffered annual losses of $240,000, as Japanese audiences were hesitant to buy tickets for opera performances, so he had to take outside singing gigs to help make up deficits.
Meanwhile, amidst the Japanese military buildup and expansion in Asia, he became engaged as a semiofficial cultural ambassador for Japan. It is difficult, at a century's remove, to know how much of his public support for Tokyo's imperial policy was sincere, and how much opportunistic. As with the artist Foujita, who also embraced nationalism during this period, Fujiwara's advocacy of Western culture may have left him especially vulnerable (which his mixed-race background did nothing to reduce) and so he may have felt impelled to demonstrate ostentatious patriotism.
Whatever the motivation, in 1932 Fujiwara visited Mukden, Manchuria and held a conference with officials of the Kuantung garrison (i.e. the Japanese army of occupation). He thereafter agreed to add to his concert repertory "The Song of Asia," and "Combatting Banditry and the Rule of Right," two propaganda songs on the trials and heroism of the Japanese soldiers, as a means of defending Japan's actions in Manchuria. (Accounts differ as to whether Fujiwara himself or Army staffers composed the songs). Fujiwara travelled to Japanese Korea to record the songs, then returned to Japanese-occupied Manchuria for location shooting on his second film, entitled Sakebu Ajia ("The Call of Asia"). It opened in January 1933. Fujiwara promoted it heavily, appearing for screenings of the film in Japan and North America during his 1933 tour.
After his 1933 American tour, Fujiwara did not return to the United States for three years—presumably he was occupied with directing the Fujiwara Opera Company. According to one report, he planned a visit to Italy in late 1935, but it was ultimately cancelled due to Italy's invasion of Ethiopia.
Whatever the case, a North America concert tour was hastily arranged for mid-1936.
As usual, Fujiwara first stopped to perform in Honolulu, then continued on to the Pacific Coast. Fujiwara landed in San Francisco, where he spent several days. His stay climaxed with a sold-out concert at the Fairmont Hotel, sponsored by the local Japan Society. The magazine Musical America was measured in its praise: "Small but expressive, his voice and singing convey a sense of that exquisite fragility of fine Japanese art."
He then proceeded to Los Angeles, where he sang recitals at venues from Terminal Island to the Nishi Hongwanji Temple in Little Tokyo. His program was composed of songs by Japanese composers Yuji Ito and Kosaku Yamada, plus selections from Scarlatti, Schubert, and an aria from Puccini's Manon Lescaut. The Musical Courier reported: "A Japanese tenor, Yoshie Fujiwara, came to town without any spectacular publicity, and gave a concert on June 4 in the Japanese Union Church. His own countrymen and countrywomen filled the auditorium to overflowing, but the occasion was well worth the attendance of any musician or music lover interested in vocal art."
One product of the tour was the formation of close bonds between Fujiwara and the young generation. To be sure, Fujiwara had long associations with Nikkei communities, both on the mainland and Hawaii. He had sung Japanese songs for Issei audiences, made appearances sponsored by Japanese newspapers and clubs, and done benefit concerts for community groups. During his 1936 tour, however, he reached out specifically to Nisei. After he made a series of Bay Area appearances sponsored by the Shin Sekai newspaper, its staff held a reception at the Japantown YWCA. There the singer met a group of local Nisei, with whom he discussed the careers of Nisei performers in Japan. While in Los Angeles he visited the offices of Rafu Shimpo.
In June 1936, Fujiwara performed in Seattle at Washington Hall as a fundraiser for the JACL. He invited local Nisei performers Hannah Kosaka, Kazu Nakamura and Sachiko Ochi to appear with him. In an interview on the Japanese American Courier's radio program, he praised the Nisei: "I feel appreciative of the very real manner in which the Second Generation Japanese, as true American citizens, are building for themselves a place of recognition in the life of their country. Their worthy organization, the Japanese-American Citizens' League, is becoming a real second generation institution for greater citizenship and thereby contributing to the cause of promoting a better understanding between the Japanese and American people." The following month, Fujiwara performed operatic arias and Japanese folk songs at a concert presented by the Japanese American Citizens League at the First Congregational Church in Salt Lake City.
Following Fujiwara's North American tour, the editors of Rafu commissioned him to report on the Olympic Games, which he attended later that summer. Ironically, Fujiwara did not report on his invitation to sing at the Olympic Village before the Games's opening—it was Shin Sekai's Tamotsu Murayama who commented on the concert, in a dispatch carried from Germany to America via the (soon-to-be doomed) Zeppelin Hindenburg.
As special correspondent for Rafu at the 1936 Berlin games (now infamous as Adolf Hitler's Olympiad), Fujiwara produced 20 cable dispatches over ten days, including descriptions of races, pole vaulting and swimming competitions, plus comments by the athletes. His English was fluent and filled with sports slang. Curiously, even though Fujiwara was reporting to an American audience, and the games he covered were marked by the exploits of African American track star Jesse Owens (whom Fujiwara referred to as "the sensational dusky American speedster") he centered his coverage on Japanese athletes.
When Owens won the broad jump, setting a new world record, Fujiwara's dispatch centered instead on Naoto Tajima of Japan, who finished third: "[Owens's jump] drew a tremendous ovation from the bowl, but the effort of the Nipponese jumper surprised the huge assembly and threw the Nipponese rooting section into an uproar."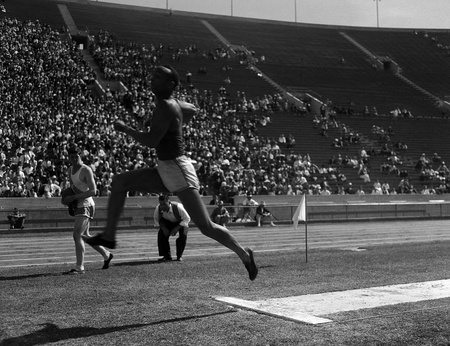 Fujiwara provided an account of the stirring victory in the Marathon event of Korean runner Sohn Kee-Chung, who competed for Japan under the name Kitei Son.
"The 22-year old Chosen Japanese, whose sinewy legs carried him to triumph, amid the cheers of hundreds of thousands of spectators who lined the course, still had reserve power left when he finished." Rafu's editors boasted that Fujiwara's scoop was relayed to Masao Satow of the Japanese Athletic Union, who announced it over the loudspeaker to the audience at their meet.
Around this time, Fujiwara signed a contract with the NBC network for a series of radio appearances. Tamotsu Murayama reported that Fujiwara intended to make New York his home, just as soon as his European concert tour (which included a performance in Puccini's opera Madama Butterfly in Geneva) was complete. However, Fujiwara did only one show before being stricken with a mysterious illness, and spent a month immobilized in his suite in New York's Plaza Hotel. He recovered in time to give a recital at the Barbizon-Plaza in February.
Fujiwara found new direction during this time via his connection with swing pianist and bandleader Vincent Lopez. He had first appeared on Lopez's radio show in 1936, and his performance of Japanese music so intrigued Lopez that the bandleader began to perform swing versions of Japanese music in his broadcasts. The collaboration bore special fruit in March and April 1937, when Fujiwara recorded 8 songs with the Vincent Lopez orchestra. On April 11, Fujiwara and Lopez presented together a program of Japanese songs from the CBS studios. It was broadcast at midnight, New York time, and directed both to the United States and to Japan.
Around the same time, Fujiwara performed and narrated a film short, a musical travelogue called "Melodies of Japan." In mid-year, he guest-starred with the Seattle Civic Opera, taking the role of Alfredo in Verdi's La Traviata", then moved on to Honolulu for another set of concerts on his way back to Japan. (While in Japan, the Nikkei press breathlessly reported, he played golf with Japanese Premier Prince Konoye),
After making a summer visit to Singapore, where he gave a thrilling performance at Singapore's Victoria Memorial Hall attended by several hundred spectators, Fujiwara sailed to South America in Fall 1937 to give concerts in Buenos Aires and Sao Paulo. The Brazilian newspaper Nippaku Shinbun noted, "The illustrious patrician tenor, Yoshie Fujiwara, sang a recital at the Sociedade de Cultura Artistica that was crowned with complete success. The day before yesterday that artist debuted at Theatro Municipal, and having confirmed his artistic talents, leveraged a new success."
Historian Dale Olsen refers to Fujiwara's role in South America as a "cultural ambassador for Japan." In the wake of Japan's invasion of China, the tenor represented Japan as a culturally vibrant and friendly place. Olsen cites the journal El Argentin Djijo, which praised Fujiwara not only for his talent but for introducing the public to Japanese music: "In addition to the meritorious musical triumph of the tenor (for his excellent qualities such as his skillful use of the voice, clarity of articulations, and artistic temperament)….This public performance by the tenor Yoshie Fujiwara, then, was necessary for Japanese music to be made known in Argentina."
In May 1938, Fujiwara visited London and sang at a reception held at the Japanese embassy. The same week, he stopped in Paris to sing at the Hotel George V at a reception in his honor given by the Comité franco-japonais. Shortly afterward, he performed songs with the Berlin Philharmonic Orchestra under the baton of Hidemaro Konoye (Prince Konoye's brother).The following year, he made a second concert tour of Argentina and Brazil. On the way back to Japan, he stopped off in Los Angeles and sang a concert on October 1, 1939 at Tenrikyo Hall in Little Tokyo.
The Little Tokyo concert, as it turned out, marked the end of an era for Fujiwara. By the time it took place, the Second World War had broken out in Europe, and the doors of the continent were closed. Once back in Japan, Fujiwara (animated by both artistic and political motives) supported a musical project on the history of relations between Japan and the United States: Kosaku Yamada's Japanese-language opera "Yoake," which recounted the opening of Japanese-American relations (and was thus a forerunner of sorts of the Stephen Sondheim musical Pacific Overtures.) The opera premiered in Tokyo in January 1941. Fujiwara sang a lead role as American consul Townshend Harris.
The next several years would prove difficult for Fujiwara. Once the Pacific War broke out, Japanese nationalists denounced opera as decadent Western culture. His company was forced to remain idle during the war. After the war, he struggled to reconstitute his company and bring back opera to Japanese audiences.
In January 1952, Fujiwara returned to North America for a concert tour. As before the war, he started in Hawaii, where he sang at McKinley High School in Honolulu. He then proceeded to perform in New York, Toronto, Chicago, and Denver. Fujiwara hoped to arrange an exchange of singers with the Metropolitan Opera. While this proved impossible, with the help of the American Embassy he was able to bring over the Yoshie Fujiwara Opera Company to perform in theaters across North America. Their signature piece was a bilingual version of Madama Butterfly, with Fujiwara singing Pinkerton and soprano Kazuko Yamaguchi as Cio-Cio-San.
In 1963, Fujiwara announced his retirement from the stage. He died of liver failure in March 1976. He retains a certain fame in Japan. The Fujiwara Opera is still Japan's best-known opera company, and continues to give performances. There is also a "Fujiwara Yoshie Memorial Museum" in Shimonoseki. In 1993, Kaoru Fukukawa published a fictionalized version of Fujiwara's life, Hyôhakusha-no Aria [The Aria of a Wanderer ] However, in Europe and North America, where he was once a real celebrity, his star has rather dimmed.