Dear Grandpa,
On the last leg of our trip in Italy, we went to the capital of the Tuscany region. Firenze–Florence is a gorgeous city, with Renaissance era architecture and art. The city center has narrow, cobblestone streets lined with tall, terracotta-tiled buildings. The Arno River runs through it and colorful, picturesque houses border its shores. Michelangelo's masterpiece, David, is only one of the many famous pieces of art in its multiple museums.
There is so much to love about Florence–its centuries-old Renaissance history and beauty and culture; the food, the wine, the gelato. But despite all of this, I hated being there. It was August, 100 degrees, humid, and the peak of tourist season.
I felt claustrophobic from all of the people, narrow streets, tall buildings, and the stifling heat. I had to stumble out of a cafe one evening and look for the sky because I felt like the walls were closing in on me. I couldn't breathe and I was afraid I was going to pass out. Our third floor apartment, with a view of concrete apartments, and an air conditioner that circulated hot air, didn't provide much refuge.
Still, during my time in the city, I managed to get out and do a few of the touristy things. I went to an art gallery, walked around the town square, took pictures of its marble cathedral, walked up to a vista of the city. I felt compelled to do these things because, like, you can't go to Florence and not see Michaelangelo's David, right?
But I actually had a different purpose for being in Florence. The real reason I was there was to get a little bit outside of the city, to go to a place that isn't on most people's bucket lists, that isn't a tourist destination.
I went to Florence to find a cemetery.
The Florence American Cemetery and Memorial sits on seventy acres of majestic rolling hills just outside of the city. Operated and maintained by the American Battle Monuments Commission, the Italian government granted the land tax-free and without charge to the United States as a permanent burial ground for WWII fallen soldiers.
A memorial sculpture titled "The Spirit of Peace" overlooks the grounds, and the names of more than 1,400 American servicemen are etched into giant marble walls, called the "Tablets of the Missing." There are nearly 4,400 American soldiers buried in the Florence American Cemetery, in graves marked with marble crosses and stars of David. Most of the fallen died trying to penetrate the Gothic Line. Thirteen of those soldiers were in the 442/100th. I was going to decorate their graves.
Nat had mapped out my public transportation route to get to the cemetery from the Florence city center. It would take forty minutes and I would need to take two different buses. I would have ninety minutes at the cemetery before my return bus came, and if I missed it, there wouldn't be another bus. It was 1:00 in the afternoon; the sun was high in the sky, and it was 95 degrees.
Chiara is the office associate at the cemetery. I had emailed ahead of time to see if anyone could help me. She responded with enthusiasm that she would be honored to assist. Chiara's an Italian citizen, but employed by the US government. Her small administration office building at the entrance to the memorial has framed pictures of President Biden and the American Battle Monuments Commission Secretary displayed prominently on the wall.
I walked into the refreshing air conditioned office, sweaty from the bus ride and a short walk. "Bonjourno, Lena! Welcome!" she smiled, and I immediately liked her. A thirty-something Italian woman, Chiara is tall, slender, with dark curly hair pulled back and a warm, friendly smile. She grew up in the town near the cemetery, and has understood since she was a child that this land in her backyard was hallowed ground.
"Please explain to me what you are wanting to do so that I can best help you," she said with a gentle accent.
"My grandpa was Japanese American. He served in the 442, here in Italy." Suddenly I felt my throat tighten, a tingle in my nose; my eyes started to water. "I want to decorate the graves of some of his fallen comrades." I cleared my throat, embarrassed by the unexpected wave of emotion that overcame me. "I'm a writer and want to tell their stories."
"It is my honor to help you with this," she said, "and if it's ok with you, I'd like to do a small ceremony at each of the graves. I think you will find it meaningful."
A ceremony, I thought. "That sounds wonderful. Thank you."
The cemetery is so peaceful, immaculately curated by the professional landscapers, the "green team" as they call themselves. Not a single weed penetrates the lush, meticulously trimmed grass. Blooming rose gardens make the air smell sweet.
Together Chiara and I walked through the rows of white marble crosses, searching for the headstones of the 442/100th battalion men on my list. One by one, we found the gravemarkers we sought, and I knelt before each one to place an American flag into the ground.
Then Chiara performed the ceremony. She carried with her a bucket of sand. It came from Anzio, Italy, where American and British Commonwealth soldiers made a surprise amphibious attack on the Germany Army. She knelt at the base of each headstone and gathered a handful of sand. Solemnly, she spread the sand over the engravings. Soldiers' names, their rank and military unit, where they were from, and date of death suddenly appeared, a dark contrast against the white marble stone. Then with the greatest of care, she cleaned the rest of the stone.
I placed an origami crane on top and took a picture, and then I nestled the crane into the grass, next to the flag. I brushed my hand across the sanded name of each soldier and I thanked them for their sacrifice. It ended up being a ceremony that Chiara and I performed together. A collaboration to honor the heroes, between an Italian and an American, both of us too young to remember, both of us the beneficiaries of their sacrifices.
I wonder if any of them were your friends, Grandpa. I wonder if you carried them down the mountain. I wonder if you tried to comfort them, if you gently closed their eyes.
Private First Class Charlie Fujiki was twenty-two years old, from a farming community in Santa Cruz County, California. He had five siblings and was a junior in high school when Pearl Harbor was bombed. His family, No. 12220, was sent to camp in Poston, in Arizona, where he finished high school behind barbed wire. He volunteered for the US Army, along with his older brother. Charlie died in February 1946, and was awarded the Combat Infantryman's Badge. His headstone says he was from Arizona.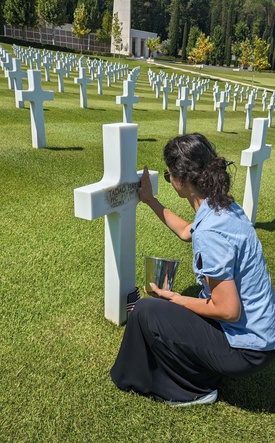 I cried when I read about Tadao "Beanie" Hayashi. A photograph of him on a 442 website shows him with piercing dark eyes. He was movie-actor type handsome, with a broad jaw and wavy hair.
He grew up in Salinas, California. His father was killed in a car accident just two days before his first birthday, and his brother died of an illness when Tadao was seven. He was in the Boy Scouts, played on the varsity football team at his high school, and had aspirations of being an architect. But instead, he and his family were sent to the Salinas Assembly Center, and then to camp at Poston.
He volunteered for the Army and trained at Camp Shelby, like you did, Grandpa. He took a bullet for a fellow soldier, and was awarded the Bronze Star Medal, Purple Heart Medal with two oak leaf clusters, Good Conduct Medal, American Campaign Medal, European-African-Middle Eastern Campaign Medal with four bronze stars, World War II Victory Medal, and the Combat Infantryman Badge. Tadao was 21 years old. His headstone also says Arizona.
Not everyone had been in camps, but there were others. Robert Kishi was at Rowher, Jimmie Taketa and Setsuro Yamashita were at Minidoka, John Yamamoto was at Poston.
Chiara had told me that 39% of soldiers killed in action are buried overseas in American military cemeteries. At first I didn't understand why the families would choose not to bring the remains of their sons' home to be buried. Why would they want them to be buried in a country so far away?
But then I realized: many of the Nisei soldiers didn't have a home to go back to. Many had families whose futures in America were uncertain. They had been forcibly removed from their homes, sent to live behind barbed wire, in dusty and desolate parts of the country, under the watch of armed guards. So their families made the choice to have them buried with their comrades on the other side of the world, among lush gardens and evergreen trees, where they would always be protected, always be remembered, and always be honored, for their service and their sacrifice.
Now I understood.
And my heart breaks thinking about it.
Love,
Lena