Aijiro and Nao Tashiro had five children who had distinctive (and distinct) careers. Today I will speak of the eldest child of the family, Kenji Munn Tashiro, known as Ken. I will go on to explore the particular contributions of the other Tashiro children in separate columns.
Ken Tashiro was born in Waterbury, Connecticut on April 17, 1906. The news of his birth was widely publicized in the mainstream press, as it was reportedly the first birth of a "pure-blooded Japanese" in New England. Ken spent his early years with his family in Connecticut and Rhode island. It was not until the family moved to Seattle, around 1918, that Ken encountered a large Japanese population for the first time. Ken attended Franklin High School in Seattle, where he was nicknamed "Kazunk," and graduated in 1925.
During this period he became a boy scout leader, enthralling his group by doing recitations from Shakespeare and poems such as Robert W. Service's "The Cremation of Sam McGee." He enrolled at a Y. M. C. A. training school, intending to become a missionary, but after suffering a hemorrhage due to overwork, he left school on his doctor's advice. During the summer of 1925, he moved to Petersburg, Alaska and labored in the fish canneries there.
Ken soon settled in Los Angeles, where he took a job at Sumida Sporting Goods. In 1927 he became a staffer on the fledgling English edition of the Rafu Shimpo newspaper. He specialized in sports reporting, and also wrote columns on general subjects.
Ken befriended the popular Los Angeles Times columnist Lee Shippey, who lauded Ken as a spokesperson for the young Nisei desiring to take their place as citizens in American life. In his popular column the "Lee Side O' L.A." Shippey wrote that he was impressed by the writing of the young Japanese Americans to which Ken had introduced him, and cited some columns from Rafu. It was the first time that the Los Angeles Times (or likely any mainstream American newspaper) had taken a serious interest in the Nisei press.
During this time, Ken also met Teruko (Teru) Miyamoto. According to their son Ken A. Tashiro, Teruko was supposed to enter into a marriage arranged by her parents, but when she met Ken, she fell madly in love and eloped with him, instead of going through with the arranged marriage. Their son Ken was born a year later.
During the 1930s, Ken lived and worked in a variety of places. For a time, he lived in Los Angeles, played amateur basketball, and wrote a sports column, "One Side of Sports," for Rafu Shimpo. In 1932, Ken left Rafu and Los Angeles and moved to Arizona (according to one source, he worked as a bellhop in a hotel at the Grand Canyon). While in Arizona, he befriended sports star Bill Kajikawa. In 1934, the family moved to Bakersfield, California, where Ken managed a grocery store. He continued to pen occasional pieces for Rafu.
In 1937, the family moved back to Los Angeles and settled in Santa Monica. They later moved to an apartment house on Beaudry St. in downtown Los Angeles owned by Teru's uncle, Nobuo Iwanaga, which they managed in exchange for free rent. For several years, Ken held a job as a wholesale flower buyer for United Wholesale Florists.
The coming of the Pacific War and the mass removal of Japanese Americans under Executive Order 9066 left Ken Tashiro and his family in serious difficulties. The flower business was gravely impacted, and family life was disrupted. Teruko was pregnant. Hoping to avoid removal, in March 1942 Ken moved the family to Del Rey, California, in what the Western Defense Command originally designated as the "free zone" of Military Area 2. However, Army authorities eventually went back on their word, and in August 1942 the Tashiros were rounded up and ordered to report for confinement.
As Teruko's delivery day was approaching, this caused the family great anxiety. She had already miscarried some years before, and the "Assembly Centers" set up to confine Japanese Americans on the West Coast did not have adequate birthing facilities. In the end, Ken and his twelve-year-old son were transported for confinement in the newly opened Gila River Camp, accompanied by Teruko's mother Eiju and sister May.
Military authorities permitted Teruko and twelve other expectant mothers to stay in a convalescent home in Fresno until after their babies were born and healthy enough to travel with them (although they were officially reported as confined in the Fresno Assembly Center). Once the family's daughter Kiko was born, she and Teru were transported to Gila River as well.
After arriving at Gila River, the Tashiro family were initially confined at the Canal camp. One month later, Ken Tashiro was selected as the editor of a new camp newspaper, the Gila News-Courier, in September. Ken was excited by the prospect, as he had greatly enjoyed his time writing for Rafu Shimpo.
All the same, it was an intimidating assignment. Tashiro had not worked on a newspaper in a decade, and he had never directed such a large staff of journalists. Also, because of his relatively advanced age (36) and largely East Coast childhood, he remains disconnected from the mass of Nisei, and was the target of attacks as a community outsider. He did make friends with some younger people, most notably the social worker and community analyst Charles Kikuchi.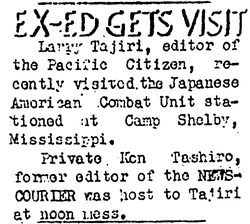 From the beginning, the camp inmates were divided between collaboration with and resistance to the authorities. Tashiro became active in organizing a local chapter of the Japanese American Citizens League. As Kikuchi described it, "Tashiro had never been active in the JACL prior to the outbreak of war. Through his close association with Larry Tajiri, the editor of the Pacific Citizen, Tashiro had become convinced that the JACL was the only body which was in a position to help the Nisei cause."
Even before coming to Gila River, Tashiro began working for the Fresno JACL chapter, mimeographing relevant articles from the Pacific Citizen and other journals and sending them out to JACL leaders in the various Assembly Centers. On September 18, 1942, together with Nobu Kawaii, a JACL stalwart, he held the first meeting of the Gila River JACL—the organization's first and only chartered branch in the WRA camps. Soon after, in mid-November 1942, he and Kawaii were named delegates to a JACL convention to be held in Salt Lake City, and obtained a ten-day furlough from the camp administration to attend.
While they were away, the Poston strike took place. Upon his return, Tashiro undertook a membership drive for the JACL, to offer visible evidence of the loyalty of camp inmates. Rita Takahashi and Richard Drinnon later asserted that Tashiro called for stern and immediate punishment for all "agitators and troublemakers." While such a position was plausible, there is no evidence of such language in the Gila News-Courier, which referred to the disturbances in the camps only as regrettable products of the understandable frustration of the arbitrarily confined.
On December 24th, Ken Tashiro quit his job as editor of the Gila News-Courier, and prepared to leave camp. His younger brother Sabro, a doctor at Cincinnati General Hospital, had finagled a job for him as a lab technician, and was ready to stand as his sponsor.
In the end, Ken Tashiro departed for Cincinnati in March, 1943. Since his wife and two children remained in camp and did not join him, it is probable that he did not intend to stay long.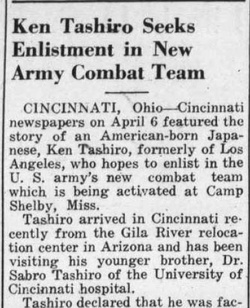 In fact, as soon as he arrived in Cincinnati, he called WRA director Dillon Myer to ask the War Department to permit him to be inducted at an Army base near Cincinnati, so that he would not have to return to Gila River to enter the Army. Myer passed the request on to Assistant Secretary of War John McCloy, who asked his executive officer, Colonel William Scobey, to make the arrangements.
On April 6, 1943, local newspapers in Cincinnati reported Ken's statement that he was facing a call from his local draft board in California. Although he had been offered a position in a laboratory, he had decided to volunteer for the army in advance of the expected restitution of selective service.
In the end, Ken was in Cincinnati for barely a month before he enlisted in the U.S. Army. Once inducted, he was assigned for service in the Nisei combat unit. While Ken was about to turn 37 and had two dependents, his patriotism outweighed all other considerations in his view.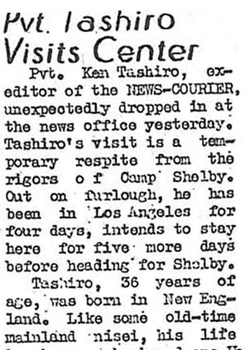 Private Ken Tashiro was assigned to Camp Shelby—where his younger brother Arthur was already serving as a staff sergeant. Soon after, Ken wrote an 8-page letter to Scobey to refute rumors that the 442nd was the worst outfit at Camp Shelby. He described his experiences and discussed options to facilitate his brother Saburo's joining the Army.
After finishing his basic training, Tashiro took a furlough, during which he visited Los Angeles and stopped in Gila River. He was sent to Europe with the 442nd. He served in the Glider Corps and was awarded the Glider Badge. By the time of his discharge, he had risen to the rank of Master sergeant.
Meanwhile, Teruko and the two Tashiro children remained confined in Manzanar. After being released from camp in 1945, Teruko returned to Los Angeles, where she lived with Kiko and her parents. Ken was discharged after the end of the war, and returned to Los Angles as well.
Ken A. Tashiro recounted that his father had no money to send him to college, and instead recommended that he join the Army after he finished high school so as to get education benefits under the GI Bill. The junior Tashiro enlisted in 1947, and would eventually serve in the U.S. Army during the Korean War.
Ken and Teru seem to have had marital difficulties, as the 1950 census listed them as living apart—Teruko, who lived with her parents and daughter, was reported as widowed! By 1953, the Tashiro family was reunited and living in Monterey.
Their son Ken had rejoined the family and was a college student. In later years, Ken lived in Southern Alameda County. His last public political action was in 1964, when he signed a JACL letter declaring his opposition to Proposition 14 (a measure to legalize racial discrimination in housing in California). He died in San Francisco in April 1967.