To the Most Prestigious of the Music Industry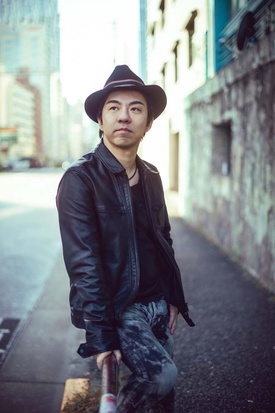 On the list of nominees in the Global Music Album category of the 65th Grammy Awards, which will be held in February 2023, we see a Japanese name: Masa Takumi. In Japan, he goes by the name Masanori Takumi, and he has led a successful career as a musician, composer, and producer who has helped produce some of the biggest artists such as EXILE, DA PUMP, and AAA.
In January 2018, Masa took an opportunity to move his work base to Los Angeles and has lived there ever since. We got a chance to ask him some questions—a month before the Grammy Awards ceremony—about why he decided to work in America, if he has changed in any way since he moved and what his future visions are.
What made him decide to move to the U.S. goes back to his attendance at the 2011 Grammy Awards ceremony.
"As a band member, I took part in this album that was nominated for a Grammy, so I attended the ceremony. I was 31. I was overwhelmed by the level of staging and top-notch performances of artists, and seeing what the highest quality was like right in front of my eyes, I even felt like those performers were of a different species. I was especially struck by Usher and Justin Bieber in their performances which went way beyond my imagination.
"After that, I started spending a few months a year in America every year, and then I thought I should seriously consider moving to the U.S., so I applied for an O-1 visa. In Japan, my works had been nominated for the Japan Record Awards, so I had no problem getting the visa."
In Japan, Masa was promised a stable career, but didn't he have second thoughts about starting a new one in America?
"In January 2018, on the day I left Japan, it was snowing heavily as if Japan was telling me not to go. I myself thought that I made such a reckless decision, but with two suitcases and one piece of equipment, I flew here, without even deciding where to live in Los Angeles. I've actually always been this way. If my mind is leaning toward the 'Yes' option, even just a little bit, I will just do it, when deciding whether or not I should do something. In fact, I don't have much interest in America. But I work here because Los Angeles is the top place in the music industry and it has what I want."


Gaining New Perspectives in America
Masa started going to Los Angeles in his 30s, but how did he overcome the language barrier?
"Even though you don't understand the language, people here let you in their group. How did I do that? All I could do was play instruments, so I tried to get their attention by performing. Also, I've loved playing magic tricks since I was little, so I got along with people by showing my magic tricks when I couldn't communicate in English."
He told us that he passed the Magic Castle (the most prestigious of the magic industry) audition as a magician, so he must be really good.
Masa then says that he has been able to "gain new perspectives" as he has lived and worked in America.
"I think that we tend to see things in one way only, when we're in Japan, but I'm sure that happiness comes in many different forms. I've come to realize the importance of being myself since I came to America. In Japan, people say to me, 'You don't even have a car?' or 'You don't have a TV at home?' as if it's something to be accused of; and I actually don't have a car in Japan, and there is no TV at home. In Japan, people try to impose their values on me a lot, and I realized this after I came here. In America, I feel like I can do anything that I believe in, anything that I want to do.
"On the other hand, as the plane gets closer to the Haneda airport on my return to Japan, sometimes I get wimpish and be like, 'No, I don't think I can do it.' (laugh) But of course, Japan is one of the most beautiful countries with cultures I can be proud of, with safety and delicious food on the top of the list. And I know that just because I live in America, it never means I should praise American culture and promote it in Japan."

I Want to Make Flowers Bloom in People's Hearts
This Grammy nomination was the result of his fifth try.
"I've been working for it as a project, making my own music. This time, I found out about the nomination on the Grammy's official channel on YouTube on November 15, a day after my birthday. People had told me that I might get a birthday present (implying the possible nomination), but I didn't think it would be that easy. The moment it was announced, however, I felt a rush of dopamine, and I was so overjoyed and excited that I screamed and cried like never before."
In his journey so far, Masa says that he has transformed all kinds of energy, not just positive ones from people who supported him but negative ones from those who did not necessarily see him in a favorable light, too, into his source of power to move forward and put it all in music. "The world today has become twisted (with a war in place), and I hope that those who listen to my music will make their own flowers bloom in their hearts," he says.
We would like to wish the best for Masa in his future success in the world, as he carries the theme of "Beautiful Japan," which he was able to rediscover as he objectively viewed his home country from a faraway land.
* * * * *

Album SAKURA, nominated by the 65th Grammy Awards in the Global Music Album category
Official site: https://www.masa.world