Mysterious Dreams of the Dead, Terry Watada's latest novel, features Mike Shintani, a Sansei (third-generation Japanese Canadian) who sets off to uncover the mystery of his father's death in a plane crash north of Lake Superior when Mike was only fifteen. His father's body was never found and, adding to the intrigue, wolves circled the crash site as if guarding the area.
Now in his thirties, Mike's journey of discovery begins with the uncovering of a diary in the basement of his home. Unable to read the diary, written by his father in Japanese, Mike enlists Naoko Ito, a Japanese grad student at the University of Toronto. The book, as translated by Naoko, is a dream diary, filled with poetry, descriptions of the surreal. It's also the story of a love affair with a woman named Chiemi, who is at the centre of the elder Shintani's dreams. Naoko, after some time, seemingly disappears into thin air. Both women appear as ghosts in dreams.
Overlaying the mystery of the diary is the behaviour of one of Mike's best friends, Boku Sugiura, who decides one day to rob a bank in the name of his grandfather and redress for Japanese Canadians. The two strains of the novel come together in Moose Jaw.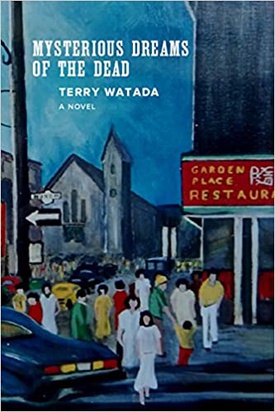 Over the course of Mysterious Dreams of the Dead, Mike discovers the truth about his father's life and Boku's uncle (Daniel Sugiura from The Three Pleasures, Watada's last novel), a protestor in the Moose Jaw stand-off. Through elements of the Japanese ghost story (kwaidan), magic realism, and Buddhist myth, secrets are revealed and explored. Mysterious Dreams of the Dead is an imaginative examination of the effect of the exile, internment, and dispersal on the Sansei.
Together with 2017's The Three Pleasures and Kuroshio: The Blood of Foxes, Watada's 2007 debut novel, Mysterious Dreams of the Dead completes a cycle of novels that speaks to the Japanese Canadian experience, as seen from multiple perspectives.
A prolific writer, Watada, who retired in 2012, also released his fifth book of poetry, The Four Sufferings. He has compiled his sixth collection, Crows at Sunset, and is waiting to see what happens to The Four Sufferings.
I spoke to Terry Watada via email from his home in Toronto.
* * * * *
You've been a busy man. Even as the world has suffered this slow-rolling upheaval you've continued to write and edit, even winning a $10,000 writer's grant from the Toronto Arts Council to write a new novel. How has the pandemic and the ever-changing lockdown affected how you work? What have you taken from it?
I've never been so prolific when it comes to writing. Being retired gives me time and the pandemic allows me to write on a daily basis, sometimes for long periods of time. George H. W. Bush once advised "You don't want to spend all day sitting in your living room yelling at the TV! Do something." He went parachuting, I write.
So even if I miss going out to my favourite stores and restaurants, I can spend my time in a positive way, writing prose and poetry.
Yes, the poetry, I understand you have a new poetry collection in addition to the novel.
Two actually. Mawenzi House Publishers in Toronto just released my fifth poetry collection, The Four Sufferings. In the meantime, I put together my sixth, Crows at Sunset.
Tell me about them.
The Four Sufferings come from Buddhism. Everyone experiences birth, aging, illness, and death. Everyone also endures common frustrations as well as revelling in love and joy. My poems explore these experiences in my life. I am advising everyone to rise above these hardships and rejoice in life.
Crows at Sunset looks at my state at present. Poems of the pandemic, my early days, and the fears and complaints of aging.
Have you had any reaction to the books yet?
Too early for the book, but Crows at Sunset was recently judged a finalist (one of five) in the Eyelands International Book Awards competition in Greece. Nice to know my poems can compete at an international level.
Here on the west coast, we hear reports of the situation in Toronto, but it's mostly dealing with numbers: cases, fatalities, etc. From your perspective, what's it like on the ground there? What's the mood of the city?
I admire the fact that most are observing the medical advice and provincial orders. But we have our idiots as well. 300 people showed up at City Hall for the New Year, even though the Mayor called off all celebrations. A restaurant owner opened his place for indoor dining in defiance of the law. He even broke in when the authorities shuttered his place. He was arrested and faces a $10,000 fine. The owners of the building face $100,000 fine. I hope it was worth it.
So there is frustration and intolerance but mostly people are co-operative and understanding.
You've said in the past that up until the age of nineteen you were unaware of not only your family's prewar history, but that of the community as a whole – that you had no idea that the internment even happened. Since then, you have devoted much of your writing to uncovering the many and varied layers that make up this community. It's almost like an archaeological dig, but instead of a brush, you're using a pen. Is there some sort of deeper understanding you're looking for? What compels you to continue exploring this subject matter?
I initially wrote songs about my family and the Asian Canadian experience because I heeded the advice of established songwriters: write about what you know. I then started to be bothered by the notion that Nikkei were co-operative and accepting of the exile and internment. Made us look inhuman, somehow. I learned of the Nisei Mass Evacuation Group and other protest groups and decided that they deserve to be given the light of day, to present Nikkei as fully realized people. I began hearing stories about Nikkei life before, during, and after WWII. I started writing to give these stories voice. I wish to define, to illuminate, and to preserve Nikkei culture, history, and tradition. I want to resurrect in literature all that has been taken away and lost.
Would it be accurate to say that Kuroshio: The Blood of Foxes, The Three Pleasures, and Mysterious Dreams of the Dead form a trilogy of sorts, looking at the world through the eyes of the Issei, the Nisei and Sansei, respectively?
I talked to a literary agent a long time ago about my ideas for a novel, and she said to write a "big book", like De Lillo or Rushdie. "They're all the rage." So I put together a proposal. She then said, "Big books are out." She didn't want me as a client anyway, but I did take away the fact that I should write what I want to write. I then devised a trilogy of novels based on the stories I heard of Issei, Nisei, and Sansei. Someone else can write about the Yonsei, etc. Yes, the three books are a linked trilogy with carry-overs in theme and characters. I never told the publishers of my plans, because I thought they would balk at a commitment like that.
My copy of Mysterious Dreams of the Dead is sitting at the JCCA office and I haven't had time to drive to Burnaby to pick it up yet, so I have to go off the blurb on the publisher's website. The protagonist, Mike Shintani, discovers a diary written by his father, who died under mysterious circumstances. I'm guessing that this was inspired in part by your own father's wartime diary. Both diaries are written in Japanese and therefore require translation to read. And the two diaries reveal pasts that are shrouded to greater and lesser degrees in mystery. Is this where the similarities end or are there deeper connections to your own family's past?
Your guess is spot-on. My father's diary inspired me once I had it translated. But that's where the similarities end. Shintani's father kept a dream diary – impressionistic writings about the war years. I then took inspiration from Haruki Murakami's work. Mysterious Dreams has supernatural and fantastic elements incorporated. Add to that the fact that the bank robber's nickname is Boku (named after a character in Murakami's Wild Sheep Chase meaning "I") and you have the general tone of the book. The bank robber is modelled after a good friend of mine who did rob a bank in the name of redress. He actually was against redress; thus deepens the mystery.
I was interested to see that the city of Moose Jaw plays a key role in the novel. My mother was born there, so I look forward to reading how the city is situated in the story. Is there anything you can share about Moose Jaw's place in JC history?
When I was in Southern Alberta researching my book about the Buddhist Church of Canada (Bukkyo Tozen), I was introduced to a Nisei, a friend's father actually, who used to be a whaler. A harpoon hung above the fireplace mantel. It was then I learned he was one of two men who protested the war and Nikkei treatment for two years in a Moose Jaw air force base after the war. Turns out many of the men of Angler refused to leave the prison until the government apologized. They were sent to Moose Jaw to continue the protest. The base became a distribution centre for JCs migrating east from the BC internment camps. A core of them continued to refuse to leave until they were dragged out of the place after two years. Two men stayed outside in tents while the rest disbursed.
I mention your mother as a tribute to her and you, in fact. I also understood Roy Kiyooka was from there. So I mention his family as well. If not, it doesn't matter. I admired his writing.
Speaking of the Toronto Arts Council grant, can you share what you have in mind for the new novel?
Hiroshima Bomb Money is based, in part, on my wife's Great Aunt Chiemi, who survived the bomb for about a week. She spent her last days looking for her twin babies. I also look at the fate of her husband (a brother in the book) who fought in China, witnessing and committing the atrocities Japanese soldiers were said to have committed. The third part of the book is Chiemi's youngest sister who immigrated to Canada, based in part on my mother's life.
Finishing up the research and completing the outline. I have started writing the text. I am committed to finishing it.
I enjoy reading your column in The Bulletin every month. You must have written hundreds of columns over the years. How do you imagine new material month after month?
35 years of columns and articles for The Bulletin and many other journals. I gather my ideas through observations of life. Frank Moritsugu gave me sage advice: justify your words according to the publication you are writing for. Ask yourself the question, "Why is it in this magazine" If I can answer that then I submit it.
Anything you'd like to add?
I hope everyone has a prosperous and happy 2021. Check out the Winter 2021 edition of Grain Magazine. I have a new short story featured in it!

Read an excerpt from Mysterious Dreams of the Dead >>
*This article was originally published on the Bulletin: A Journal of Japanese Canadian Community, History, and Culture on January 10, 2021.