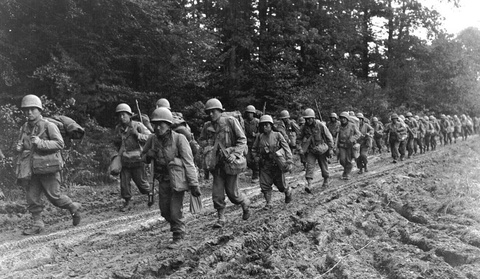 Less than a year after the attack on Pearl Harbor in December 1941, the 100th Infantry Battalion was activated on June 12, 1942. It was a segregated, all Japanese American unit of volunteers from Hawai`i. Early the next year, the 442nd Regimental Combat Team was activated on February 1, 1943, with Japanese Americans from the Mainland US. The 442 trained at Camp Shelby at Hattiesburg, Mississippi for a year starting in April 1943. They were then sent to Italy for combat in May 1944. The 100th battalion went to Italy on August 21, 1943, and was attached to the 442nd on June 11, 1944.
On April 5, 1945, the African American 92nd Infantry Division with the 442nd were sent to launch a diversionary attack before dawn in an area called the Ligurian coast in northwestern Italy. Germans were entrenched in the mountain tops with observation posts and machine guns with clear field of view. The plan was to draw fire from the main point of attack.
The 442 had marched all night on April 3 to the village of Azzano, Italy. The next night the 442 climbed the 3,000-foot saddle between Mount Cerrata and Mount Folgorta. This was done in the dark in complete silence without lights, radio communication in full field packs, with rifles and ammunition. At dawn 0500 on April 5, 1945, the attack began.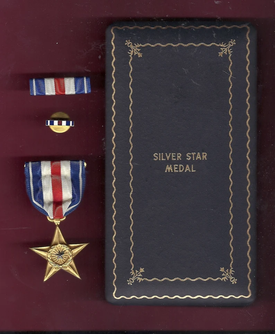 In the battles that followed the initial attack, many more men were killed and injured. On April 8, 1945, my father, Shuie Nishi, PFC, Infantry, 2nd battalion, company G, was awarded a Silver Star Medal with the following reference from US Army records:
"For gallantry in action, on 8 April 1945, in Italy. Assigned to protect his company's exposed right flank, Private First Class Nishi alone fought a heavily armed enemy platoon strength which was attempting to infiltrate the company's lines. Despite murderous enemy fire which had pinned down the rest of his squad, Private First Class Nishi undauntingly stood up in his hole and fired his BAR and threw hand grenades, wounding two of the enemy and forcing them to retreat. Entered military service from Kemmerer, Wyoming."
I remember asking my father once about the war and the army when I was still a teenager, and he would not talk about it. I don't know if he enlisted or was drafted. My mom said he was drafted. He just told me that he didn't remember anything. I don't know if it was too terrible to remember, or if he was just that modest. No one could forget what happens in war. We have his medal, and we have a Nazi flag that has the signatures of the other men from his company on it.
Seems like his nickname was "Coffee". I don't know if it was because he liked coffee or made it. But I really never realized the extent of the experience he had in the war, and in his life before and after.
He was Kibei, and spent time in Japan through his high school years, I think. When he returned to Wyoming, his father sent him to work on a potato farm in Idaho. He told me that he worked for two years without pay, just for subsistence.
After the war, my father was discharged in Indianapolis, IN. Mom said that my dad wanted to stay in the city, but a family friend, a white woman named Mrs. Blassy, convinced my father and his brother George to return to Kemmerer, WY.
By the time I was a young child in Kemmerer, WY, my dad and two of his brothers had a saloon and café next to each other. Uncle Harry ran the café. My dad worked the bar in the evenings with Uncle George and in the daytime was a shoe cobbler at the local shoe shop, Sawaya's. He fixed shoes for all our relatives in town.
With a couple of sisters and their families in Los Angeles, he and my mom decided to move there in 1957. He went to Los Angeles and came back with a used black and white 1956 Chevrolet. He sold a maroon 1949 Mercury that featured a windshield shade before he went to Los Angeles. We drove from Wyoming back to Los Angeles in that used Chevy.
He found work through a Japanese employment agency in J-town as a shed worker in a wholesale produce business and stayed in the produce business until he retired. He passed away just a few days before his birthday in 1999.
* * * * *
Additional note from the author: For anyone who would like to find more information about the 442nd and 100th, please see the citations below kindly provided by a reader.