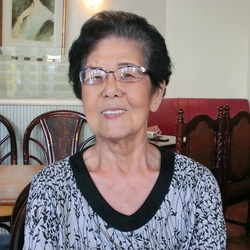 My grandmother Etsuko Nakatani lives by herself in Weiser, Idaho. She was born in Inasa-machi in the Nagasaki prefecture in 1926 (Taisho 15). Until recently I didn't know anything about the life of my grandmother who will turn 90 in March next year.
This summer I found The 100 years of History of Nikkei in America in my grandmother's house which led me to Ryusuke Kawai's series on Discover Nikkei, "Re-reading of The 100 Years of History of Nikkei in America" and learning some parts of the life of my grandmother as well as my Nisei grandfather and other Nisei.
Born in Japan, my grandmother lived her life in Nagasaki city during WWII. The days she spent working in a war plant were also the time she lived in fear of air raids. She told me about the dread she experienced at the time. "We lived in a state of insanity where we had to walk home under the rain of bombs."
Nagasaki is where the atomic bomb was dropped. My grandmother was living in a house that was 1.8 kilometers away from the epicenter.
"I saw an orange flash and then everything turned silent. It seemed like a world of death. I blacked out for a while and when I opened my eyes, I saw broken windows and a big hole in the wall. I would have burned to death if I had been outside. I was lucky," she said.
At that time, her parents in Mogi City were running a restaurant and hotel in their house. After the bombing, a great number of the wounded were taken to their house by cart, turning their hotel into an interim hospital. My great-grandmother and other employees devoted their time taking care of the wounded. Dead bodies were carried to the shore, piled on rocks and cremated.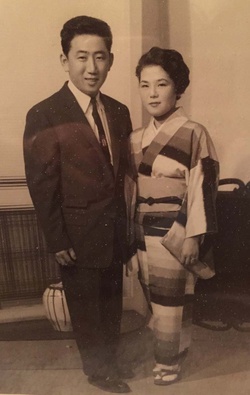 After the war, my grandmother moved to Tokyo as she was asked by her aunt who had come back from Java. My grandmother worked at a Javanese restaurant near Shinbashi. One day, she was introduced to Jun Nakatani by her aunt's acquaintance, the man who would later become her husband—and my grandfather.
My grandfather is a Nikkei Nisei born in the U.S. His Issei parents immigrated from Wakayama, and during WWII, the family spent their time at the Gila River War Relocation Center.
In 1951 in Shinbashi, my grandfather, an American soldier, met my grandmother who experienced the atomic bomb and was working in Tokyo.
My grandfather was fighting the Korean War and met my grandmother through his acquaintance when he visited him during his vacation. He was dressed up in military gear, and my grandmother at first wanted to stay away from him—I would be mistaken for a business girl if I walked with a military man. But the next day, he appeared in pants with a jacket, not in military clothes, and she started dating him as she was moved by his passionate approach.
At the end of his vacation when he was about to return to the battlefield, he proposed to my grandmother. "I will retire from service soon. I will come back as a civilian, so please marry me." After a while, he retired from the army and came to Japan again. As he promised, he came to take my grandmother to America. Why would I go to a country that dropped atomic bombs? She was still unsure about her feelings, but her aunt encouraged her to take action—Just think of this as a chance to see how things are over there—and eventually marry him.
"Who would have thought that I would stay in America for over sixty years," said my grandmother with a smile.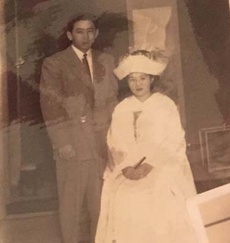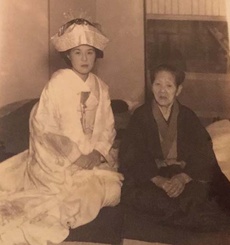 In the U.S., she lived in Vacaville, California. My grandfather's parents, who were Issei, started an orchard there after being released from the relocation center. My grandfather, their eldest son, was working in the same orchard after retirement from the army, so the newlyweds started their life there.
In those days, the granny who spoke only Japanese was still alive and she welcomed the new wife—my brother brought a wife from Japan! My grandmother soon fit into the American life and seemed to have enjoyed it very much, as she rode a number of popular cars with my car-loving grandfather while working in the orchard.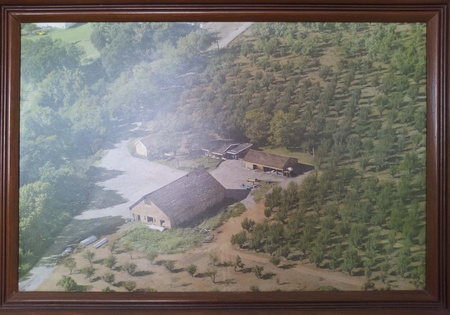 Later they moved to Suisun Valley in California and opened a restaurant in Rockville Corners. At the same time, she called in her younger brother from Japan and started Futami, a Japanese restaurant in Sacramento as a branch restaurant of their business at home back in Japan. The restaurant at its busiest time was crowded with expatriate employees but was closed in 1990 when the brother of the owner chef suddenly passed away.
As I was listening to my grandmother's story, I felt great respect and was amazed at just how powerful she was; she is a victim of an atomic bomb and was hesitant to move to the U.S. and get married with my grandfather, but she made a success in business and enjoyed her life in the U.S. more than I could imagine, taking a trip to Reno or Tahoe on her days off.
In September, 1992, when my grandparents were just about to start their new life after retirement, my sister was born. Since my father was an only child, my grandfather and grandmother were overjoyed at the birth of their first grandchild. In 1995, my grandfather passed away from lung cancer. My family was in Japan, and I attended the funeral in the U.S. as a pre-born three-month baby in my mother's belly.
A few years later, my grandmother met Mitsuru Nakamura who lived in Idaho, and they decided to spend the rest of their lives together, as both had lost their spouses. My grandmother who was over 70 at the time, moved from California to Idaho! Mitsuru is a Kibei Nisei (someone who was born in the U.S., spent some time in Japan, and returned to the U.S.), born in Idaho. You can read the story about this Nakamura family in the Idaho chapter of The 100 years of History of Nikkei in America which I mentioned in the beginning.
In 2010, Mitsuru passed away and now, my grandmother lives alone in her home in Idaho.
This summer I learned about my grandmother's life for the first time. Being a victim of the atomic bomb, she lived through the times of great change in Japan and in the U.S. She will surely continue to build her new history from here.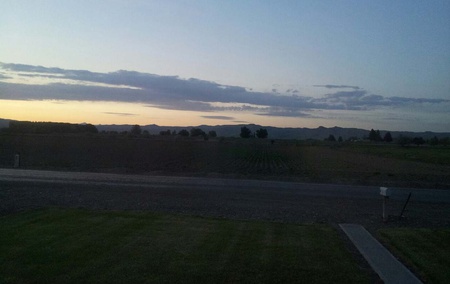 * * * * *
Our Editorial Committee selected this article as one of their favorite Nikkei Family stories.
A Comment from Masayuki Fukasawa
I got interested in the identity of the writer, Dan Kawawaki. As a humble reporter who writes for a Japanese paper, I can't help wondering where writers come from, a bad habit of mine. The fact that his name, 大 (dai) reads as "Dan" might derive from parental care (presumably both parents grew up in the U.S.) that he would have no trouble living in Japan or in the U.S. However, the Kawawaki family resides in Japan, and Dan himself probably grew up as a Japanese who holds Japanese nationality.
Dan was born in the Tochigi prefecture and studied in the U.S. for about a year, the place where his grandparents immigrated. While in college in Japan, he became interested in the tempestuous life of his grandmother who moved to the U.S. after the war and wrote this essay. Perhaps he is proficient in English. Because of that, he can understand the difficulty of a life in the U.S. and expressed his feeling for his grandmother in this way—I felt great respect and was amazed at just how powerful she was. When I read these words, however, I felt that he wrote this essay with a mindset of a Japanese living in Japan.
I might sound a little nosy. But since he has a wonderful background which extends across Japan and the U.S., I can't help hoping that he would have a mindset of a Nikkei person living in Japan. His looks won't change, and neither will his identity on papers. But if he lives his life with such mindset, he might be able to see a much bigger world across the Pacific as his "home."