>> Read Part 1

The 1st Annual "Tanabata Matsuri (Tanabata Festival)," held as a part of the 69th Annual Nisei Week Festival this year, featured a total of 250 tanabata ornaments that decorated the streets of Little Tokyo. Surely, the beautiful images still resonate in the minds of many who participated in the event. At the same time, also fresh in their minds are the "ties" that have been created between cooperating groups and individuals, as well as a lasting sense of accomplishment gained through the construction of the ornaments. Will they be able to keep these feelings warm in their hearts and work toward creating more ties that bind in next year's Tanabata Matsuri?
80-year old Kanichiro Tsutsui, the former chairman of the Nanka Kenjinkai Kyogikai (Association of Southern California Prefectural Organizations) and a member of the Mie Kenjinkai (Prefectural Association), is one of the people who strengthened the "ties" with his family through the Tanabata Matsuri this year. He made an ornament that included the names of his wife—who suffers from Alzheimer's disease—and himself. Tsutsui, who helped with the construction of ornaments with other kenjinkai members as well, looked back and described the event as "One moving moment after another—a truly memorable Tanabata Matsuri"—and is already looking forward to the future, aspiring to see an even greater number of participants in next year's festival.
"83" from the Kenjinkai
It was due to rather personal reasons for which Tsutsui decided to dedicate his support to the Tanabata Matsuri.
Tanabata Matsuri came to life as a collaboration of three organizations: the Nanka Kenjinkai Kyogikai, the Little Tokyo Public Safety Association, and the LA Tanabata Matsuri Planning Committee. For the production of ornaments, the three organizations reached out to local Nikkei community groups, Japanese schools, and Nikkei businesses, among others, for support. For the Kenjinkai Kyogikai, spreading awareness of Japanese culture was a primary goal, and the total of 83 ornaments created by the Kyogikai was a result of Chairman Mack Miyazaki's passion bearing fruit.
However, for Tsutsui, his motivation was more personal. "I heard Yonezawa-san's wife, Junko-san, mention that she wants to 'do whatever it takes to make my husband's dreams come true,' and those words were very moving," he says.
In addition, while working to collect donations from the Little Tokyo Service Center, a conversation he had with a Nikkei Yonsei, Noel Ito, also hung on his mind. It was Ito's response regarding a question about the Nikkei community, which was published on the monthly publication of TV Fan (June 2009 edition). "I think there's a lack of community between Nikkei Americans and Japanese natives living in America. It seems as though there is a divide between the Japanese-speakers and the English-speakers," she answered.
"Maybe we can bridge the gap between the two groups through the Tanabata Matsuri," Tsutsui thought. This was another reason why Tsutsui decided to become involved in the organization of the Tanabata Matsuri.
Support from his son's family
After retiring from his position as president of a Central Automotive Products subsidiary company, in 1987 Tsutsui moved to Laguna Niguel—5 minutes away from his son's home—and has since continued to contribute to several Nikkei community activities. This time, his efforts focused on the Tanabata Matsuri.
Each tanabata ornament required 150 artificial flowers to be constructed, and this would take much time and effort to accomplish. The question became, "Who is going to teach everyone how to make [the flowers]?" And so, in order to become a teacher himself, he attended workshops and learned the techniques, and set out to instruct several organizations to participate in the making of the ornaments. Along with Tsutsui, 6 to 7 others also learned the techniques and set out to instruct others in the community. From the Nagasaki Kenjinkai , Orange County Nikkei Association, The Institute of Ethics, to Soka Gakkai International—"Gosh, I went everywhere I could think of," says Tsutsui. His wife Kazuko joined him every step of the way.
It was seven years ago that Kazuko was first diagnosed with Alzheimer's disease. Last year, a Los Angeles based Nikkei publication, The Rafu Shimpo, published a story about Kazuko, which was well received by readers. At first, Tsutsui was easily annoyed with Kazuko's antics—she would repeat the same questions over and over, or begin to prepare a meal even though they had just eaten. "But it's not that she's doing this on purpose—it happens whether she likes it or not. She's trying her best to live in the 'present' with everything she's got." Once he came to this realization, he was gradually able to become more caring toward Kazuko. As if to reciprocate his actions, Kazuko is said to have become more at ease and relaxed as well.
Ever since Kazuko's diagnosis, their son, Mikio, would visit every morning to see how his mother was doing. However, a big change in the family relationship came with the beginning of ornament making for the Tanabata Matsuri.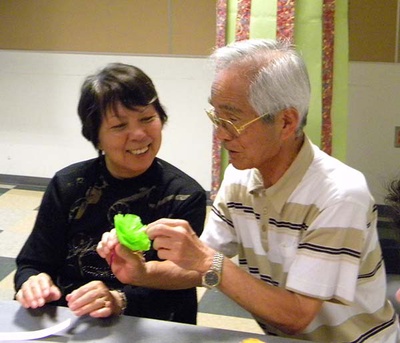 Working together on the ornaments
Tsutsui explains, "It's a bit saddening that we can't speak English, and that our son's family can't speak Japanese. I'd say it's sort of a lonesome relationship. Even our grandchild, who turns 18 this year, won't come to visit us after going to school, even though she [Kazuko] raised him when he was young…"
However, after they begin making tanabata flowers ornaments, Mikio's wife, Arlene, volunteered to help, and they began working together. Even with the language barrier, through working together on the flowers, a new level of communication was born.
"Arlene is an Okinawan Sansei, and she used to be a school teacher. She's great with materials and tools for arts and crafts, so when I taught her [how to make the flowers], she picked it up right away," says Tutsui.
Now, with a purpose of helping with the ornaments, it made it easier for Arlene to visit Tsutsui's home. "When they came over, they'd ask me how my wife was doing, or ask me if we needed anything because they were going to the store. Gradually, we built stronger 'ties' that strengthened our relationship."
In the end, there were two ornaments that were made at the Tsutsui residence. One for the Tsutsui family, and the other they took care of for the Nagano Kenjinkai, which was struggling with the lack of personnel.
Tsutsui decided to help with the Nagano Kenjinkai's ornament because he remembered Chairman Sumiyoshi Nozaki's wife, Mieko, whom he knew personally. Before she passed away, Mieko had worked as an editor for the Kenjinkai Kyogikai's in-house publication, Ikuyamakawa, for around 8 years since 1987.
"If I didn't help make the Nagano ornament, I thought that [Mieko] would complain from heaven that 'The Kyogikai isn't supporting Nagano, even though I edited the Ikuyamakawa for years'… so I made sure to help out."
Giving it another meaning
"Thanks, Mieko-san. Thanks to your dedication to the Ikuyamakawa, the Kenjin Kyogikai is still going strong "—these were the thoughts that entered Tsustsui's mind while working with the entire family on the project. And one day, it dawned on him—"How about we dedicate these ornaments to the memory of our loved ones?"
"Earlier this year, in March, Setsuji Nakao from the Saga Kenjinkai had passed away. Like me, he was born in Showa 4 (1929), and along with Kunio Shiba of the Shizuoka Kenjinkai and Toshio Kojima of the Kumamoto Kenjinkai—both whom were born in the same year—we dubbed ourselves 'The Class of Showa 4'. We were great friends, so it was nice getting together again to work on an ornament in memory of Nakao-san. It's kind of like the reunion of Hikoboshi and Orihime in the legend of tanabata—filled with joy."
He continued on with the project with these thoughts in mind. Of course, his wife Kazuko helped out as well. Although she was not able to work as quickly as the younger folks, Tsutsui was satisfied to see that "She was really enjoying working on it. It helped stimulate her handicraft skills as well."
The motto written on the tanzaku of the Tsutsui family's ornament is "To appreciate the joy of being alive, and to continue to live happily together." Kazuko wrote the phrase in traditional Japanese calligraphy herself, and she signed it as well with "Kanichiro and Kazuko Tsutsui". The ornament is now kept at their Laguna Niguel home, quietly looking after the Tsutsui's as a symbol of the strong family "ties" that have been developed.