The Sawtelle district is located in West Los Angeles. In 2015, it was officially named "Sawtelle Japantown" by the Los Angeles City Council, and a sign was placed at the corner of Sawtelle and Olympic. For a long time the area had been known as Little Osaka, due to the large number of shops and restaurants owned by Japanese Americans. Local residents and shop owners established an advocacy organization and worked hard to get their neighborhood recognized. They are overjoyed by their victory.
For establishments like Hashimoto Nursery, however, which has been in existence for 88 years and is the oldest nursery in the district, business goes on as usual. Its current owner, Yotaro Hashimoto, 72, thinks that establishing the name Sawtelle Japantown was a good decision, but at the same time, "All I do is keep my business going as before." To celebrate the designation of Sawtelle Japantown, this article and the others in the series will present the voices and stories of the neighborhood's Japanese American business owners and local residents, looking especially at how the new name designation has affected them or not.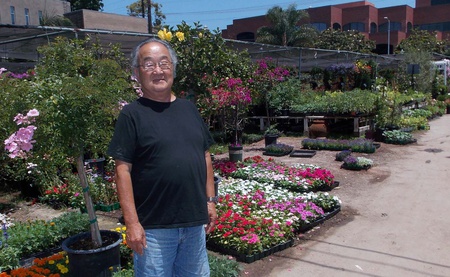 Gardeners moving in
Japanese Americans have been living in the Sawtelle area for a long time. When the Issei arrived in Los Angeles around 1910, they wanted to live in West Los Angeles, which was known as a relatively good place. However, they encountered discrimination from its residents, who were predominantly white. The situation was the same in nearby Culver City. So they settled in Sawtelle, which was barely developed at the time. Gradually, Japanese stores and Japanese restaurants began to spring up, and many Japanese Americans started to move in from what is now known as the Virgil district (east of Hollywood).
Many Sawtelle residents were Japanese American gardeners. Homeowners in the wealthy neighborhoods of Beverly Hills, Bel Air, and Brentwood hired Japanese American gardeners, who then chose to live in Sawtelle, which was close to their workplace. "I heard that in the pre-war time, there were many nurseries around here that provided plants and flowers to gardeners," recalls Hashimoto. "It was around 1960 when I started working, but already there were about seven nurseries." There were also some boarding houses for Japanese day workers who assisted gardeners; one of them was located right in front of Hashimoto Nursery.

Four brothers started the business
Hashimoto Nursery started as O.K. Nursery in 1928. Yotaro's uncle arrived in the neighborhood first and, seeing a business opportunity, called in his three brothers to help him. The four of them launched the nursery together. During the war, two brothers returned to Japan, including Yotaro's father, who was the second son. The other two stayed behind to maintain the business, but were then interned at Manzanar following Japan's bombing of Pearl Harbor. When the war ended, they were able to return to Sawtelle and resume their business immediately.
"They were able to do that thanks to some Mexican acquaintances who looked after the nursery during the war. They were lucky," says Hashimoto.
In 1961, the two brothers who had gone to Japan came back to the U.S., and all four began working together again. Then two of them moved to San Fernando Valley and opened a nursery there, while another did the same in Hemet. The original Hashimoto Nursery is the only one that is still operating today.

Ninety percent Caucasian customers
Yotaro Hashimoto was born in Fukushima Prefecture, Japan, and moved to the U.S. in 1959. He was 15 years old—two years younger than his father was when he immigrated. He has dedicated his life to Hashimoto Nursery ever since.
When he started working at the nursery, there were many Japanese American gardeners. But the Mexican workers who were hired by such gardeners started to leave and open their own businesses. As they bought their plants and flowers from other places, Japanese American nurseries lost them as customers. However, the number of Caucasian customers increased, and Hashimoto now says that 90 percent of his customers are Caucasian.
For more than 50 years, Hashimoto has watched Sawtelle change as he ran his nursery business. As for the recent influx of more young Japanese people and Nikkei, he thinks that it's neither good nor bad. Yet he seems a bit confounded by the rapid changes, saying, "It used to be a quiet town here."
He adds that recently there have been more people of Asian descent coming in, not just Japanese or Nikkei. We spoke with him about the changes currently happening in Little Tokyo, which at times seems to be losing its uniquely Japanese identity, and he said that the use of the word "Japantown" in Sawtelle's new name was a good step toward preserving its Japanese heritage.
"I think the town will change more and more in the future," Hashimoto says. "Big companies in Japan are opening their branch offices, and many Asian people who love Japanese stuff are visiting here not only for the food but for shopping as well."
"I see an increasing number of Asian people running their businesses here too," Hashimoto continues. "Many of those new people, including the Japanese, are living in condominiums and apartments, so we are increasing the number of indoor plants for them."
While not overly excited about the naming of Sawtelle Japantown, Hashimoto adapts to such changes and keeps running his business in his own way.