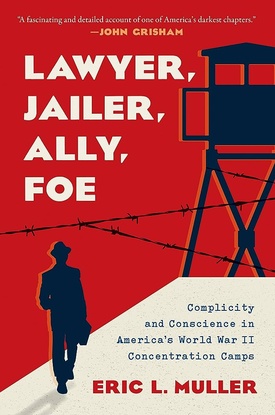 As someone who has taught both history and literature classes, I recently had my curiosity aroused by an article in The New Yorker magazine (April 24 and May 1, 2023) written by Louis Menand, an English professor at Harvard University noted for his seminal books in U.S. intellectual history. The article's subject matter, "creative nonfiction," according to Menand, is a relatively new genre that has emerged when biographers and historians "adopt a narrative style intended to make their books read more like novels." However, he concludes, notwithstanding that authors of such books utilize the techniques of fiction (e.g., dialogue, first-person voice, description, and speculation), their final product is nonfiction "as long as it's all fact-based and not make-believe."
Thanks to Menand's formulation, I was in a fully receptive frame of mind when I was given the fortuitous opportunity to read the brilliant book here under review written by Eric Muller, a distinguished professor of jurisprudence and ethics at the University of North Carolina School of Law, and the author/editor since 2001 of a series of award-winning and groundbreaking volumes focused on the Japanese American concentration camp experience during World War II.
Described on the book's dust jacket as having an "imaginative narrative deeply grounded in archival evidence," Lawyer, Jailer, Ally, Foe is also touted in two promotional peer blurbs as "carefully researched and deeply imagined" (Julie Otsuka) and "a bold experiment in creative historical narration" (Christopher R. Browning).
At the core of his book, Muller presents his readers with a standard-issue historical monograph, albeit one of exceptional quality. Accordingly, he rivets his concern on an important yet understudied topic, the legal system within the War Relocation Authority, the civilian organization in charge of the World War II Japanese American incarceration camps. He then reduces his treatment of this broad topic to manageable proportions by focusing on the corps of lawyers at the 10 WRA detention centers charged with the three-pronged task of providing their directors with legal advice, acting as community organization advisors to their respective inmate population, and supplying imprisoned Japanese Americans at their particular camp with guidance with respect to their personal legal worries.
To further sharpen his focus, Muller limits his primary attention to three "representative" camp lawyers: Jerry Housel at Heart Mountain (Wyoming), Ted Hass at Poston (Arizona) — plus his inmate lawyer associate Thomas Masuda — and James Hendrick Terry at Gila River (Arizona). In respect to enacting his interpretation, Muller draws upon a rich and previously untapped archival database, the substantive (i.e., not merely statistical) biweekly letters the project lawyers were mandated to send to their boss at the national WRA office in Washington, D.C., Philip M. Glick (as well as to all of the other project lawyers). Finally, and most significantly, Muller organizes his historical inquiry around a bottom-line ethical question: how did the WRA legal staff justify their everyday involvement within an enterprise that perpetuated and exacerbated racial discrimination?
Readers of Lawyer, Jailer, Ally, Foe should take the time and go to the trouble of carefully reading Muller's "Preface," "Author's Note," and "Acknowledgments" sections, for therein he painstakingly explains and justifies the imaginative departures he has taken from his otherwise conventional work of nonfiction. I found his rationale in this regard to be exceedingly convincing, but others might conceivably take exception to his infusion of "made-up" material into an allegedly historical manuscript. My one reservation about this masterpiece by Muller is that he and/or the University of North Carolina Press, for some reason that I cannot fathom, made the decision that the inclusion of an index, something customary in a work of nonfiction, was unnecessary.
LAWYER, JAILER, ALLY, FOE: Complicity and Conscience in America's World War II Concentration Camps
By Eric L. Muller
(Chapel Hill, N.C.: University of North Carolina Press, 2023, 283 pp., $30, hardcover)
*This article was originally published in Nichi Bei News on July 20, 2023.