I experienced an early defining moment when I was a young twenty something reporter at The Rafu Shimpo in 1986.
Before that, I had lived a relatively sheltered life, graduating from South Pasadena High School and then going on to Stanford University in pristine Palo Alto. A nine-month stint in Tokyo followed in trendy neighborhoods of Kichijoji and Musashisakai. But now I was going to work six days a week in the middle of Downtown Los Angeles, Little Tokyo, adjacent to Skid Row.
I was no stranger to Little Tokyo—I grew up eating almond duck at Far East Café, shopping with my parents at Ginza-ya on First Street, and picking up piping-hot Imagawayaki from Mitsuru Café. Yet I previously didn't experience Little Tokyo on a daily basis, from morning to night. (And sometimes overnight when we were putting together our annual Rafu Holiday Issue.) And in the 1980s, Japan's real estate bubble had burst and we were recovering from an economic recession of that time.
Ted Hayes, a local housing advocate, had started a tent city for the unhoused about three blocks south and, after a record-breaking cold, a vacant building on the corner of First and Alameda, where the Japanese American National Museum's Pavilion is now located, became a temporary homeless shelter. Some Japanese American community members were understandably concerned and I went at night to cover the story.
Most of the people seeking shelter were men and they asked me whether I was Vietnamese. Why? I learned that quite a few of these homeless men had served with the U.S. Army as soldiers in the Vietnam War. When I explained that I was American-born as they were, they were surprised. We had preconceived stereotypes of each other. We never had an opportunity to learn each other's back story.
Slowly but surely, as I traveled into Little Tokyo practically every day, I began to form relationships with people who lived in low-income hotels. They fed me stories and sometimes left unusual gifts and notes at the newspaper office, which was on Los Angeles and Third streets at that time.
When I learned that two large residential hotels, the Alan Hotel and the Masago Hotel on Second Street, were going to be closed and razed by a developer, I went to social service experts such as Skid Row nurse Lani Tsuneishi, housing advocate Mo Nishida, Legal Aid attorneys Judy Nishimoto Ota and Fred Nakamura, and Little Tokyo Service Center head Bill Watanabe to understand what would be the fate of these low-income residents.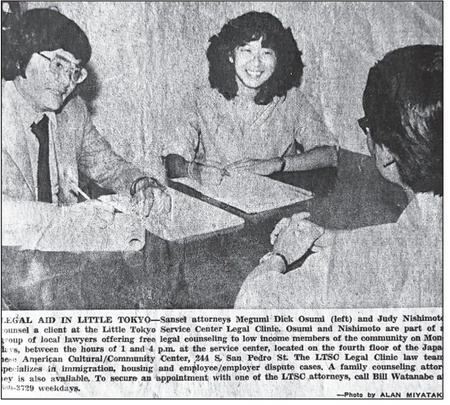 Legal Aid fought for relocation benefits for the residents, leading most to voluntarily move out, but a handful of elderly Japanese American men remained in the Alan Hotel. The owners had turned off the electricity, perhaps hoping that would push the last ones to finally leave.
Rafu's sports editor at the time, John Saito, Jr., and I went into the dark multi-level building and knocked on the doors of the last residents. What we discovered were men who couldn't fully comprehend what was happening. One of them muttered something about Pearl Harbor. It was clear that many of them hadn't fully recovered from World War II trauma.
Sometime later, the word reached me in the offices of The Rafu Shimpo. The developer was moving these men out of the Alan Hotel. I ran to Second Street, my reporter's notebook in hand. I couldn't believe what I was seeing. These men's belongings were being thrown into a flatbed truck and they themselves removed from their rooms.
Their destination? A few blocks away south in the middle of Skid Row.
Slowly the stories reached me and my colleague, J.K. Yamamoto, who was working at the Pacific Citizen. Some of the former Alan Hotel residents had been assaulted. It turned out one was from Hawai'i and had fought for the famed 100th/442nd Regimental Combat Team. (He was fortunately reunited with his family.) A Chinese immigrant who feared living in a Skid Row hotel was now living in his car.
When I was driving through Little Tokyo, I recognized the man who had spoken about Pearl Harbor, sitting slumped on a bus bench, surrounded by pigeons. He looked like he was living on the streets. Later it was discovered that this man was the brother of Togo Tanaka, the former editor of The Rafu Shimpo.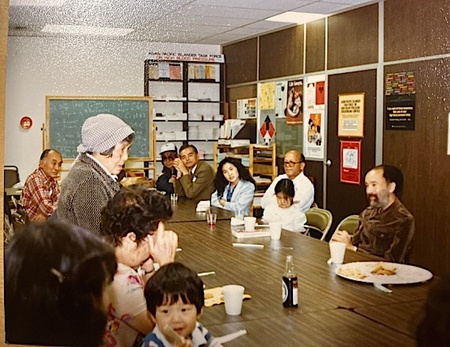 I mourned that our Little Tokyo community could not properly take care of our "least of these." Yes, I was young and idealistic, but I think that the young do have a vision of what kind of world they want to live in.
Enter the San Pedro Firm Building on John Aiso Street. That city-owned structure was on its last legs. No hot water, cracked walls, and peeling paint. Yet people still lived there. Both Mo and Bill envisioned that it could be a place for working-class people of Little Tokyo.
By this time, I had taken a break from newspapering and joined Little Tokyo Service Center's Housing Committee. This is when I saw Judy Nishimoto Ota in action. She was transitioning from being a Legal Aid attorney to both literally and symbolically breaking new ground as LTSC's first housing director.
The fight to transform the San Pedro Firm Building, which I had learned much later had been built by Issei flower market pioneers, into permanent low-income housing would not take a few months. It would take literally years, with Judy working with other housing advocates throughout the city and the nation. Judy and Bill's dedication would have an enormous ripple effect, establishing LTSC on the forefront of low-income housing development and also helping to preserve, protect, and enhance the vibrant Little Tokyo of today.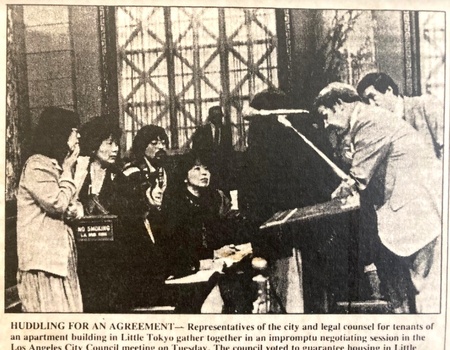 Documenting other developers seeking to take over the Historic First Street block in the 1990s, I have no doubt if it weren't for people like Judy, Little Tokyo would be another example of blind, soulless gentrification.
Whenever I see the renovated San Pedro Firm Building during my regular trips to Little Tokyo today, I am reminded that claiming a Japantown for future generations is not easy—full of difficult conversations, different visions, and yes, sometimes conflict. But the fact that we can have conflict is in some ways a blessing, because it means that our community has agency and a voice—a contrast to the time when all was taken away from us.
To learn more about Judy's legacy and the San Pedro Firm Building, come to a "Changemaker Celebration" honoring Judy and her impact on the nonprofit affordable housing sector. This free event on Sunday, March 26, at 2 p.m. will take place at the Terasaki Budokan with a livestream YouTube option. The live event will include food, music, salsa dancing, and a tour of the San Pedro Firm Building.
For more information, email rhernandez@ltsc.org. To RSVP, click here.
*This article was originally published in The Rafu Shimpo on March 21, 2023.