South Bay-based poet/writer and dancer, Genie Nakano, lets us celebrate with her as she looks forward to releasing her latest book of poetry, Wings on a Silk Veil. The poems here show her inner light through pieces that are contemplative, open, and free—an honest exploration, from ancestors to an ever-changing body with a youthful heart. Thank you for this work and congratulations, Genie!
—traci kato-kiriyama
* * * * *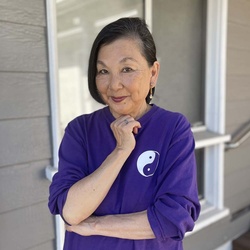 Genie Nakano is a poet/writer and dancer with a master's degree in dance from University of California, Los Angeles. She currently teaches yoga and tanka at Gardena Japanese Cultural Center. She was born in 1948, in East Los Angeles, Boyle Heights, CA. She is widely published in international tanka journals and is a poet/columnist for The Rafu Shimpo. She has published four books of poetry: Enter the Stream, Storyteller, Colorful Lives, and Wings on a Silk Veil. She enjoys traveling the world but likes best to stay home with her family of dogs, cats, husband Hideki, nieces, nephews, and grandchildren. For Genie, writing poetry, especially tanka, is like crying, laughing, hating, loving—other moments it's taking a deep breath and letting it flow. Tanka is her way to unravel and appreciate life. It is her personal story and journey inward.
Pointing to the Moon
Once upon a time
I was in a dancer's body
high kicks and splits
on the count of one two three
finger pointing to the moon
tell it like it is
rheumatoid sets in
with carbon steel hips
the cards fall this way
now deal
at the airport
my hip replacement
triggers alarms
so much attention
for all the wrong reason
even in my dreams
flight is not easy
arms beat the air
heavy legs drag
until the silk veil lifts
Sun Flowers
(my mother was a painter, my father a poet, I danced into life)
I have
a painting in the kitchen
sunflowers
unsigned, undated,
said to be my mother's
the flowers
are big bold free
unlike her style
yet Auntie says…
for sure, it's your mother's
I stare
into their bright yellowness
four bright suns
in a blue vase
make me smile
I was twelve
when Mom left Dad and me
a young poet-man
lured her far away
1960—a brave choice back then
before she died
she told me she regretted
her decision…
the sunflowers tell
a different story.
December 2, 2019
Soshite*
cold outside
fingers cramp and freeze
my age
is showing
like a fallen slip
So…
slap on the blush
gloss the lips
piggybank some time
I'm not ready for elderhood
my heart
is still a child
my body
merely
disobedient
So…
I'll wear a hoodie of youth
keep little
red riding hood
riding
insecurities
always keep me young
my mind
is always changing
indecision keeps me growing
In the end
I like it that way
which way do I turn
right left
I'm not sure
So…
let's just keep going
straight ahead
follow the coyotes
walking in the middle of the street
yellow lights
have turned to green
uncross your fingers
uncross your legs
the clock is ticking to our pulse
breathe
Inhale--Exhale
squeeze
the stale air out
back bend and open your heart
So
Forward-bend
Balance
Get out of your head
Savasana
On your feet
Open the window shades
Look listen
Next moment
Tell me more
December 19, 2019
*Soshite—Japanese for "and so on and so forth."

*All poems are copyrighted by Genie Nakano and from the forthcoming book Wings on a Silk Veil (2023).
* * * * *
Join Genie for a book launch for Wings on a Silk Veil on Saturday, April 29, 2023 from 2 p.m.–4 p.m. at the Nisei Veterans Hall at the Gardena Valley Japanese Cultural Institute.