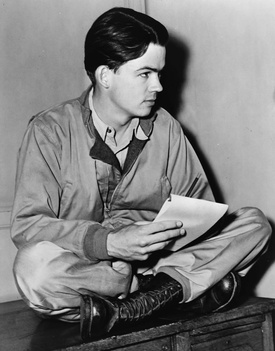 Few artists captured the wartime experiences of American GIs like Bill Mauldin. One of the most prolific cartoonists of the mid-20th century, Mauldin chronicled the stories of American soldiers across the European Theater of Operation, capturing their everyday struggles and instilling humor amidst the horrors of war. Mauldin then took up work as a political cartoonist after the war, and consistently focused on the causes of everyday individuals and those facing unjust persecution.
Some of the earliest examples of his support for those unjustly persecuted are his comics on Japanese Americans, who faced discrimination at home despite the wartime sacrifices of Nisei soldiers. At the same time Mauldin became a booster of several Nisei veterans, including Ben Kuroki, in their campaigns for fair treatment.
William Henry Mauldin was born on October 29, 1921 in Mountain Park, New Mexico. When his parents divorced in 1937, Bill and his brother Sidney moved to Phoenix, Arizona to attend high school. While at Phoenix Union High School, Mauldin immersed himself in journalism, and discovered his knack for cartooning while working for the school newspaper. At age 18, Mauldin dropped out of Phoenix Union High School due to poor grades and moved to Chicago to perfect his illustration skills.
At the Chicago Academy of Fine Arts, he became a student of political cartoonist Vaughan Shoemaker, an artist noted for his insightful commentary on the New Deal and a winner of the Pulitzer Prize in 1938 for a cartoon that forewarned the coming of another world war. Shoemaker helped instill in Mauldin a political consciousness that would later appear in his cartoons.
After completing his studies in Chicago, Mauldin returned to Phoenix, Arizona in 1940 and enlisted in the Arizona National Guard, which was promptly federalized as the 45th Infantry Division. After the unit transferred to Fort Sill, Oklahoma, Mauldin began work as a cartoonist for the divisional newspaper. During this time, the teenaged Mauldin sketched out several cartoons of "dogface" soldiers.
In July 1943 Mauldin, by then a sergeant in the 45th Infantry Division press corps, landed with the 45th Infantry in Sicily during Operation Husky. The war jumpstarted Mauldin's career; in addition to working for the 45th Infantry Division, Mauldin was engaged to produced six cartoons a week for the independent Army newspaper The Stars and Stripes.
Mauldin earned further respect from his comrades for his soldiering when he was injured his shoulder by shrapnel near Monte Cassino. In February 1944, The Stars and Stripes transferred Mauldin to their staff full-time, and editor Egbert White encouraged Mauldin to syndicate his cartoons.
By the end of the war, Mauldin was a household name among GIs and civilians alike. His cartoons featured ordinary GIs, notably his two famous characters, Willie and Joe. Deliberately anti-heroic, his sketches of bedraggled and frequently unshaven soldiers facing the monotony of army life and drew laughter and praise from readers, and infuriated General George S. Patton and other Army chiefs with his mockery of the absurdity of military regulations (Patton despised Mauldin so much that he requested General Eisenhower to end the Stars and Stripes so that Mauldin's cartoons could not appear anywhere. Eisenhower flat out refused).
His 1945 anthology of his cartoons, Up Front, was awarded the Pulitzer Prize and was a bestseller. A second book, the illustrated 1947 postwar memoir Back Home, similarly became a bestseller.
One central aspect of Mauldin's development as a writer and creative artist was his encounter with Japanese Americans. During the Italy Campaign, Mauldin became acquainted with several Nisei soldiers serving with the 100th Battalion and the 442nd Regimental Combat Team. Mauldin later wrote in his 1947 memoir Back Home about his encounters with them:
"But if my prejudices had just sort of disappeared, I became positively lyrical about the Japanese-Americans. I saw a great deal of them in Italy where they had been formed into a battalion that fought with the 34th Division, and into two full regiments [sic] that sort of free-lanced around doing heavy fighting for everybody. Some of the boys in those outfits were from the West Coast, and some from Hawaii…No combat unit in the army could exceed them in loyalty, hard work, courage, and sacrifice. Hardly a man of them hadn't been decorated at least twice, and their casualty lists were appalling."
Although Mauldin had not previously illustrated African American soldiers (who were likewise forced to serve in segregated units) or dramatized the problem of racial prejudice in his cartoons, the problem of bigotry against Nisei veterans and their families spurred him to action. In 1945, Mauldin illustrated two cartoons for Stars and Stripes that tackled the issue.
The first depicts a white shop owner talking with a customer in a fruit stand. It is clear that the stand was formerly owned by a Japanese American, as above is a sign with the name "Hitoshi Mitsuki" crossed out and a label stating "under new management," alongside another declaring "America for Americans." Mauldin adds a poignant caption to the cartoon underscoring the greed and false patriotism of those who freely took advantage of the fire sales of 1942: "Naw – we don't hafta worry about th' owner comin' back. He was killed in Italy."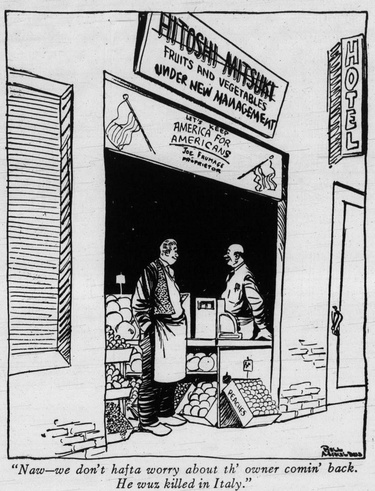 A second cartoon more directly attacks the hypocrisy of West Coast racists who discriminated against Nisei veterans. The cartoon depicts a wounded Nisei soldier in his uniform with crutches at a bar, his faced turned towards the bartender. The white bartender scowls and points to the sign behind him that reads "No Japs Allowed," with another "America for Americans" banner posted below. Again, Mauldin insightfully captions the cartoon to underscore the painful bigotry of West Coast racists: "Can't ya read signs?"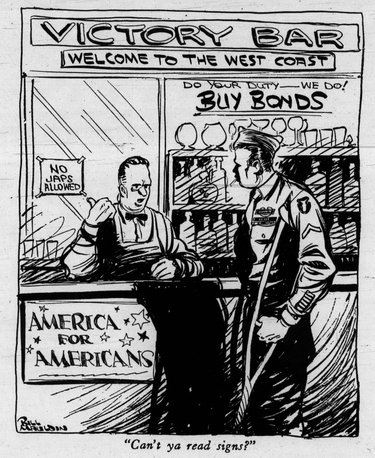 Mauldin's remarks in support of Japanese Americans extended beyond the pages of his comics. In July 1945, Mauldin declared that "this Nisei situation makes me sick… those Japanese American troops did more than any others in Italy and they killed themselves to prove something to the folks at home."
The statement was reprinted in the Yuta Nippō and in several camp newspapers, including the Granada Pioneer, Manzanar Free Press, and the Poston Chronicle. On October 31, 1945, Mauldin spoke before a forum organized by the New York Herald Tribune where he attacked "native fascists" such as Senator Theodore Bilbo and Congressman John Rankin of Mississippi for their racist attitudes towards Nisei veterans. Pacific Citizen editor Larry Tajiri ran an editorial in which he applauded Mauldin's staunch defense of Japanese American veterans in his cartoons and his October 31st speech.
On June 15, 1946, Mauldin attended a banquet in Denver, Colorado dedicated to honoring Nisei veterans. Organized by JACL leader and onetime Supreme Court defendant Minoru Yasui, the banquet also included among its invited guests Admiral Chester Nimitz, Generals Mark Clark and Joseph Stillwell, and hundreds of Nisei community and religious leaders.
Perhaps Mauldin's most notable contribution to supporting Nisei veterans took the form of the introduction he contributed to Boy From Nebraska. Written by Ralph G. Martin and published in October 1946, Boy From Nebraska recounted Sergeant Ben Kuroki's war service with the Army Air Corps and his "51st mission" to fight discrimination in the U.S., taken up in the months after the end of the war.
In his foreword, Mauldin not only touted Kuroki's own accomplishments, but criticized the "characters who ranged all the way from William Randolph Hearst to California fruit farmers" who actively discriminated against returning Nisei veterans. The Pacific Citizen proudly published Mauldin's foreword alongside editor Larry Tajiri's review of Boy From Nebraska. (Tajiri himself would later collaborate with author Ralph Martin on an uncompleted book manuscript).
A year later in 1947, Mauldin honored Japanese American soldiers in his memoirs Back Home. At its core, Back Home presents the struggles that millions of GIs faced upon returning to the U.S. as seen by Mauldin, and underscores Mauldin's own disillusionment with American social issues such as racial discrimination. His memoir, which incorporated several cartoons including his two commentaries on anti-Japanese bigotry, included a long essay reflecting on his own views on veterans facing racial discrimination.
At one point in the essay, Mauldin details an encounter with a fellow U.S. Army officer who voices his frustration about seeing his Nisei comrades discriminated against by ignorant Californians. Mauldin's Back Home received glowing praises in several newspapers, with some singling out Mauldin's candid discussions of prejudice. Charles Merrill of the Boston Globe singled out Mauldin's positive depictions of Japanese Americans as a highlight of the book. Several reviewers also praised Mauldin's attacks on the Ku Klux Klan and his call to end Jim Crow laws such as the poll tax that affected African American veterans.
In the postwar years, Mauldin worked as a freelance political cartoonist for several newspapers. In 1956, he unsuccessfully ran for Congress as a Democrat for New York's 28th District. In 1959, Mauldin won a second Pulitzer Prize for his cartoon depicting Russian author Boris Pasternak as a prisoner in a Soviet gulag, a reference to Pasternak's inability to travel from the Soviet Union to Sweden to accept the Nobel Prize for his novel Dr. Zhivago. In 1962, Mauldin accepted permanent work as a cartoonist with the Chicago Sun-Times. It was for the Sun-Times that he published his famous cartoon depicting the statue of Abraham Lincoln at the Lincoln Memorial weeping over the assassination of President John F. Kennedy.
Long after his wartime advocacy, Mauldin remained in touch with Japanese American veterans. In October 1957, the 442nd Veterans Association invited Mauldin as a speaker for their annual dinner in New York City. In January 1973, the 442nd Veterans Association again invited Mauldin as a speaker for their annual dinner and induction ceremony of new members. As a testament to Mauldin's defense of the 442nd's valorous record, Senator Daniel Inouye quoted excerpts of Back Home in his speech celebrating the 50th anniversary memorial service for the 442nd RCT in 2001. On September 19, 2001, Army Chief of Staff Eric Shinseki (the nephew of three 442nd veterans) presented Mauldin with a personal letter and an honorary promotion to the rank of first sergeant. On January 22, 2003, Bill Mauldin died.
Mauldin's advocacy for Japanese American veterans both underscored his mission to support American veterans overall and his campaign for democracy. More broadly, it helped inspire his lifelong mission to support American civil liberties and the rights of all Americans regardless of race or class background.