One summer in the early 1950s, a small group of young Nikkei women from the Sawtelle neighborhood of West Los Angeles squeezed into a Chevy Bel Air driven by Susan Uemura (née Hashizume). They were bound for Northern California and as part of their planning, the group picked one route in particular.
"When we studied the map, we said 'oh gee, there's a road that goes right along the coast, that would be great,'" recalls Sadie Hifumi (née Inatomi). That road—Highway One aka the Pacific Coast Highway—ended up being more than they bargained for. "We didn't realize you can't get off once you're on it," says Hifumi. "I thought that road would never end."
They were all members of the Atomettes, the Nisei girls club originally formed out of the West Los Angeles United Methodist Church in 1949. As part of the forthcoming Cruising J-Town: Nikkei Car Culture in Southern California exhibition, three surviving members of the Atomettes—Honda, Hifumi, and Kathi Yamazaki (née Miyake)—sat down with JANM staff for an oral history interview dedicated to discussing their road trips from the 1950s. Thanks to a donation from Uemura, the Museum has extraordinary home movie footage of the Atomettes on some of their road trips.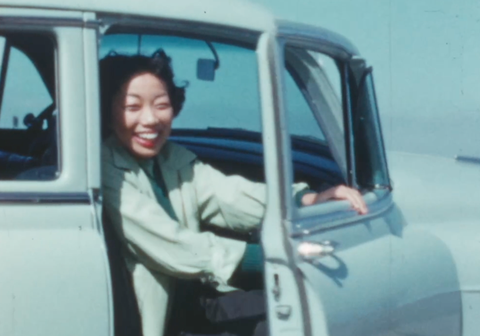 As UCLA professor Valerie Matsumoto documented in her 2016 book, City Girls: The Nisei Social World in Los Angeles, 1920–1950, the Atomettes were just one of hundreds of similar social clubs that helped define Nikkei youth culture both before and after World War II, "bridging the cultures of their ethnic community and mainstream society" as Dr. Matsumoto writes.
Their name was a suggestion from Hifumi's brother; "this is the atomic age. Why didn't you call yourself the Atomettes?" she recalled, admitting, "it didn't occur to us that the atom bomb was such a terrible thing but we thought we were very explosive, you know?"
The group's younger members were all middle schoolers taking Sunday school classes with the club's founders, Rose Honda and Mary Ishizuka (née Nishi), both of whom were in their early twenties. The idea to take the younger girls on the road was the brainchild of Ishizuka (who passed away in 2013):
"Mary, because she was a geography teacher, she wanted to teach [the] girls all about what was happening locally" explained Honda, adding, "the girls didn't have any way to really go around to find out. Their parents were working and this gave us the opportunity to show them around Los Angeles."
"Mary emphasized that we should always learn things," said Hifumi. "That's why she would take us to Forest Lawn [Cemetery]. Who goes to Forest Lawn? Only dead people, right? But she knew that they had sculptures and stained glass windows... Our parents were Issei and so they would never think about taking us places."
The group first started with local field trips around Los Angeles but when Uemura turned sixteen, her carbecame a literal vehicle to take the girls wherever they wanted. "She's the first one that got a license," Hifumu recollected. "We used to have driver education at school and I remember when I was taking class with her, the teacher called her 'Lead Foot' because she just zoomed. She's the one that drove us around everywhere."
According to Susan's daughter Linda, that travel bug extended well into her mother's adulthood: "She would drive me around California as a reward for good grades. She took me to San Francisco and told me about her adventures with the girls."
By the time the girls graduated high school, they began planning excursions out of town. Destinations included Lake Tahoe, Merced, Santa Barbara, and Las Vegas. These trips became an opportunity to teach the girls valuable organizational skills. As Honda explained, "when they commit, they had to make plans, in terms of the expense, where to stay. That was fun, planning the trip."
Hifumi kept some of the original itineraries that accounted for every expense. A four-day trip in 1956 that went up to San Francisco and Yosemite cost the Atomettes $5 in gas total while breakfast the first day was 75 cents. Honda laughed, "the girls made always sure they had plenty of food in the car."
Even by today's standards, the idea of a group of teenagers taking a road trip by themselves would raise basic safety concerns. In this case, the Atomettes were all Nikkei women roaming California barely ten years after they and their families had been incarcerated during World War II for little more than being of Japanese descent. And yet, as young women, they all felt empowered by their mobility and freedom to roam.
The 1950s, after all, were a golden age for road travel as the postwar economy boosted car sales and fueled the expansion of interstate highway systems. In American popular culture, it's usually white Americans depicted taking advantage of this burgeoning auto-oriented infrastructure, especially at a time where segregationist policies privileged white travel compared to the perils facing motorists of color, especially African Americans.
The experiences of Asian Americans on the road in this era are less discussed and documented which is precisely why the Atomettes' travels feel so remarkable. Whatever lingering anti-Japanese sentiment may have circulated wasn't a deterrent to these young women to join millions of their peers in exploring the larger world around them.
That's not to say they didn't run into the occasional snafu. On an early trip in 1951, the Atomettes boarded a short flight to visit Catalina Island. "We were so excited because this was our first plane ride," Hifumi said. However, they lost track of time and reached the gate to see the plane taxiing off without them.
Hifumi explained what happened next: "The gatekeeper…looked at how many of us were there, he looked at our sad faces and he got on his phone and the plane turned around. They came back for us." Yamazaki added, "that was a different time. Things happened for us, good things."
Though the Atomettes have lost a few members over the years, the remaining women continue to be a part of each other's lives. "We still get together, you know, shared Honda. "I had just recently another road trip to go and visit one of the Atomettes in Costa Mesa. We were all there, five of us. That was just wonderful." Hifumi chipped in, "except this time, my daughter drove."

Research assistance by Chelsea Shi-Chao Liu.
Special thanks to Sadie Hifumi, Rose Honda, Kathi Yamazaki, Janet Gunter, Randy Sakamoto.
* * * * *
The Cruising J-Town: Nikkei Car Culture in Southern California exhibition is scheduled for early 2025 at the Japanese American National Museum.