If professional volunteerism were a career, Nicole Higa Kobashigawa might have chosen it. As a student at La Unión school in Lima, she excelled in all subjects, from math to physical education (she even learned to walk on stilts and juggle in a circus workshop). But she wasn't focused on any subject in particular. That is, until sixth grade, when she volunteered for a leadership program to learn about teamwork and soft skills.
She attended the program every Saturday morning during high school, until two years after graduating, and during vacations she was a counselor in the program for seven-year-old children at La Unión Stadium. "I've always liked volunteering. That's how I started focusing on human development," Nicole says. She studied psychology at the University of Lima, and although she discovered that the subject isn't just about understanding children with behaviorial issues, she recalls that being in a new environment had an impact on her.
"It was kind of a shock for me, even though I was studious and responsible. When I was in high school in Pueblo Libre [a district of Lima], I lived across the street from school. But to go to the university, I had to get up three hours earlier. It was also hard to adapt because of the language. I used words like oji, oba, gohan, onegai, and gomen at school, and it was hard to stop saying them." Nicole also worked while at university to pay for tuition. "I received support from the Pacific Cooperative, but I had to pay for transportation and food, except for the obento that my obachan made for me to take to school."


Behind the Dream
Even with work and her university classes, Nicole found time to continue volunteering: She helped out at La Unión, participated in "learning vacations" at the stadium, and also gave her time to Ronald McDonald House. At the stadium, she got her first job training volunteers and then worked for a company, Metha, coordinating and planning leadership programs in schools and businesses.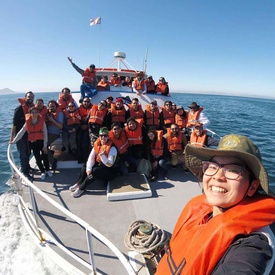 Along with her volunteer efforts, Nicole sought out opportunities to study in Japan. "I applied for many scholarships but wasn't chosen and when the opportunity with Ship for World Youth arose, I was 17 and the minimum age was 18." It was 2017 and she had attended talks given by the Peruvian-Japanese Association about this Japanese government program aimed at building leadership abilities and international cooperation among youth through a cultural exchange experience.
"Friends and family members told me stories about Japan when I was growing up, and when I heard about the program it was like a dream for me." Through the program she spent about 10 days in Tokyo and a month on the ship. "The whole ship was for us. It was very strange to live together like that, without Internet, so everyone talked to each other. I was in the middle of my studies and was very inspired by all of these people who were seeking to make positive changes in society."

Japanese Identity
In Tokyo she discovered Japanese hospitality ("Everything is planned out, they have a whole vision for ensuring the wellbeing of visitors") and after presentations by the various delegations, they traveled to Iwate, in the north. "It was the first time I'd seen snow. I wasn't prepared, but they loaned me some clothing and the family that chose me, after seeing my profile, was a family from Okinawa. What luck! I had always felt connected to Okinawa. I grew up dancing eisa…I cried when I found out the family was from there."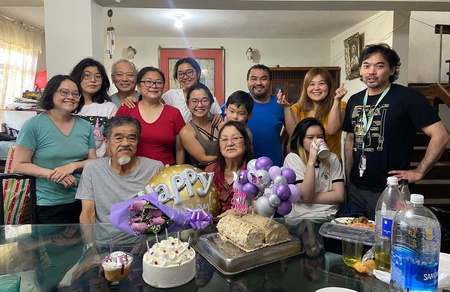 Both sides of her family are from Okinawa, from Nago and Nishimura, respectively ("I was raised with the Uchinanchu spirit", she says). She is fourth-generation. Her great-grandfather, Eicho Higa, was president of the Peruvian-Japanese Association and her great-grandmother Haru Higa was one of the first leaders of the Association's Women's Club (fujinkai). "My roommate on the ship was a tea ambassador from Kyoto and I was able to reconnect with that part of my family. That's how I started a business: Miki Matcha tea."
"For me, being Nikkei is a feeling. It's more than a last name and where you're from. It's the connection that you have with Japanese culture. At La Unión I've had friends who weren't of Japanese descent, but I think of them as Nikkei because of how they behave and their approach to life. It's a way of being, respectful and persistent, and also connected to Japanese culture….but maybe for the elders it's not the same thing."

A New Facet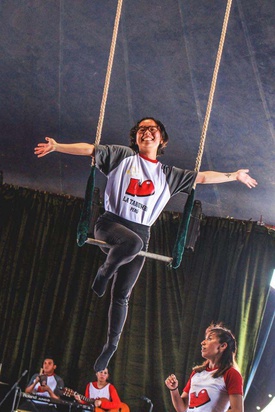 When she returned from the trip with the 30th Ship for World Youth class, she began working at The Little Gym International, an early childhood development center where she applied her knowledge of psychology with children and their families. "I spent about two years with the children, from before they were able to sit up until they started walking," Nicole says. She also participated in other programs, including one at the Leoncio Prado military college.
In 2020, Nicole joined the volunteer team at Promperú, the Peruvian government promotion office, for the country's bicentennial. She helped make videos on civic education and mental health. A year later, she joined Laboratoria, an organization that specializes in training low-income women to work in the digital sector. "I feel like I'm in an organization that is changing the world. I started as an intern and eventually they put me in charge of tracking the life skills of students in the bootcamp."
At 24 years old, Nicole Higa Kobashigawa shares what she has learned with a group of women and she also continues to learn from them. "There's a mix: girls, mothers, and women from different provinces. My job is to support them as a counselor, plan life skills programs, and prepare them for the work environment. Since the program lasts six months, a lot of emotions come to the surface and that's why it's important that they receive emotional support," Nicole says, as she sits in front of a sign with the word "balance", which she has maintained since she began following, on stilts, her vocation as a volunteer to help others see the world from up high.
Note:
1. "Para mí, Cooperativa Pacífico significa esperanza" October 27, 2020, Cooperativa Pacífico)
2. Bicentenario Perú 2021: Voluntarios del Bicentenario