If cuisine is a way to travel around the world, Peruvian chef Jaime Ajito has been an ambassador of Nikkei cuisine on two continents. Nikkei cuisine is what he learned at home and culinary school after studying graphic design and marketing and working as a dental technician, with his own laboratory. He's also spent time as a dekasegi in Japan.
Today he lives in Bahrain, an island in the Persian Gulf between Saudi Arabia and Qatar, where these days you can find Peruvian food. "At Clay Restaurant, there are 31 people in the kitchen and 10 are Peruvians," says Jaime, a genuine culinary world traveler. He has worked in restaurants in Argentina, Mexico, China, and now in Bahrain. In most of those places he was brought in to open the restaurant, develop the menu, and train the team. But Jaime's professional career hasn't always been linked to restaurants. He lived for some time in Japan, working in a factory like many dekasegi.
"The first time was in 1991 and the second time was 2001. I was there for almost a year and a half. Peruvians hung out together there and I helped make the ceviche." Along Jaime's journey, one stop was fundamental: he traveled to Sydney, Australia in 2007, with his partner. "I went to culinary school at the Holmes Institute," he says. He was 33 years old and still didn't know that he was just starting out on a long and winding culinary road.


Starting Over
Instead of learning to cook Nikkei cuisine, Jaime studied international techniques and became familiar with diverse cultures. "All of the students were foreigners. There was a lot of food from India. I studied with young people from the Philippines, Cambodia, and Poland." In 2009, the global crisis sent him back to Peru. He had attended primary school in Callao, where he was nicknamed "Chino" because of his Asian background, but he attended high school in La Unión, where he didn't feel as Nikkei as the others.
"That's where I realized what I was: a fusion. I had Nikkei customs, but at home with my mother, who is not of Japanese descent, I made a delicious harusame." One of his classmates was Chef Hajime Kasuga, and when Jaime returned to Peru he asked him for a job, but "starting at the bottom. I wanted to pay my dues." Hajime hired him as an itamae in charge of the cold bar. After all, in those years there weren't many Nikkei in that position.
He worked at Hanzo in the districts of Surco, Miraflores, and San Isidro, and also at Ache restaurant. "In 2007, Hajime won a prize and the restaurant was booming. We had 400 to 500 people every day and I was in charge of preparing otoshi, or appetizers, for people waiting for a table." After a couple of years, Jaime had demonstrated his skills and it was his turn to represent Peru abroad, training chefs. He taught them to make the same food he used to bring to school in Callao, like chicken katsu and tamagoyaki, and the other children always asked him what it was.


Cooking Abroad
First he went to Mexico, where he trained itamaes at Rokkaku Taberna Nikkei and then to Córdoba, a province of Argentina, where he worked at Cruz Espacio restaurant. There, he created a Nikkei and Peruvian tasting menu, under Hajime's direction. "I went with Hajime and Cesar Contreras. Later, the owners of Cruz Espacio asked me to open another restaurant, Mercado Central, where I created the menu with a fusion that Argentinians like, such as maki with beef flambé and chimichurri."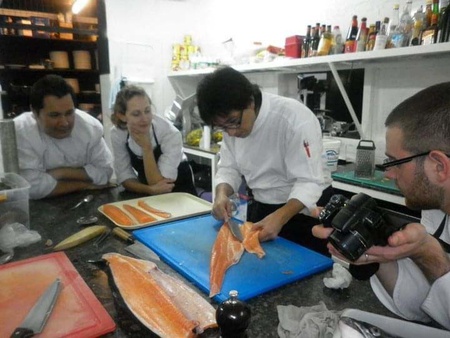 He recalls that in Mexico they also experimented with local cuisine. "With Ivan Casusol we adapted the menu to the Mexican palate. They like very spicy food and to put shoyu on everything. We made some chiles toreados, which are sautéed and topped with a garlic ajonjolí paste, which gives them an Asian touch." But it was Peruvian fusion cuisine that opened doors for new projects. "I went to Beijing, where some Peruvians (siblings Francisco, Maria, and Juan Carlos Chia) wanted to open a Nikkei restaurant."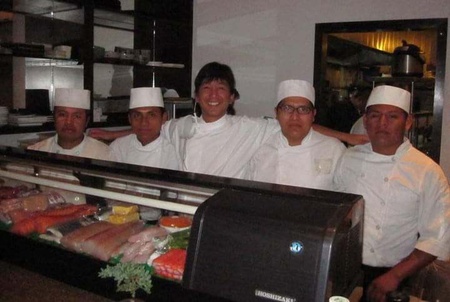 PachaPapi restaurant was pioneering: Nikkei and Peruvian Chinese cuisine…in China (where dishes like arroz chaufa and lomo saltado are not well-known). There he had a translator, but he later went to work at Sakemate Restaurant in Shanghai, where no one spoke Spanish. "Only the bartender spoke English, it was very difficult. I gave orders in a mix of Chinese, English, Japanese, and Spanish." Luckily, he was able to find all kinds of ingredients. "You can get anything there. I remember one time a German customer came in with a photo of a dish. He wanted me to make cuy. We ordered it, it came 10 days later, and I fried it with ají panca [Peruvian chile pepper]."
Jaime spent four months in each city in China, but recalls that he missed his family very much, and still does. "I talk to my son Dario every day," he says from Bahrain, but he remembers when communication was more difficult. "I was married to Marlene, my wife, and when I was in Nihon there wasn't any Internet. I wrote her letters during that time." Because of the Covid-19 pandemic he returned once more to Peru, where a project he had started between jobs was waiting for him: Ajito Catering.
"I went to China in 2019 but had to return in February 2020 because of the pandemic. In Lima, I restarted the catering business because no one was going out to eat and my friends were calling me. They wanted to eat Nikkei food." But his destiny would continue to be linked to the Orient. In September 2021 he was offered an opportunity to work in Dubai, but ended up as head chef at Clay Restaurant in Bahrain, where he has a contract until mid-2022. "I'm doing well here, and I'd like my family to join me."
He says that many people from Saudi Arabia come to Bahrain because of the restrictions in their country. They spend their money in Bahrain, where the weekend starts on Thursday. "I was amazed to find so many Peruvians. One of the things I miss about Peru is grilling, which became a tradition on Sundays during the pandemic. But here you can't cook pork because of the Moslem religion. It's hard to get, you have to request a permit and cook it separately."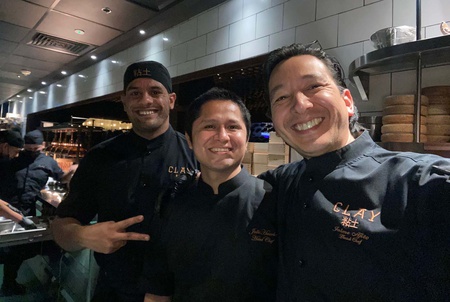 The Other Island
After finishing high school, Jaime went to Japan where he cooked for himself. "Everyone in my family cooks really well," he says. In Japan he worked in a printer factory, and later as a janitor in Australia. But in Bahrain, he works for a company with more than 40 restaurants specializing in meat and Greek food in South Africa, and which has expanded its investment in Arab countries.
"In December 2021, I came to a country that I didn't even know existed before. There are only 1.6 million people on the whole island," Jaime says, adding that it's a peaceful place, not as cosmopolitan as Dubai, and with an intense, mid-year hot season. "I'd like to [continue] living here," he remarks, although he says the company plans to open other restaurants in London, the United States, and Saudi Arabia.
And even though it's hard to find limón [Peruvian lime], to the point that he has to combine three different kinds of limes to achieve the ideal acidity for ceviche, he's happy to be able to represent the cuisine of his ancestors in a city with ocean views like Lima, as an ambassador of Peruvian cuisine. "Nikkei cuisine has allowed me to get to know myself," Jaime says, with the ever-present memory of afternoons spent at the undokai, the Callao Nisei Association, and with his friends from Hanzo. "We're always communicating and we've even met up in Dubai. We're a brotherhood, a huge family!"