ST. CATHARINES — Japanese Canadian history has been thoughtfully explored through literature, poetry, film, theatre, and journalism, but Bravo Niagara!'s production of Kimiko's Pearl explores this history in a completely new way—ballet.
Performed by the principal dancers of the Royal Winnipeg Ballet with original music and choreography, Kimiko's Pearl shines a spotlight on the Japanese Canadian experience and honours the community's resilience by telling the story of one family over four generations.
The ballet, currently in development, was produced and commissioned by Bravo Niagara! Festival of the Arts, a not-for-profit charitable arts organization in Niagara-on-the-Lake, founded by the mother-daughter team of Christine Mori and Alexis Spieldenner.
The ballet centres around Kimiko, a 15-year-old in Toronto, discovering an old family trunk with a forgotten diary and other precious keepsakes inside. Through these items, history comes to life, and Kimiko learns the story of her Japanese ancestors, from immigrating to Canada in 1917, prospering as berry farmers in Mission, B.C., surviving the internment, to their postwar resurgence in Toronto, based on Mori and Spieldenner's family story.
"Telling the story through music and dance is powerful. There is something visceral. It gets to your core and makes you feel everything. You really don't need words," Spieldenner tells Nikkei Voice in an interview.
Kimiko's Pearl features original music by Kevin Lau, sound design by Aaron Tsang, and choreography by Yosuke Mino of the Royal Winnipeg Ballet. The full-length work will also incorporate artwork by Norman Takeuchi and Emma Nishimura.
Bravo Niagara! has produced Kimiko's Pearl: Digital Short, a 10-minute digital preview to the ballet currently in production. Directed by Jeff Herd and produced by Bravo Niagara!, Kimiko's Pearl: Digital Short features Royal Winnipeg Ballet principal dancers Alanna McAdie, Yue Shi, and Chenxin Liu. The music is performed by Conrad Chow (violin), Rachel Mercer (cello), Ron Korb (flute), and Mariko Anraku (harp).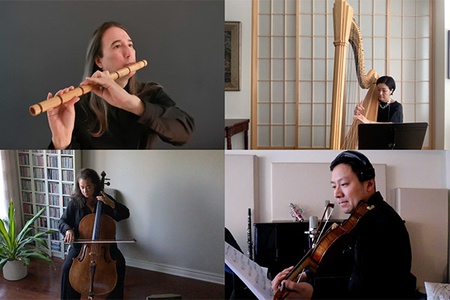 "This [digital short] is just a glimpse into the larger production," explains Spieldenner. "[It begins with] the wedding of my great grandparents, Natsue and Shizuo, in Japan, and then their journey from Japan to Canada, starting a life here, becoming strawberry farmers in Mission, B.C., and it takes you right up until the Pearl Harbor announcement."
Mori and Spieldenner assembled an incredible team of artists, musicians, and dancers—including three generations of Japanese Canadians—based in Toronto, Ottawa, Winnipeg, Niagara-on-the-Lake, Chicago, and New York City. Created entirely during the pandemic, the music, choreography, story—every part of Kimiko's Pearl, was created long distance. Meetings were held on video calls, the costume designer sent sketches over email, the composer created a draft of the music electronically, the choreographer filmed and sent videos of the dancers, and the musicians recorded the music separately in their homes across North America.
In September, Mori and Spieldenner were in Winnipeg to film the digital short, and it was their first time meeting the dancers and choreographer in person and watching the performance live.
"To actually see all the pieces come together was pretty much a dream come true for us," says Mori. "I think why everything worked so well is we have an extraordinary team. [Watching] the dancers, you can see that this theme really resonates with them. It was just so heartwarming to watch."
The concept behind Kimiko's Pearl began to take shape when Mori and Spieldenner discovered an old family trunk, similar to how the ballet begins. Donated to the Canadian War Museum collection, the trunk was built by Mori's grandfather Shizuo Ayukawa while interned in New Denver.
"That was really the inspiration, the visual of the trunk and just imagining if the trunk could speak. The fact that my grandfather built that in New Denver with wood from the 'promised land' is very symbolic to me. He built that with wood from Canada while he was incarcerated," says Mori.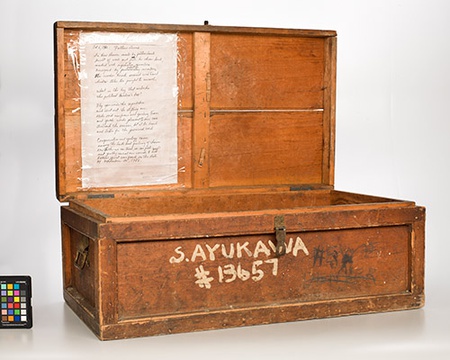 Taped inside the Ayukawa trunk was a poem by Mori's aunt Hiro Kaita, written in 1992. The poem reflects on the signing of the redress agreement a few years earlier. For Mori, it expressed how the Japanese Canadian story is not confined to a certain point in history, and it was important to tell a story that crossed generations.
"The feeling that my aunt put in that poem, of what changed after 1988, I felt that we really needed to have the larger story because it didn't end in 1988. I think that was the beginning of the healing process," says Mori.
Mori commissioned her friend and Emmy Award-winning writer Howard Reich, a retired music critic for the Chicago Tribune, to write Kimiko's Pearl. Unfamiliar with Japanese Canadian history, Reich referred to a 200-page research paper written by Spieldenner for reference.
During her undergraduate studies at Duke University, Spieldenner researched and wrote a thesis on her family's history over four generations called Voices of Four Generations: A Story of the Japanese Canadian Community from Issei to Yonsei. In one part of her thesis, she explored how her family, like many other Japanese Canadians, found employment and support from members of the Jewish Canadian community when resettling East of the Rockies after the war.
"[Reich] was familiar with the Japanese American experience, and himself being the son of Holocaust survivors, it was just a story that really resonated with him," says Spieldenner.
Spieldenner was always fascinated by her family's history. Perhaps because of the space and time between her generation and her grandparents, they were open to sharing their stories. As a Yonsei, it felt important to learn about and preserve that history, especially as the Nisei generation gets older, says Spieldenner.
"I think it has been an evolution. My interest in learning more about my family's history started over 10 years ago. It's a history that I'm proud to embrace. I feel such admiration and gratitude for the risks that my great grandparents and grandparents took to make it possible to do what I'm doing today."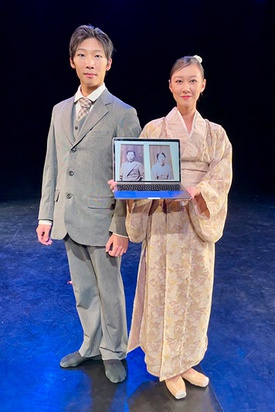 Mori and Spieldenner wanted to use their voices to tell this story, and those voices are music and ballet. Mori was the pianist with the Florida Orchestra for 30 years and graduated from the prestigious Juilliard School. While an accomplished pianist, ballet was Mori's first artistic love. She started studying ballet in the early 60s. Her mother, who lived through the internment, wanted to give her daughter every experience she never had. Mori's ballet instructor suggested she also study music, so she began piano lessons. But when her parents started their own business, Mori had to choose between ballet or piano.
"Even though dance was my first love, I decided not to choose dance because, at the time, there weren't any Japanese ballerinas. This was in the 60s, so I never saw myself being that ballerina on stage. There were more Asians in the music business, so I chose music," says Mori.
In many ways, Kimiko's Pearl is a way to honour their family, the sacrifices, the choices, and the injustices faced and overcome. Coming full circle, Kimiko's Pearl celebrates a Japanese Canadian story created by and featuring a predominantly Asian Canadian creative team, musicians, and dancers. The artistic spaces that Mori never saw herself represented in as a child, she and her daughter are now creating themselves.
"Just the team itself, looking at all these unbelievably brilliant, talented Asian Canadian artists, that's what makes me really proud."
The timing felt right to create Kimiko's Pearl, explains Mori. Bravo Niagara! now has seven years of productions under its belt and has developed a platform they can use to tell this story. With the escalating anti-Asian racism during the pandemic and the aging Nisei population, it felt necessary to tell this story now.
"I hope that people outside the Japanese Canadian community are going to watch this and learn maybe for the first time about the Japanese Canadian experience. Working on the project, it's just amazing to see the lack of awareness about this part of history. It's [often] just a footnote in Canadian history," says Spieldenner.
"By using classical ballet, we will introduce this story to a new audience. Some people will want to come just because it's the Royal Winnipeg Ballet's principal dancers and choreographer and a world-renowned composer. So just the art form itself is going to attract a different audience, and that's our plan," says Mori.
* * * * *
*Kimiko's Pearl: Digital Short virtual premiere and watch party will take place Saturday, Feb. 5 at 7 p.m. EST. The event will be hosted by journalist Mary Ito and include interviews with the creative team. Register for the free event here: You can register for the Zoom event here.
*Kimiko's Pearl: Digital Short will be available to watch online free of charge via Bravo Niagara!'s YouTube channels.
* This article was originally published in Nikkei Voice on December 22, 2021.