The last time we featured Dorchester, MA-based poet, Tamiko Beyer was Spring of 2017, so thought it would be wonderful to have her back to help us usher in Fall with her wonderful work. The selections, from her book Last Days, have a razor's edge that I love, each line cutting into the next and beckoning us to reckon with anger, shame, and the silences in between. There's a sharpness that wakes me into the transformation that this season, and Tamiko's writing, offers in full. Enjoy…
— traci kato-kiriyama
* * * * *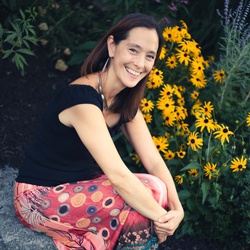 Tamiko Beyer (she/her) is the author of the poetry collections Last Days (Alice James Books) and We Come Elemental (Alice James Books), winner of the Kinereth Gensler Award, and chapbooks Dovetail (co-authored with Kimiko Hahn, Slapering Hol Press) and Bough breaks (Meritage Press). Her poetry and articles have been published widely, including by Denver Quarterly, Idaho Review, Dusie, Black Warrior Review, Georgia Review, Lit Hub, and the Rumpus. She has received awards from PEN America and the Astraea Lesbian Writers Fund, and fellowships and residencies from Kundiman, Hedgebrook, and VONA, among others. She publishes Starlight and Strategy, a monthly newsletter for living life wide awake and shaping change. She is a queer, multiracial (Japanese and white), cisgender woman and femme, living and writing in on Massachusett, Wampanoag, and Pawtucket land. A social justice communications writer and strategist, she spends her days writing truth to power. More at tamikobeyer.com.
Generations
Issei
Plant-a-stone
generation. Have-faith-even-
the-sandiest-soil-
will-bloom-something generation.
そうね、今
only cactus. But even:
cut away spike. Slice.
Water to quench our raging.

Body made for long
day, hard work. 仕方が
ない. If a barrack
we are living, we must bend
our minds to a pot full of rice,
river full of flashing fish.


Nissei
What happened to our
tongue, generation? The-nail-
that-sticks-up-gets-pounded-down
generation. We
go when army say go.
Take only what we carry.
Shame, the heaviest
suitcase. To lift our feet, tack
shame up between door-
ways, lacquer over
eyes, feed shame with cream of wheat
to the babies. Then, paste
silence over rage.


Sansei
Power-to-the-people
generation. Yellow-peril
supports-Black-power
generation. Why-aren't-we-
talking-about-this
generation. Harvesting
the hard knots: radish
or rage, no matter, dirt still
clings to the roots. We
yell into shame, raise our fists.
We build monuments
in the desert, rescue scraps
of culture, shake out
creases from musty kimono.
Later some open
our fists, wanting-more generation.

Yonsei
When the floodwaters receded, there we were, you-get-what-you-asked-for generation, trying to find the pieces as best we could. But everything was slightly askew. Roofs settling into odd angles, bicycle tires on hatchback rims, cherries smelling like oranges. Even our faces didn't match. One brown eye, one black. Hands too big, tongues looping out of our split mouths. We named it beautiful, this broken world we inherited.
And we hammered each
piece somewhere new, sowing
a field full of nails.
What the Grandmothers Say
we broke bottles electrified the abandoned
macadam with our rag-bone labor
smudgy fireflies in the humid night gathering a hundredfold
now you limn the apple seeds
spit-polish your steeled tongue
you gnaw gnaw down your scattered hunger, child
bank in lusty angles
while your hatchlings in their clotted nests uncoil wet from shell
beak a widening raw
all our rage unslaked—
*"Generations" and "What the Grandmothers Say" (poems) from Last Days by Tamiko Beyer, Alice James Books, 2021.