Who were/are the Japanese Canadian culture makers of yesterday, today, and beyond this era of Covid-19?
One name that I have heard from my earlier days is Toronto's Nobuo Kubota, Governor General's Award, et al. a former teacher at the Ontario College of Art (now Ontario College of Art and Design) who is often grouped with Kazuo Nakamura (Royal Canadian Academy, born in Vancouver, October 13, 1926 - April 9, 2002), a founding member of the Toronto-based Painters Eleven group in the 1950s and Takao Tanabe (1926 - ), Order of Canada, Governor General's Award, et al, who continues to work in Parksville, BC. There is also Silverton, BC artist "Koko" Kokubo who I clearly remember meeting about 30 years ago when she and partner Paul Gibbons purchased their remarkable property that overlooks Slocan Lake. Now, full circle, they are in the process of selling it. Dancer/ choreographer/teacher Kunji Ikeda of Calgary, AB reminds me too of our influence on the dance scene along with other notables like Toronto's Denise Fujiwara and Jay Hirabayashi in Vancouver. Finally, there is taiko master Kiyoshi Nagata from Toronto who trained with the legendary Kodo drummers of Sadogashima in Japan.
I think that there is no better way to proclaim our distinctive Canadianness than by being the culture changers that we continue to be. It is important to look back and learn from the past just as we continue to grow a sense of JC pride and move forward into the future with a clearer sense of who we are that will define our lasting legacy.
* * * * *
Multidisciplinary Artist, Nobuo Kubota (Toronto, Ontario)
Covid-19 overwhelms me. It is a strange time like a dream you can't make any sense of or understand what it means. Surreal, except that it is happening right in front of you. In the midst of this, I continue to produce art, develop ideas and realize its potential. In the absence of discussions with my friends, I show my art to my family, "Hey, do you like my new work?" Actually, I always talk to my family about my new work. The work continues to evolve in spite of Covid-19. It has not changed how I think or process an idea. But the pandemic has become a part of my life, like it or not. It "hovers" over my life like a ghost.
I am also a "sound" artist . It has been an important part of my creative life since the late 1980s. The work involves both visual and spontaneous vocal work. The visual aspects of "noise" take the form of calligraphy so it exists independently of any interaction with the public or situations such as Covid-19. Until recently, I continued to perform in public whenever the opportunity arose but I am now confronted with the problem of "no audience". I am investigating the possibility of "virtual" presentation. It has been a while since I have worked with video, that is also a possibility.
* * * * *
Artist, Tsuneko "Koko" Kokubo (Silverton, BC)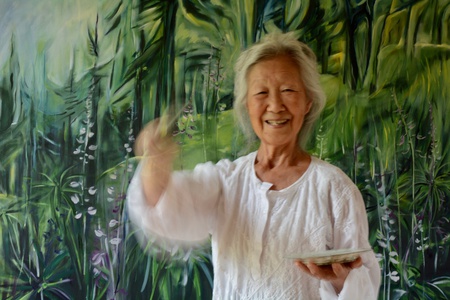 I am now 83 years around the sun, and luckily I am still painting. The life of a visual artist usually involves a lot of solitary and contemplative time, so the Covid19 pandemic has not changed that very much, especially living far out in the mountains of BC. On a societal level it has been a disaster, and my heart goes out to all those affected by the virus itself, and the repercussions in terms of job losses and difficulties of survival for so many people. However, on a personal level it is not that dissimilar from my normal lifestyle - time spent in the garden and in the studio, or just hanging out with my beloved. I did have to cancel a couple of exhibitions earlier in the year, but hopefully they can be rescheduled at some point. One thing I miss is painting with a good friend in Kohan Garden 'en plein air', as strangers often want to stand over our shoulders and watch the works unfold.
* * * * *
Choreographer/Playwright /Teacher, Kunji Mark Ikeda (Calgary, AB)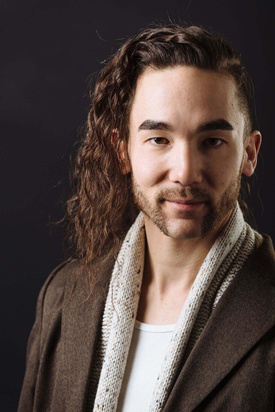 It's been a deeply challenging time and as much as I try to safeguard, a lot of my personal identity is tied to working and staying active in the artistic community. It's gutting to reflect on all the cancelled and waylaid opportunities... but artists gotta art!
Some of my work has transitioned to online - I've been teaching youth workshops, and will be facilitating workshops for theatre students at Brock University (St. Catherines, ON) this coming fall. I've been able to turn my attention to writing projects - including two new scripts and planning for one large-scale dance theatre piece based on Dostoevsky's novel Crime & Punishment. My diverse acting /dancing cast includes Morgan Yamada and myself in terms of JC.
I am fortunate to have been supported to create a podcast featuring Japanese Canadian theatre and dance artists. We will be exploring how a Japanese Canadian identity has impacted some of Canada's most well-known performance artists. Sounds Japanese Canadian To Me: Stories From the Stage will start releasing episodes online in September through the Nikkei National Museum & Cultural Centre in Burnaby, BC!
Instagram: kunji.mark
Facebook: Cloudsway Dance Theatre
* * * * *
Taiko Master, Kiyoshi Nagata (Nagata Shachu Taiko, Toronto, ON)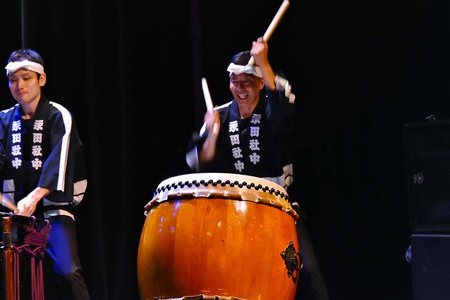 As a performer and director of Nagata Shachu Japanese taiko group, I was severely impacted by Covid-19 as were all artists. By the end of March, all of my group's performances and studio classes were cancelled for the entire year.
Fortunately, Nagata Shachu was already exploring digital means to disseminate its work well before the pandemic started and this has kept me very busy. In just three months, working with three technologists, we developed a web-based virtual taiko drum that enables anyone to learn taiko drumming from home, using a mobile device or home computer. This, in addition to the development of a taiko resource hub, allowed us to offer online activities for Toronto's Arts in the Parks program this summer, and for our upcoming outreach workshops this September for the Toronto District School Board. Nagata Shachu also recorded an immersive 360-degree outdoor performance video with spatial audio, which viewers could interact with by scrolling the screen to view different aspects of the concert.
I strongly believe that artists must explore new and exciting ways to share their art when live performances and exhibits are no longer an option for the foreseeable future.
His website: nagatashachu.com