Gaman (我慢) is a Japanese term of Zen Buddhist origin which means "enduring the seemingly unbearable with patience and dignity". The term is generally translated as "perseverance", "patience", or "tolerance."

— From Wikipedia
Nobody likes hanging in a state of uncertainty.
One of the real blessings of being able to practice any kind of art at this time is that it gives us a point on which to focus. If you've ever practiced a martial art, you know that breathing deeply is important as a source of power and control, the head stuff just gets in the way. Art is the same. So, I wonder as we begin Part 5, if there is a pattern, a Japanese Canadian way, perhaps, of dealing with the pandemic?
Gaman comes to mind. It is gaman that got JCs through the early period of our settlement in Canada, dealing with racism, then losing our property and human rights during World War Two which allowed the government to decide to herd us into internment camps, deporting us to wartorn Japan, then through the post-war decades of racism and the results of community dysfunction that we still grappled with.
As we get further and further away from the pre-WW2 generations, it seems too that the meaning of terms like "shikataganai" (it cannot be helped), "enryo", to act with modesty or reserve, and "gaman", which imbued the Issei and Nisei understanding of their dire situation as new Canadians who weren't accepted as such until many years after World War Two. Especially during WW2, the community took much strength from these cultural/religious constructs which are not so well understood by JCs these days.
We get some further insight into the deeper meaning of gaman in Japanese American poet Christine Kitano's powerful poem "Gaman."
* * * * *
Artist Laura Shintani (Toronto, ON)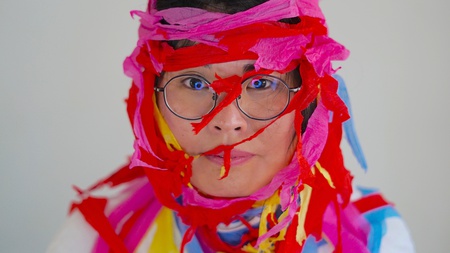 How is Covid-19 affecting how you do your art?
For me, interesting art comes from restriction as few choices allow focus and concentration. I am being more deliberate in my practice than is usual. I take time to contemplate and think about my actions and their potential consequences. COVID-19 has restricted life and this forces me to reexamine my worldview. In my art practice, I wish to help others see they have the agency to navigate the unknown. For example, my latest work is called "Neuroelastic", and it is a serious yet playful photographic interactive piece that was part of the recent Rendezvous With Madness Festival. The festival is a long-running annual international exhibition that centres around mental health and addiction. I feel paying extra attention to my mental health is important for self-awareness, the release of tension, and to take on new and creative challenges.
How is Covid-19 affecting how you think of yourself as an artist?
These days I am looking at things that frighten me, and taming those fears is what I am doing most! I evoke and purge aesthetic monsters that get stuck in my head from the intense syncopation of these times. Before COVID-19, I felt I had the luxury to learn a lot more throughmaking mistakes. After COVID-19 I feel my mistakes may cause a person harm, I am a lot more cautious and I really take time to plan out fine details. As an artist, I think I might be more of an architect of my reality than I previously thought of before. I think I've been creating more "bubble" worlds. Yet, I make an effort to keep things in perspective and imagine myself to be an inventor of aesthetic necessity because the need to adapt and help others is more important than ever.
Are there themes that are preoccupying you during this time?
It is important to be kind to myself during this period of distance from others. Naps, please!
Being Japanese-Canadian, persevering through difficult times reveal the well-known word/concept "mottainai" -- to not be wasteful of resources. I think of my childhood in the countryside of Ontario, where I would watch the change of the seasons. I learned what is a "fallow field". This is a type of field to produce a period of rest between planting the crops in order that the soil will regenerate for the future. A highlight of a fallow field is that it is made to not have surplus crops go to waste. I feel this describes what is happening now, an enforced rest has caused a re-examination of the way I want to proceed to live. I love the feeling that I don't have to be overly "busy" to feel validated -- a calm mind, body, and spirit is what matters.
What is one societal change you would like to see when we emerge from this pandemic?
I see exaggerated polarities playing out through this pandemic and it illustrates the worst and the best in us. Living with acute fear we suppress reality to get ourselves through the day. Yet from these times, I hope we will have developed a sharpened sense of empathy, opening better channels of communication to each other through patience, compassion and imagination. In tandem, it is important that we speak up and choose to enact fairness. We are all interconnected, we are all a part of the same infinity.
* * * * *
Shakuhachi Master: Takeo Yamashiro (Vancouver, BC)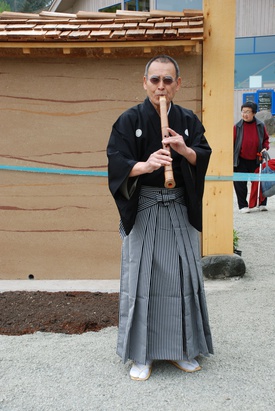 How is Covid-19 affecting how you do art?
Not much for me, since my shakuhachi playing became my personal daily routine… more of a way of life than of stage performances/concerts.
How is Covid-19 affecting how you think of yourself as an artist?
It gives me lots of time to reflect myself and ensure my journey of life is set in the right direction towards...?
Are there themes that are preoccupying you during this time?
Each and every time I practice, I consciously start with deep-breathing exercise and brief meditation to make sure of healthy mind and body,
What is one societal change you would like to see when we emerge from the Covid pandemic?
Hopefully, people would become more considerate and conscious about being participatory themselves, and thus develop a sense of co-existence as a part of the society.
* * * * *
Artist Akira Yoshikawa (Toronto, Ontario)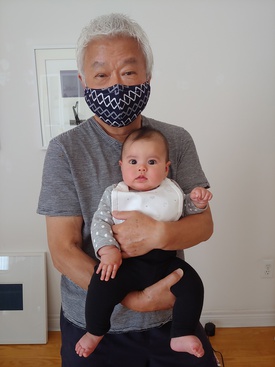 How is Covid-19 affecting how you do art?
The Covid-19 crisis has not affected my actual process of art making. However, because the galleries and museums are closed, I have been spending more time watching documentaries on artists and architects available on YouTube.
How is Covid-19 affecting how you think of yourself as an artist?
I realize how fortunate I am to have the luxury to think about "art" of all things at the time of such vulnerability that surrounds us all. I am alarmed by this atrocious spirit, that is identified only by the horrific damages it is leaving behind.
Are there themes that are preoccupying you during this time?
I have always been interested in making "beautiful things to look at", or "images to be used for contemplation", and that has not changed.