A high school student in Hawaii who speaks Japanese beautifully
I started watching Terrace House at the recommendation of my daughter, who is a high school student. It is a reality TV program that tracks romance, conflict, and the pursuit of dreams as young men and women live together in the same house. The opening narration declares that "There is no script." The real lives of six men and women resonate with viewers, and since 2017 the show has been available for viewing worldwide through Netflix. Terrace House has several series in places like Tokyo and Karuizawa, but I myself was glued to Terrace House: Aloha State. As you can see from the title, the stage is a house in Hawaii. Many of the characters were replaced when people moved in and out of the shared house, but Yusuke (Yusuke Aizawa) was particularly impressive.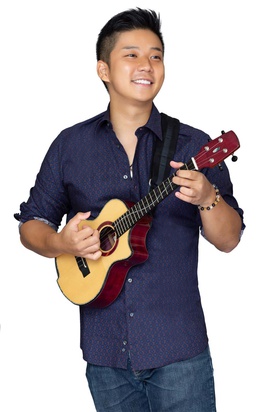 Yusuke, who has a strong presence in the performance scene as a ukelele player, was a local high school student who tended to become a modest person when away from music. He speaks Japanese beautifully and has a Japanese name. Why does he speak perfect Japanese while attending a high school in Hawaii? Maybe it's because he is like my children, a Nisei with Japanese parents? These days I interview people of Japanese descent in Los Angeles, and from what could only be described as an occupational illness, I immediately set about finding out what I could about Yusuke.
I then found that he was from Hachioji, Tokyo, and moved to Hawaii with his family when he was 14 years old. Even more interesting was that his father is a second generation Japanese-American, and that his mother is from Inner Mongolia, China.


Working as a child actor in Tokyo
In November 2019, nearly three years after he appeared on Terrace House, I was blessed with the opportunity to meet with him in Los Angeles. Yusuke grew up as a musician traveling between Japan, Hawaii, and the US under the stage name of Eden Kai. Eden's stage manager is his father, Ken Serizawa, who also joined in the interview.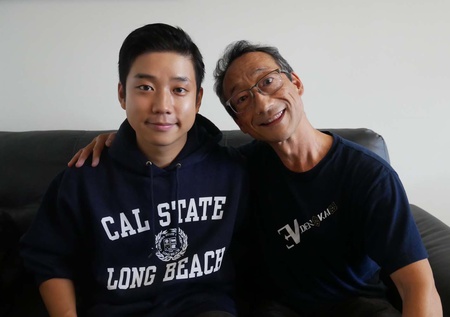 Eden debuted as a musician in Japan thanks to his appearance on Terrace House. He has performed live in many places after releasing singles and albums, and he told me that he was also appearing in Japanese dramas as an actor. I heard that he had been a member of a theater company since he lived in Tokyo, and he was active in the company as a child. Furthermore, Ken had also appeared as a regular on an NHK English program for 18 years.
I asked why Ken, who is from Oregon, worked in Japan. "I come from a strict family, and many of my relatives are doctors. Even though I wanted to move into the entertainment industry, no one in my family understood what I wanted. They asked me: 'Why don't you want to become a doctor?' However, I take pride as a 'doctor of entertainment' who makes people smile through a show. When I was young, the situation was different than it is now, and there was little demand for Asians, including those of Japanese descent, in the entertainment world in the United States. So I went to Japan to pursue that opportunity." In Japan, Ken met a woman who came to Japan from Inner Mongolia to become a doctor. They got married and Yusuke was born.
In order for the parents to expand their son's potential, they let him try his hand at whatever he showed interest in. He used to play soccer and swim and joined the theater company as mentioned above. Later, he also got into dancing and singing. At that time he wasn't thinking of entering the show business in future. He said that he was "just doing fun things." On the other hand, he confesses that he had feelings of shame in his home environment that were different from his friends. Japan is a society that is far from being diverse, where doing the same as others is good, in a spirit of "following suit".
Yusuke is third generation Japanese American and is also half-Chinese. How was he influenced by his mother? "My mother is diligent and hard-working. She has always been positive and optimistic about life, and since I was young I had been often told that, "There is no definition of happiness. If you feel happy, you are happy." I also learned the importance of giving back from my mother." By the way, his stage name "Kai" comes from the Chinese word for "Kaisei", which means the biggest star in the Little Dipper.


An American person, but more like a Japanese person
A turning point came to Yusuke when he was 14 years old. He moved to Hawaii because of his father's work. When he lived in Japan, even if his father spoke to him in English, he replied in Japanese. He watched English movies with dubbing. So he was confused when he was suddenly thrown into an English environment. He felt homesickness for Japan during his first year. Even so, he started to learn the acoustic guitar and ukelele on his own, and he won the overall championship in the Hawaii "Brown Bags to Stardom" competition. He switched to talking to his father in English and started putting in effort. After that he passed the audition to be in Terrace House and had a chance to become famous. However, this didn't mean that everything was good for him.
"With regards to scenes where women rejected me, I was shocked by the heartless comments of viewers on the Internet. However, there are good and bad people in the world. I had just reached the border of what I need to do."
He also says that living in Hawaii has changed him, so he has an open mind. "People of various races and cultures live in Hawaii, including Hawaiian and Asian people. I realized that I could put myself in there and each person could be different." It seems that life in Hawaii had blown away the kind of blockage that I felt in Japan. By the way, he answered the question of his identity as "an American person, but more like a Japanese person."
Eden climbed up steps moving to Hawaii, and he climbed even further by appearing on Terrace House. Where will he go in the future? "I want to live in Los Angeles someday. Los Angeles is much more competitive than Hawaii, but I realize that if I get used to an environment, I will neglect the amount of effort I put in. I hope that I will be able to work and be based here in my early 20s if possible."
Eden Kai, 21 years old. His story will continue.