"I [accepted a] writing fellowship in Kansas to focus on the novel that I had been working on for years. When I returned to LA, I again needed work and began writing biographies for the Japanese American National Museum. And then my novel began to morph into a mystery, which turned out to the perfect container for my story and protagonist, Mas Arai."

—Naomi Hirahara, author of Hiroshima Boy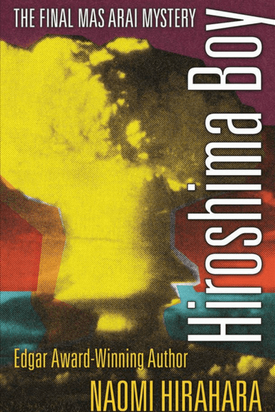 Acclaimed author of the Mas Arai mysteries Naomi Hirahara is coming to the Japanese American National Museum on March 17. She will be discussing and reading from her most recent book Hiroshima Boy—the last in a series of seven mystery novels featuring the Japanese gardener detective Mas Arai.
In this final installment of Mas Arai's adventures, the sleuth is getting older. His friend Haruo has died, and he travels to Japan to deliver Haruo's ashes to his family on the small island of Ino near Hiroshima. Mas originally plans to hand his friend's ashes over to his family, turn around and return immediately to the States—but as so often happens, his best-laid plans go awry when he discovers the body of a young boy floating in the island harbor, and returns to his room to find his friend's ashes missing. Mas decides to stay on the island to solve the twin mysteries of the murder and the missing ashes.
Critics are praising Hiroshima Boy as "a wonderful finale to a fine mystery series," and many also continue to ask whether Hirahara will change her mind and bring back the much-beloved Mas Arai down the road.1 But the author herself spoke with Discover Nikkei, and she is satisfied with the series' close. Hiroshima Boy, the title a reference to both the murder victim in the story and to the protagonist himself, is a fitting end as it brings Mas back to his roots. "I knew that the last mystery needed to be in Hiroshima," Hirahara said in our interview. Readers learn in Mas's very first case, Summer of the Big Bachi, that Mas's experience growing up in wartime Hiroshima and surviving the atomic bomb form a large part of his identity, so it is appropriate that his last escapade brings him full circle back to the source of those memories.
Hiroshima was a difficult place to set a mystery tale, however. The author herself is not intimately familiar with the prefecture, nor with how the comparatively less transparent police force operates in Japan. The setting thus presented a sizable challenge to Hirahara's research and writing process. "I knew that the last mystery needed to be in Hiroshima," she says, "but I was wary about writing a novel set in a place I have visited, but is not my home."
To solve these problems, Hirahara decided that the majority of the novel would take place small offshore island where her own relatives still run a retirement home, where there is a small police presence, and where there is still a tangible community memory of the atomic bomb. "Ninoshima, where the story is set, is about a 15-minute ferry ride from Hiroshima proper," Hirahara explains. "After the August 6, 1945 atomic bombing, 10,000 victims, many of them wounded, attempted to make their way to Ninoshima on makeshift rafts. Ninoshima hadn't sustained much physical damage while all of the buildings in the city were flattened. It was an island of refuge. That's another reason why it was an appropriate place for the mystery." Ninoshima became a place where both Hirahara, through her relatives, and Mas himself could find refuge and a footing among islanders who still remember the traumatic history that affected both of their families.
Hirahara has dipped her hands into numerous genres over the years, from reporting and editing at the L.A.-based Rafu Shimpo to nonfiction books to mysteries. And she is inspired by writers that range from Louise Erdrich and Lois-Ann Yamanaka to Chester Himes and Walter Mosley. "Nothing about my writing career has been that calculated," she says. "My heart draws me to people's stories but the tide pulls me into different directions. I don't fight it because I feel that the power of story has to be organic."
And true to this organic pull of different genres, Hirahara's next two ventures will be into film and historical thrillers. "I feel relieved and at peace with the end of the Mas Arai series," the author shares. But that does not mean that we have seen the last of the curmudgeonly protagonist Mas Arai himself. Hirahara is currently assisting with production of an independent film adaptation of "The Big Bachi", the first book in the Arai series. And for her avid readers, fear not. Hirahara is already in the process of writing her next book! It is still to early to set details in stone, she says, but in brief, "it's a historical thriller which will be tentatively titled "Clark and Division," and will deal with the postwar resettlement of Japanese Americans from camps."
You can hear more about the book Hiroshima Boy, and about the character Mas Arai's future in film at the Japanese American National Museum on March 17, 2018 at 2 p.m. The author will read from Hiroshima Boy and show slides from her research trip to Ninoshima while writing the final adventures of Mas Arai. (For more information >>)
Note:
1. Jacqueline Winspear, author of the Maisie Dobbs mysteries, Naomi Hirahara Official website.