There are many stories about the life of Yoshitaro Amano (1898-1982). There are several biographical articles about him, and Amano himself authored a number of publications. His accomplishments include entrepreneurial success in Central & South America, investigative research of the Andean Civilization, a museum featuring collections of his archaeological artifacts, as well as a medal of honor from the Peruvian government. His footsteps are also covered in detail on the "Japan-Peru Association/Friends of the Amano Museum [Asociacion, Nippo-Peruana/Amigos de Museo Amano]" website.
However, according to Yoshiro Masuda—emeritus professor of Latin American history at Tokyo University, who worked closely with Amano since his first visit to Peru—Amano "didn't really like speaking triumphantly about his past. Aside from the handful of classic stories that he told everybody, it was rare of him to answer any other questions—even from those of us close by. Therefore, there are many aspects of Amano's life that remain shrouded in a fog of mystery" (from the 'commentary' section of The Journal of My Incarceration, by Yoshitaro Amano). So what exactly is "shrouded in this fog of mystery"? Of course, it's impossible to know since it's enveloped in fog, but it's probably safe to say that one aspect has to do with Amano's personal life.
Amano had five children over three marriages. Perhaps not much has been known about his persona as a father. Another aspect is the different effect that he has had on the lives of various people. Such things would have been difficult for Amano himself to talk about, and perhaps it is something that even the people he affected aren't even aware of, but Amano has undoubtedly left something big that has touched the lives of countless individuals of the Latin and Japanese communities. Were Amano's children able to grasp of all of this?
Journey To Encinitas
When Yoko Nishimura, Project Manager of the Japanese American National Museum's "Discover Nikkei", contacted me and said, "Amano-san's daughter lives in California; would you like to interview her?" I replied in disbelief:
"Really? The daughter of THE Amano-san?"
I had read his book, The Journal of My Incarceration, as well Adios to Tears by Seiichi Higashide, from Peru, who had also been incarcerated . The two were practically "Legendary" to me (I had even visited Higashide's home before, when I went to Hawaii).
However, I was unable to visit Amano's daughter for quite some time . So many questions had been raised in my mind, preparing for the interview. As I re-read The Journal of My Incarceration, I thought—what on earth should I ask? What am I supposed to ask? What exactly am I planning to do with the answers that I get?
"Why should I?" There's already a website that introduces Amano's life in great detail. It seemed the only thing I would accomplish from interviewing his daughter would be to corroborate those stories, but was that even necessary for me to do? I am not really a "researcher," so to speak, and since Amano's life story is already so grand, it wouldn't make any sense for me to just rehash his life story. Even if I were able to uncover some of the "untold stories" about Amano, what kind of meaning would it have to me at this point?
While I mulled these questions over, time continued to pass. I had already promised Yoko that I would "write something." But that "something" hadn't materialized into anything definitive. I couldn't figure out what exactly I was aiming for. Eventually, I figured that I'd be able to come away with something by actually being "on-location"—being with his daughter in person—and that ultimately led me to visit Hamako, Amano's eldest daughter, at her home in Encinitas near San Diego, California.
Meeting Harry
Hamako welcomed my visit along with her husband, Harry Schneider. In the 2 hours that followed, Hamako spoke to me in surprisingly fluent Japanese, despite claiming that she "rarely speak[s] Japanese these days." There were only a few instances in which she needed extra time to find the right words. Hamako went on to discuss several stories about her father: her father's second wife Shizuko and third wife Miyoko; each of their children; her visits to Peru; and her own marriage to Harry. From time to time, Harry would interject in Japanese as well as English for confirmation, or to add to these stories.
Let's introduce you to what I felt was the most memorable among these stories. This would be the best way for me to begin the narrative.
This story is about Hamako's marriage. In 1948, she married an American military officer, Harry Schneider. Two years later, in 1950, she left Japan for California. Before we move on, let's quickly review the path that led her to this point.
Hamako was born in 1925, in Yokohama. Her mother was a beautiful woman, even nicknamed as "Yokohama Komachi" (the Belle of Yokohama), and her parents had been running a manju store there. Even though the manju business was going well, her father was already thinking about moving overseas. Through one of the patrons of his manju store—a woman named Yoshi Igawa—he began to exchange letters with Chuzo Fujii, owner of the Suetomi Company in Lima, the capital of Peru (from The Life of Yoshitaro Amano by Yoshiro Masuda). In 1928, three years after the birth of Hamako, Amano left Yokohama in pursuit of a life abroad.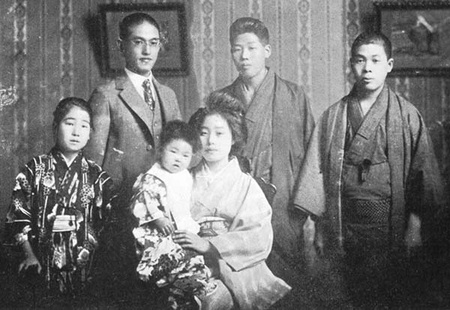 Hamako's mother and Amano were married, but they never officially entered into the family registry. The family of Hamako's mother had been against the marriage. Amano had asked several times for their approval of the marriage, but they would not budge, saying, "We can't give away our precious daughter to some crazy man saying he doesn't want to live in Japan." In the end, Amano took custody of Hamako and her younger sister, Ryoko, and left them under the care of his aunt in Shizuoka prefecture, as he himself set off to leave Japan.
I won't go into the details of the trail that Amano took, but to summarize: At first he went to Uruguay by way of Africa, but returned home upon hearing of his father's passing. He left Japan for the second time in December 1928, arrived in Panama several months later, and founded "Amano Co. Japanese Market". Later, he married Chuzo Fujii's eldest daughter, Teresa (Shizuko), in 1932. With Shizuko, he had two children—son, Naoto and daughter, Marie.
Hamako went to Panama the year after her father's marriage to Shizuko, in 1933. She was 7 years old at the time, and spent roughly 2 years there. She remembers her father saying, "You're going to be living here from now on," and taking her to many scenic and historical sites. Being so young at the time, though, there is little that she remembers clearly.
The next time Hamako would live with her father was after World War II, in 1946. Amano had been living in the Panama Canal area, and due to his frequent traveling between Costa Rica, Ecuador, Peru, and Chile for his business, he was already under surveillance by authorities. When the war broke out between Japan and the United States, Amano was arrested immediately and forcibly detained at a US prison. The Journal of My Incarceration is the story chronicling the details of his life during this time, and it was written almost entirely from his memory alone. "It's not like he was even taking notes," Hamako said, as she marveled at Amano's good memory.
With his children's education in mind, Amano had already sent Shizuko and the kids back to Japan by that time. After transferring from prison to prison in America, he returned to Japan from New York in 1942. He arrived in Yokohama Port aboard a US-Japan repatriation ship. Unfortunately, in the year following his return (1943), Shizuko passed away from an illness. Amano then bought a house in Kugenuma in Fujisawa city, and lived there together with his family.