Cole Kawana, a sixth grader at Seven Arrows School, recorded an oral history of his great-uncle, Arthur Ichiro Murakami, an atomic bomb survivor. He then met in March with Hiroshima Peace Memorial Museum Director Koichi Maeda in Japan, who added Kawana's DVD to the museum's library.
Kawana, who will attend Harvard-Westlake this fall, was required to do a service-learning project as part of the Seven Arrows curriculum. After attending a family reunion in Santa Cruz two years ago where his extended family recorded an oral history, Kawana thought the experience was valuable and wanted to teach his peers about the process.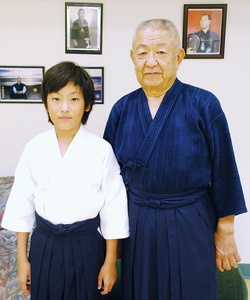 He started by interviewing Murakami, who was born in Long Beach in 1931 and at different times lived with both his grandparents and parents, attending grade school near Torrance. In 1941, when his grandparents moved back to Hiroshima, they asked Murakami if he wanted to go with them and he did. Nine months later Pearl Harbor was bombed and Murakami remembers a parade was held to celebrate the event.
Kawana asked his great uncle, "What was it like being an American citizen in Japan, during the war?"
"There were a few people who didn't want us over there," Murakami acknowledged, but for the most part he was accepted at school. After classes, students were expected to help, since so many of the men were at war. His class worked at the food banks, loading rice and soy sauce onto horse-drawn carts that went to the dock, where the food was loaded onto a ship.
Kawana asked his great-uncle if the Japanese people at the end of the war still thought they were going to win. "We [initially] had rifles, but they had all been taken to the soldiers. There were no weapons left. They told us to take bamboo, sharpen it and then practice thrusting it so we could kill our enemy," Murakami said, noting that without weapons, many were not hopeful.
If Murakami had not stepped on a rusty nail a day before the atomic bomb was dropped on Hiroshima on August 6, 1945, he would have been at ground zero.
"My foot was swollen and I was limping. When they divided my class, half went to the warehouse, and half were sent to clean the city," Murakami said, noting that even though he was in the group that was headed downtown, he was kept with the group that went to the warehouse, which was about 2-1/2 miles from where the bomb detonated. The shock waves blasted him out an open door of the building and he passed out. The building was flattened. He was taken to a hospital, but after his bleeding hand was treated, he was released because so many people had far more serious injuries.
"I went to my uncle's uniform shop," which necessitated his going through the center of the city, Murakami recalled. "I saw lots of bodies on the ground. People asked for help, but when I'd touch them, the skin would fall off. So then I just ran and tried not to look down." All 25 of his classmates sent into the city perished in the bombing.
In 1947, Murakami was sent back to California, where he learned that his parents had been held in internment camps.
Three years later he joined the U.S. Army, and served during the Korean War. While stationed in Yokohama, he made his first visit back to Hiroshima, which he acknowledged was tough. "I didn't want to talk about it or remember," he said. "I learned a lot of things that people never learn. I ask myself, 'Why am I [still] here? To teach children what I know.'"
In the recording, Murakami is reflective about the atomic bomb. "It was something the United States had to do and it was the reason the war ended." Then he adds, "I hope another bomb is never dropped."
Kawana said that part of the reason he recorded his great-uncle was because, "There's a famous quote that if you don't remember history, then you will repeat it." Additionally, the youth made a nine minute DVD for students at Seven Arrows about how to record oral history.
"Families have stories to save, so that future generations can know. Every family needs to preserve its individual legacy," Kawana said, acknowledging the toughest part of making the DVD was choosing whom to interview and deciding which questions to ask. His favorite part was the moviemaking aspect, working with the camera, lighting, sound mixing, and editing.
Yuji Kawana, Cole's father, added, "Cole has been taught that the generations before him sacrificed in order for future generations to have a better life. This is the American legacy."
Kawana plays basketball in an Asian hoops league, surfs, plays the piano, and recently auditioned on drums for Harvard-Westlake's beginning band. While interviewing his great-uncle, he discovered they both practice kendo, the art of Japanese samurai swordsmanship. Because of the military nature of kendo, it was outlawed after World War II, but by 1952 had been reintroduced. Murakami has obtained the seventh degree rank of nandon, one of the highest rankings in the world.
Kawana and his sister Brooke, 10, live with their parents, Yuji and Ellen, in Malibu.
*Originally published in the Palisadian-Post on July 15, 2010.