Concrete Paradise: Okinawan Brutalist Architecture (Live Webinar)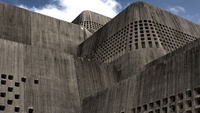 https://www.japansociety.org/arts-and-culture/talks/okinawan-brutalist-architecture
Brutalist architecture on Japan's Okinawa Prefecture was born of necessity, as seasonal typhoons are commonplace and concrete buildings can better withstand severe weather than those made of wood and other natural materials. Today, 90 percent of new buildings on Okinawa are made of concrete, reflecting in architecture the post-Occupation Americanization of Japan. This live webinar explores the little-known Brutalist architecture on Okinawa as part of special programming commemorating the 50th anniversary year of Okinawa's return to Japanese sovereignty from the U.S. in 1972. Speakers also address the problems of concrete as a building material, considering sustainable strategies such as re-use and longevity while questioning its continued prevalence in building and associated environmental costs.
Speakers: Paul Tulett, Michael Kubo
Moderator: Tiffany Lambert
This is a free event, with advance registration required. Pay What You Wish options are also available to support our innovative programs. The program will be live-streamed through YouTube, and registrants will receive the viewing link by email on the day before the event. Participants can submit questions through YouTube during the live stream.
Top Image: Photography by @brutal_zen / ©Paul Tulett 2022

japansociety . Last modified Mar 15, 2022 8:54 a.m.
---