A Taste of Home: Recipes for Celebration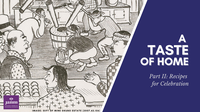 For many holidays, both distinctly "American" and traditionally Japanese, Japanese American families share meals specifically prepared for the occasion. From oshogatsu (New Years Day) to Christmas, these flavors are closely tied to memories, festivities, and cultural practices. Even while incarcerated during WWII, Japanese Americans held on to their traditions and celebrations, highlighting their perseverance and the importance of joyful gathering even in difficult times.
In the second part of this series, we will explore how Japanese American cultural holiday traditions, such as mochitsuki, or mochi making, have adapted over time with JANM Curator, Emily Anderson, Ph.D., and get a glimpse of what items from our collection reflect these stories. We will also hear firsthand from several generations of Japanese American home cooks about their own family holiday recipes. Finally, audiences will learn how to cook the traditional first meal of the year, ozoni, with cookbook author and designer, Azusa Oda, in an easy cooking demo and tutorial.
This program is part of the series "A Taste of Home," supported by the Consul General of Japan in Los Angeles.

RSVP NOW

JANM . Last modified Nov 20, 2020 10:41 a.m.
---